June 23, 2005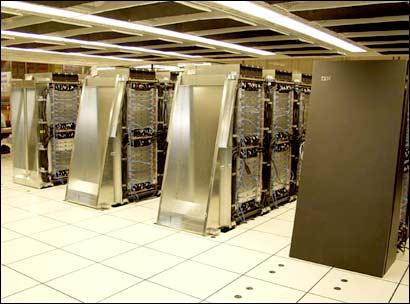 A supercomputer only half-built has been christened as the world's most powerful computer.
Blue Gene/L, built by computer giant IBM has been named as the world's most powerful computer, after it reached a peak processing speed of 136.8 teraflops (trillion calculations per second), in testing.
Officials are of the opinion, that once complete, it will have a peak performance in excess of 360 teraflops, reports NewScientist.
Also Blue Gene/L topped the list in the latest list of the 500 most powerful computers in the world, which was announced by the International Supercomputer Conference in Heidelberg, Germany, Blue Gene/L, the report added is a specialized system designed to incorporate as many as 65,536 individual processors, linked together within a scalable modular design, which not only makes the system more powerful than conventional ones, but also more compact and less power hungry.
Incidentally, the second most powerful computer on the list is also a Blue Gene design known as BGW and based at IBM's Thomas J Watson Research Center in New York. This however, has fewer processors and has a top processing speed of only 91.2 teraflops. -- ANI'
(Above) Blue Gene/L. Photograph: IBM
Blue Gene/L </wiki/Blue_Gene> Photo credit: IBM </wiki/IBM> Rochester