Advertisement
December 20, 2005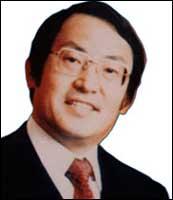 When 'Mr Strategy' speaks, people stop to listen. Even if what he's saying rubbishes all popular thinking.
The world is busy drawing parallels between India and China, but nuclear engineer-turned-management guru Kenichi Ohmae dismisses it as comparing oranges and apples. The two countries are not competitors, declares the man whom Financial Times has described as 'Japan's only management guru.' Nor do India and China complement each other.
"They are heading in completely different directions," declares the author of 140 books on management and socio-political issues. In Mumbai recently to address an event organised by Innovative Media on 'The Future is India,' Ohmae explained to Business Standard why India will not succeed in global scale manufacturing and why it's important to be a one-product company. Excerpts:
You have often spoken about the importance of 'effective clusters' (industry concentration in a single region). But these clusters also increase attrition. Is that good?
Yes and no. If you look at Silicon Valley, the employees there don't belong to a single company. If job offers are interesting in other places, people just evaporate in the afternoon. Job-hopping is a national sport. And that's life. Therefore, it is difficult to keep and retain people in Silicon Valley. The same is true in Bangalore's Electronic City. Employees evaporate. But you have to live with it. Americans know how to live with it.
How do they live with it?
You have to assume that if your company is not interesting and not promising, people just go away. Good companies always know how to retain good people. You have to learn that trick. If you want to recruit cheap and treat employees as fodder-takers, they will go elsewhere.
For the company, it's not good; but for the country it is good. These are excellent hands in different places. They spread technology and management know-how to so many different companies.
You spoke about using to your advantage the power of a dominant opponent. How do businesses do that?
It's an instinctive feel that companies should develop. We have quite a few examples in Japan. Most large companies fall apart by themselves. If the position of smaller companies is well defined, then it's even better.
Canon, for instance, did not defeat Nikon. Nikon kept going along the analog line. But even as the digital space is crowded with cheaper Taiwanese and Chinese brands, Canon is a cut above in the price zone.
Can't successful brands easily make a transition from one generation to another and have a better chance? Like analog to digital in the case of Nikon.
Those who grew up on analog cameras design on analog computers. The more they know about analog the more difficulty they have in learning new technology. The same is the case with Sony. It was so successful with Trinitron that it was slow in responding to the liquid crystal display (LCD) and plasma display.
The top management in Sony had grown up on the success of Trinitron; so it saw all the reasons why it had to delay the launch of LCD and plasma TVs [Get Quote] -- LCD had problems from all angles, it was too early to launch Plasma and so on. That's why they failed.
But isn't this also the risk of being a single product company, something you recommend?
The opposite is true. Again, the example is Sony. It had acquired Columbia pictures and CBS records; it had movies and music. That's why it resisted an internal proposal for creating the iTunes music store, despite being the first in that direction.
Its own record company said that if the virtual store was around, it would not be able to sell records. The internal conflict with the old mentality that said "music has to be packaged" was the problem. On the other hand, Steve Jobs (of Apple that made the iPod) said if you like the music piece, you download it for 99 cents.
It is more difficult for successful companies to change.
Apple did not have much to lose as it was not doing as well. Steve Jobs had nothing to lose.
But if Sony was a one-product company selling only consumer electronics, it would have done it. Because it was a multi-product enterprise it had to worry about other divisions like movies and CDs. That's why it could not do it.
You have said that India's future is only in the service sector. Why?
Indians are not good at manufacturing. Even if they do what we tell them to do, they always need to understand why they are doing it that way. They are more inquisitive than the Chinese.
Maybe it's because of their ability to find zero in the numbers. But in manufacturing when you have a successful formula, what you look for is implementation, right? Indians always ask these fundamental questions.
But isn't asking 5-why's a manufacturing concept?
(Smiles) Yes, that's right. At the management level, it's good. But at the shopfloor level, it's a bit too much. India is capable of excelling in the service sector.
In developed countries, the service sector is 67 per cent of the economy, manufacturing is less than 20 per cent while the rest is the primary sector. The Chinese are good at manufacturing, but they have not even begun to compete in the service sector.
India in services will have a larger share of the world market, be it hotel management, IT systems development, medical tourism, medical research, design, games or backrooms. There is an endless list of things that India could do. Therefore, it can get a larger share of the global economy.
But isn't the competition as severe in services?
Competition is mainly from the United States. India's biggest competitor is going to be the US. The US is currently using India as a sub-contractor. When India finally develops its own capabilities, the US will be its largest competitor. India is still a top student in the sub-contracting class.
Many Indian enterprises are acquiring manufacturing firms in cross-border acquisitions. Do you still state that India's future is in services?
(Crosses his heart) How do you say good luck in Hindi? I wish them good luck.
Powered by
Powered by

More Interviews