Home > Money > Profile

Meet Vinita Bali, Britannia CEO

November 06, 2004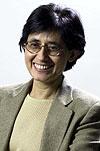 In the 1980s, marketing directors were dime a dozen, all part of a strong male bastion. Vinita Bali was the first to break the glass ceiling when she became the marketing head at chocolate-maker Cadbury.
In the mid-1990s, when she moved to Atlanta, Bali was the second Indian woman in the top echelons of a global beverage giant. The only other Indian woman was Pepsi's finance head Indra Nooyi.
Bali was the marketing chief of rival Coke. Today, exactly a decade later, the scrubbed-faced Bali returns home to head Nusli Wadia group's Britannia Industries as the chief executive officer. At 49, she also becomes the first outside woman to hold a key position in a Wadia company.
The appointment comes at a time when the biscuit-maker has been in the news, not all complimentary, and there are many who question Bali's vehicle for a comeback. Says a friend who has known Bali for years, "Vinita is a great boss and manager, and probably has an American style pre-nuptial arrangement with the Wadias."
An economics graduate from Delhi University, Bali acquired a management degree from Mumbai's Jamnalal Bajaj Institute. She pursued further studies in business and economics at the Michigan State University on a scholarship from the Rotary Foundation and interned at the United Nations headquarters in New York.
Cutting her marketing teeth at Tata group company Voltas, Bali was handpicked by the then Cadbury's India managing director CY Pal. Says Pal, who is currently the chairman of Cadbury, "She is a competent manager." According to him, Bali initiated professional marketing at Cadbury.
Her assignment with Cadbury took her to the company's UK headquarters in 1984. She returned two years later as general manager, marketing.
She then moved on to Cadbury Nigeria as director (sales and marketing). In 1993, she was named head of marketing, South Africa, Cadbury's third-largest market.
A year later, through a massive head hunting exercise, the Coca-Cola Company zeroed in on Bali. She was responsible for the worldwide strategy for Coke and one of the key players in helping the soft drink giant to double its growth. She was also credited with crafting the statement for the Coke experience.
From then on, the only way was up. In 1997, she was made Coke's vice-president (marketing) for Latin America. Two years later, she became the president of the Andean division with retail sales in excess of $1 billion, spanning Chile, Peru, Ecuador and Bolivia. She was responsible for the change encompassing business direction and organisational culture.
Bali's appointment as CEO at Britannia comes at a time when the Indian market is much more competitive than when she had left. Also, Britannia's overall share in the biscuit market has been shrinking -- from 46 per cent last year to 42 per cent today.
Plagued by controversies surrounding its erstwhile chief Sunil Alagh, Britannia now need hands-on guidance, say market experts.
Those who have interacted with Bali over the years feel that her best asset will be her marketing acumen. That she has moved around globally only adds to the lustre.
Says Piyush Pandey, director of ad agency O&M: "She is an excellent marketing professional and has rich international experience. It is always great to know that good Indian professionals are back on home turf."
A former creative head of Lintas claims that Bali was "more intuitive and less a slave of data". That could have been because Cadbury was the chocolate king with little or no competition.
But today's CEO needs more than marketing acumen. Bali's foremost challenge will be to manage the politics and the friction in the Britannia board. Everybody wants to know if she will take the biscuit-maker to its halcyon days.
Expanding Britannia's business will be another challenge. The sector is littered with more casualties than the morgue. "That's why Britannia will need all the expertise Bali can bring to the company at this crucial juncture," says another executive.
Also, Bali will have to rejuvenate the Britannia team, which has seen some of its top people move on to greener pastures.
Text: Reeba Zachariah & Raghuvir Badrinath
Powered by