Home > Business > Business Headline > Report


Sir Gulam Noon and knighthood

Shyam Bhatia in London | March 16, 2004 12:14 IST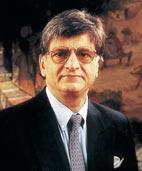 One of Britain's best loved Indian entrepreneurs has revealed how he was addressed as Sir Gulam by Queen Elizabeth even before he was formally invested with a knighthood.

Sir Gulam Noon, who is the founder of Noon Products and whose food products are found on the shelves of major British super market chains, says he happened to be seated next to the Queen, weeks before his investiture, when she fired off a series of questions to him, referring to him as Sir Gulam.

Unused to being addressed in this way, he told her, "Ma'am, Gulam will do." The Queen replied, "We give titles, we must use them."

Sir Gulam was being interviewed on a prestigious BBC radio programme, Desert Island Discs, in which a celebrity's choice of music extracts is interspersed with his interview.

In Sir Gulam's case, his preferred selection of music ranged from Hari Prasad Chaurasia's flute and Zakir Hussain's tabla to Luciano Pavarotti's singing of 'Ave Maria.'

Asked how he started up in business in the United Kingdom, Sir Gulam explained how he was already a successful businessman back home in Mumbai when he came to London in 1972.

His arrival in London coincided with the expulsion of the Indian community from Uganda. As the Indians started streaming into the UK, a market was created for Noon's products. Today his factories process up to nine tonnes of chicken and 25 tonnes of onion every day for the British super markets.

But life has not always been plain sailing for the Noon family. In 1980, Sir Gulam tried to expand into the United States by starting up a frozen food factory and 11 restaurants in New York and Connecticut.

When his venture failed to get off the ground, he pulled out and returned to the UK after losing $1 million.

"I love the United States, but as a visitor," says Sir Gulam. "I would be uncomfortable living there."

Disaster struck a second time in 1994 when Sir Gulam's factory in Southall, West London, burnt down. At that time his business was brining in annual revenues close to $30 million.

Sir Gulam refused to let the fire break his spirit.

To his credit and the eternal gratitude of his employees, he did not lay off a single employee, rebuilt the factory from scratch and was back in business within six months.

"Every night I go down on my knees and thank my maker," says Sir Gulam.

"I came to this country with nothing, this society has given me everything -- help, wealth and honour. I am extremely thankful to my maker," he adds.