Home > Business > Business Headline > Report


S Ramadorai is Businessman of the Year 2004

December 20, 2004 17:07 IST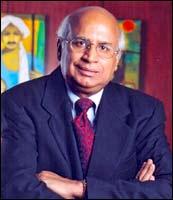 S Ramadorai, Tata Consultancy Services CEO, been selected the Business India Businessman of the Year 2004.
Ramadorai was given this distinction, the 23rd since the inception of this award, by an eminent jury, chaired by Kumar Mangalam Birla, Chairman, Aditya Birla Group, and the Business India Businessman of the Year 2003.
Other members of the jury were: Kishor A Chaukar, Managing Director, Tata Industries; Gunit Chadha, CEO, Deutsche Bank (India); Sajjan Jindal, Chairman and Managing Director, JISCO; Kiran Karnik, President, NASSCOM; Malvinder Singh, President, Pharmaceuticals, Ranbaxy Laboratories; and Ravi Venkatesan, Chairman, Microsoft India.
TCS is India's largest IT company. Set up in 1968, pioneering TCS laid the foundation of India's booming software services sector, under its first CEO F C Kohli.
Ramadorai, a 32-year TCS veteran has built considerably on this legacy.
In the eight years under Ramdorai's leadership, the company's turnover has increased almost ten-fold from Rs 721 crore (Rs 7.21 billion) to Rs 7,123 crore (Rs 71.23 billion). From 1997 the number of employees has grown from 9,500 to 41, 000 people today.
Moreover, TCS has expanded its global footprint to 33 countries and has 210 offices; it also has 18 global delivery centres overseas. In August the company's much-awaited IPO successfully raised over Rs 5,000 crore (Rs 50 billion).
Born on October 6, 1944, Ramadorai grew up in New Delhi. He has a bachelor's degree in Physics from Delhi University and a B.E. (electronics and telecommunications) from the Indian Institute of Science, Bangalore.
He also has a masters in computer science from the University of California, Los Angeles.
Ramadorai is on the boards of Hindustan Lever and Nicholas Piramal. He has been designated as IT Advisor to Qingdao city and Hangzhou city, in the People's Republic of China. He is member of the Corporate Advisory Board, Marshall School of Business.
A fellow of the Institute of Electrical and Electronics Engineers and the Indian National Academy of Engineers, he is vice-chairman of the National Association of Software Companies, NASSCOM.
He joins an exclusive club of corporate achievers. The previous winners of Business India Businessman of the Year award are:
1982 -- Ajit N Haksar, Chairman, Emeritus, ITC
1983 -- Russi Mody, Chairman, Tata Steel
1984 -- H. P. Nanda, Chairman, Escorts
1985 -- Rahul Bajaj, Chairman, Bajaj Auto
1986 -- Ashok S. Ganguly, Chairman, Hindustan Lever
1987 -- V. Krishnamurthy, Chairman, SAIL
1988 -- Sumant Moolgaokar, Chairman, TELCO
1989 -- Keshub Mahindra, Chairman, Mahindra & Mahindra
1990 -- Aditya V Birla, Chairman, Grasim Industries
1991 -- Ratan Tata, Chairman, Tata Sons
1992 -- N. Vaghul, Chairman, ICICI
1993 -- Dhirubhai Ambani, Chairman, Reliance Industries
1994 -- Brij Mohan Lall Munjal, Chairman, Hero Group
1995 -- Suresh Krishna, Chairman, Sundram Fasteners
1996 -- Deepak Parekh- Chairman, HDFC
1997 -- Mukesh Ambani, Chairman, Reliance Industries, and Anil Ambani, Vice Chairman, Reliance Industries
1998 -- Parvinder Singh, Chairman, Ranbaxy Laboratories
1999 -- N R Narayana Murthy, Chairman, Infosys Technologies
2000 -- Azim Premji,  Chairman, Wipro
2001 -- Dr Anji Reddy, Chairman, Dr. Reddy's Laboratories
2002 -- Sunil Bharti Mittal, Chairman & Group Managing Director, Bharti Enterprises
2003 -- Kumar Mangalam Birla, Chairman, Aditya Birla Group
7333: The Latest News on Your Mobile!
AGENCIES


What do you think about the story?








Read what others have to say:





Number of User Comments: 3








Sub: Heartiest Congratulations

I am so glad to be a part of TCS. Heartiest Congratulations to Mr. S Ramadorai. Regards, Kanan ...


Posted by kanan









Sub: s.ramadorai

The best deserves the best. With a blandished profile and fabulous contribution made by the respected ramadoraiji, the award was best deserved by him. i ...


Posted by varun gupta









Sub: S Ramadorai is Bizman of Year - 2004

"Congratulation", Mr. S.Ramadorai on acheiving this award.


Posted by Vipul.K.Bhatt






Disclaimer