Home > Money > Pix

A tractor for Rs 99,000!

August 26, 2004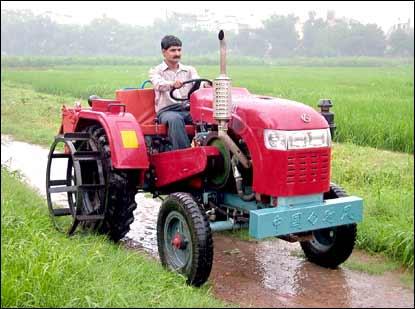 Ghaziabad-based SAS Motors Limited has developed a tractor priced at just Rs 99,000, which is less than half of what the cheapest tractor available in the market now costs.

The company says that Angad, the 22 HP tractor, is also fuel-efficient and will reduce fuel costs by 25 per cent.

SAS Motors said the tractor will also help farmers save up to 60 per cent on maintenance and it can be assembled at the tehsil level and repaired by any cycle mechanic.

The company also plans to introduce a range of tractors, farm implements, and rural transportation vehicles that for the first time in the country use cutting-edge technology suitable for use in small and medium-sized Indian farms.

Coupled with the low-cost financing that SAS Motors has sought from the government, a farmer will need to pay an instalment of only Rs 1,500 per month to replace age-old bullock driven ploughs with an Angad tractor.

In addition, farmers will be able to transport produce directly from the field to the market, breaking the stifling monopoly of middlemen, thus increasing their profits and income, the company said in a media release.

SAS Motors said that once operational, the initiative is likely to generate big employment and entrepreneurial opportunities for thousands of trained yet unemployed 'agricultural engineers' in the form of sales and services dealerships across the country.

"Achieving an optimum price-performance mix in farm mechanisation has been the crying need of the rural sector. Angad is a humble initiative towards achieving this objective," said Ravindra Kumar, managing director, SAS Motors Limited, and the architect of the Angad project.

"So far tractors have been sold like cars, as big brands. Our dream is to turn them into commodities that can be assembled, repaired and deployed around every nook and corner of the smallest villages in the country," said Siddharth Kumar, director, SAS Motors Ltd.

The 22 HP Angad 240-D tractor uses a direct injection fuel-efficient horizontal diesel engine with catalytic converter. It is designed to suit a large variety of implements, crops, and soil conditions. It can be used in various farm operations as well as for irrigation and water transportation.

The range of Angad farm implements that the company plans to launch soon include rice transplanters and mini combine harvesters.

The company's self-propelled Angad 150 Power Tiller comes with a 15 HP engine and can be attached to diverse range of agricultural equipments and is equipped with a rotavator. It is priced at Rs 65,000.

The Angad Rotary Cultivator (Rotavator) can perform the functions of a disc harrow and a plough in a swift single motion. It is offered as a standard accessory with Angad 240 D tractor at a price of Rs 15,000.