Home > Business > Special


Sambit Saha | September 08, 2003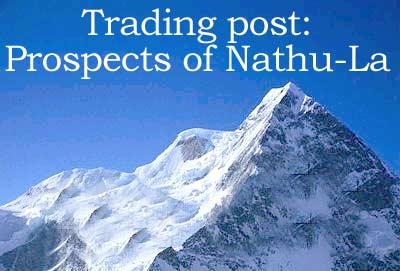 This must be one of world's least photographed places. Perched at a height of 14,600 feet and enveloped in mist, the Nathu-La (La means pass) through the Himalayas is zealously guarded by the armies of India and China.
Today, it is the latest hotspot for Indian businesses keen to make a mark in the land of the dragon.
| | |
| --- | --- |
| | Also Read |
| | |
Prime Minister Vajpayee, during his visit to China in June this year, had announced the reopening of the historic Silk Route, connecting India and China, via Nathu-La.

The significance of the development did not go unnoticed.

While political analysts saw it as China's acceptance of Sikkim being a part of India (a fact hotly denied by China), the business community was excited at the prospect of expanded trade.

A visit to the pass reveals the perils and prospects of it becoming a hub of Sino-Indian trade.

Even though investors' queries have gone up, the services sector may provide the biggest opportunities for Sikkim. Trade, tourism, transportation and Customs and immigration-related services will require long hours and sturdy legs, which the people in the state can provide.

At present, cross border trade between China and India is negligible.

China will selectively procure items to feed Tibet.  The mountain road from the Sikkimese capital  of Gangtok runs to Lhasa, capital of Tibet, through Nathu-La.

Tibet being a land-locked province, it needs to bring in food items, construction material and other necessities from Kathmandu in Nepal, around 2,000 km away.

In contrast, the distance between Gangtok and Lhasa is only 483 km. Nathu-La will give Tibet and western China access to the Bay of Bengal ports of Kolkata and Haldia, just 1200 km by road.

China will also have the option of using the rail link from Howrah to Siliguri, 600km south of Lhasa. Today, Lhasa's nearest rail link is a six-day journey away at Chendu, China.

But while the facts are in favour of India, the state of things is not. The 52-km journey from Gangtok to Nathu-La is a road that climbs from 5,500 feet to 14,600 feet.

Though its well maintained by the Border Road Organisation, is too narrow to accommodate two trucks. The estimated cost of widening this road is Rs 500-1,000 crore (Rs 5-10 billion).

According to Sanjay Prakash, chief engineer of BRO at Gangtok, machines work at only 50 per cent capacity at such altitude. "Continuous snowfall during winter also makes it difficult for construction work," Prakash said.

Powered by
More Specials


What do you think about the story?








Read what others have to say:





Number of User Comments: 1








Sub: Missing Stuff.

Four facts seem to have been missed by the report:- a) Sikkim and Tibet have a tradition of trading that goes a long time back. ...


Posted by Desi Troll






Disclaimer