Home > Business > Business Headline > Report


Nokia launches 2 low-cost handsets for India

Agencies | August 28, 2003 15:34 IST
Last Updated: August 28, 2003 20:22 IST



With a view to maintaining its dominance in the world market, Nokia is focusing on reducing mobile handset prices, especially for markets like India, Russia, Indonesia, Vietnam, Thailand, the Philippines and China.

Nokia sees India as one of the fastest growing telecom markets in the world and says the country will have over 100 million mobile phone users in the next 3-4 years.

It plans to tap the Indian market to make up for the declining growth in Europe and the United States.

Finland-based Nokia, however, did not announce the price of the two handsets. However, it is expected the two phones will cost between Rs 4,000 and Rs 6,000.

The world's biggest mobile phone maker says it would be able to cut handset prices and yet bring value by its economy of scale benefits.

As part of its strategy to offer low-cost mobile handsets, Nokia on Wednesday launched two entry-level models -- Nokia 1100 and Nokia 2300 -- which operate on GSM and will be available in the Indian market in the fourth quarter of this calendar year. The phones will be available in Europe, Africa and the Middle East in the first quarter of the next year.

The 1100 and 2300 phones work on GSM 900/1800 MHz.

Nokia 2300 will be aimed at the youth, while Nokia 1100 will be targeted at adults who require only the most basic functions. The 1100 and 2300 incorporate many of the features that made Nokia's earlier 3100 and 8310 models popular in developed markets.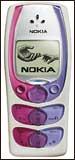 Nokia 2300: Nokia 2300 provides customers with multiple choices for fun and personalization. Users can tailor the phone to fit their mood and style with a number of optional Xpress-on(TM) color covers. The selection of embedded polyphonic ring tones introduces the latest mobile trends to entry-level phones. Users can also download graphics on their phones.
It also offers an in-call timer for checking the duration of a call, as well as an SMS counter to keep track of the number of text messages sent or received. Other features include picture messaging and SMS chat.
It weighs 92 grams, and offers up to 4.5 hours of talk-time and up to 400 hours of stand-by time.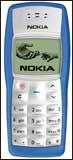 Nokia 1100: The Nokia 1100, weighing 93 gms, design features anti-slip sides to provide a better grip as well as reduce the risk of dust and rain damage. Users can customize their display with a selectable font size and up to 4 lines of text. It has a range of useful features like a stopwatch, alarm clock, flashlight, vibrating alert, and two built-in games. The long lasting battery gives users a talk time of 2-4.30 hours and a standby time of up to 400 hours.
Messaging with 1100 is fast and easy thanks to features like predictive text input and speed dial. Users can personalize 1100 with a wide range of interchangeable Xpress-on(TM) covers, as well as a variety of ring tones, operator logos and picture messages.
At present, the Indian market size is slightly over 20 million with GSM cellular providers having around 17 million subscribers and rival WLL-CDMA operators having about 3.5 million customers.
AGENCIES


What do you think about the story?








Read what others have to say:





Number of User Comments: 73








Sub: everything is undisclosed

y do u ppl dnt gve the price of the prdct ??? jst tellng tht its low dosnt mke ne sens. pls quote the price.


Posted by simply









Sub: Nokia 1100, Nokia 2300

Dear sir/Madam, Hello! I think Nokia 2300's battery is more powerful as in it we can talk about 4hrs continuoulsy. My suggestion to u is ...


Posted by Lalit









Sub: Bakwas news....all BOGUS

How can they say it cheap when approximation prices also are not given. A common man wud need a price range of 2000-4000 .. can ...


Posted by R@jesh









Sub: Wake up Nokia Marketing Team

I think the marketing team at Nokia keeps surveying and comparing their own products only. Wake up and see what the other companies are offering ...


Posted by SN









Sub: cost

the xshowroom cost of 1100 is 6300 can u say what cost i 2300


Posted by venkatesh






Disclaimer