Reva, India's 1st electric car, to hit roads by June-end
M D Riti in Bangalore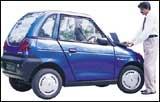 When you come home at night and plug your cell phone in for recharging, you might soon opt for another socket of the same kind in your garage to recharge your car. The Reva Electric Car company of Bangalore car on Monday launched its two-seater hatchback car the Reva, which is priced at about Rs 250,000.
At present, the Reva will only be sold in Bangalore as a local city car. And Sudrashan Maini, chairman of the Maini Group of Companies, proposes to market it as just another household gadget. All you have to do, he says, is plug your Reva into an ordinary 220 volt 15 amp electric socket every night, and it will run about 80 kilometres the next day.
In two-and-a-half hours, it charges 80 per cent. In six hours, it charges the full amount.
The car can carry a total weight of 227 kg. A total of eight 6-volt tubular batteries specially designed for electric vehicles form the Reva's power pack. They are touted as having a life span of three or four years, or about 40,000 km of driving.
The company's young managing director Chetan Maini says that a replacement pack should cost about Rs 20,000. This power pack is housed under the front seats, thereby lowering the center of gravity and increasing the car's stability.
"Our car will be as silent as your computer, will move like your mouse and run on the same fuel!" laughs Chetan, Sudarshan Maini' son.
The company will have a 24-hour mobile service centre in Bangalore, and promises to troubleshoot for every kind of car breakdown within the city.
They are yet to decide on dealers and service networks outside the city. "We opted for Bangalore as we are Bangalore-based, and we think the people of this city are very cosmopolitan, progressive and receptive to new products," explains Sudarshan.
The car has two bucket seats in front and a single long seat at the back. The back seat is certainly too cramped, in terms of leg space, to accommodate two adults, but could squeeze in two under-12s, who would climb in after lifting one of the bucket seats.
The cheapest car on Indian roads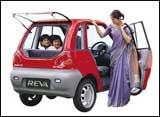 Apart from its attractive price, which will make it the cheapest small car available on Indian roads, the Reva's other advantage is its low running cost. It is to cost barely 40 paise a kilometre to run.
This pricing per kilometre has been worked out according to electricity tariffs in Karnataka, which is amongst the states which charges the highest rates for domestic power consumption.
"We have appealed to the Karnataka Electricity Board to allow Reva users a lower cost per unit of electricity consumed, like the agricultural rates offered," says Sudarshan Maini.
However, developing this car has not been a low cost endeavour for the Mainis. Chetan estimates that the entire project cost the Maini group about Rs 800 million as development costs. However, the Mainis promise that if the Karnataka government or the Union government give them any concessions, they will pass the benefit onto the customers, and not use it to absorb their development costs.
The Mainis have already started taking bookings for the car on a low scale, with a booking fee of Rs 10,000, refundable if you change your mind.
The early bookers should get their cars between the end of June and mid-July. Bookings after this formal launch might have different terms and delivery could be any time by the end of the year.
The car is also available for test driving at the company's showroom on Lavelle Road in Bangalore.
Understandably, this car will also have a relatively low maximum speed. It cannot go faster than 65 km an hour. This, coupled, with the fact that it needs to be recharged after every 80 km, is what makes the Mainis position it as a city car.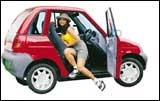 It has the good pick-up that is necessary for city driving, and can go from idling speed to 20 kilometres in just a few seconds.
The car is quite small and neat, being 2.6 metres long, 1.3 metres wide and 1.5 metres high. It has a small turning radius of just 3.5 metres, and a wheel base of 1.7 metres. Its wheels are manufactured specially for it by Michelin and give good road grip.
The car weighs 650 kg. The car body is made of high impact ABS vacuum formed panels on a welded tubular steel space frame.
How the Mainis developed the Reva
All three of Maini's sons are involved in the car project. His youngest son Chetan is the managing director of Reva Electric.
His oldest son Sandeep makes the battery chargers for the car in a company with American collaboration.
His second son Gautam, who is managing director of Maini Precision, makes the body of the car.
The car is named after Sudarshan's wife Reva, who is a familiar figure on Bangalore high society circuit.
Actually, the Reva has been in the making for many years now. "The idea first came to my mind when I visited Germany, soon after I started my own first factory and unit in 1973," recalls Sudarshan.
"I had seen cars there that could run 50 kms on an electric charge. As I used to drive every day to my unit in Peenya in a big, unwieldy car, because I could not afford a better car, I used to wish and wish that I had an economical, small, neat car for city driving. I never thought it would take me 28 years to do it right!"
Many years later, Chetan Maini used to like making small battery-operated cars. "When he was 13 years old, he made a small car that could be driven by remote control that we used to use to chase the dogs out of the house," laughs Sudarshan.
As he became a highly astute engineering student, Sudarshan sent him on to Michigan and Detroit to study further. By 1990, the Mainis entered into a tie-up with Amerigon, the company that Chetan then worked for in the US, to make the Reva.
Now, AEVT, a spin-off from Amerigon, is a 33 per cent equity partner in Reva Electric.
The prototype was tested and cleared by ARAI in Pune five years ago. However, it took the company all this time to indigenise about 95 per cent of the car's 1,100 components.
"It takes a long time from prototype to product in this country," sighs Sudarshan. "Importing components would have been prohibitively expensive, so we had to shift all manufacturing to India."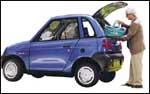 The Mainis will probably target the young adult or the very small family, as this car can seat only two adults and one or two small children. However, it is billed as a highly safe and reliable car, and has a sophisticated energy management system that informs the driver when the car's batteries are running low.
This, the manufacturers' hope, will offset the main handicap that electric vehicles suffered from in the past, namely that they simply ran out of battery power and simply stopped dead mid-journey.
'With some subsidization, Reva could be much cheaper'
Actually, Maini has some of the world's biggest players in the automobile market as his competitors. Mercedes Benz, General Motors, Honda, Volvo, Ford, Peugeot, Toyota and Nissan all make battery-powered cars.
However, Maini's car is far less expensive. They work out to less than $7,000 apiece, while the others cost at least $20,000 or more, despite being subsidised by their respective governments.
"If we could even get half the concessions they do, we can beat the hell out of all of them," says Sudarshan.
This is the first time that Maini, a self-made businessman from Ludhiana, is actually venturing into car manufacture. But he has had a strong presence in the automobile industry for years now.
His flagship -- Maini Precision Products -- makes and exports high precision automobile components, mainly to the US and Europe. Its turnover crossed the Rs 100-million mark some years ago. Karnataka Electronics, another Maini firm, specialises in the manufacture of auto assemblies.
Apart from this, Maini has a strong background in production and shop floor management, as he worked for 15 years as production manager of various firms before he started his own small unit about 28 years ago.
His very first entrepreneurial effort employed barely 10 workers and supplied a small component to the German multinational MICO in Bangalore. Today, he has 11 independent companies in Bangalore.
Economical, non-polluting, easy-to-handle cars
Electric vehicles have been in use all over the world for years now, but mostly for recreation, transport within a factory or a university campus.
The very first electric vehicle ever was built in 1892. As the internal combustion engine was designed, and petroleum products became freely available, electric vehicle development came to a standstill. When petrol became scarce in the seventies, interest grew again in electric vehicles. However, making them turned out to be so expensive that they were dropped again.
Now, interest in these vehicles is at its highest again because of the rise in the awareness about the need to check pollution globally. There are over 75,000 electric vehicles in India now, by some estimates. The governments of USA, France and Germany are reportedly all spending huge amounts of money on the development and propagation of electric vehicles.
Ideal for Indian conditions
"These cars are unsuited for the West, because conditions there are very different," says Chetan. "There, cars need more speed, need to be bigger and more luxurious. That's why electric vehicles, which are small and cost-effective, are more suited to India, China and Brazil."
Maini is not, by any yardstick, the only, or even the first Indian, to have tried to make battery-powered vehicles for road use. About five years ago, another US-based Indian businessman, Anil Ananthakrishna, son of A K Ananthakrishna, an ex-mayor and powerful Congress politician of Bangalore, tried hard to put his own electric car, which he had named the Revi, on the roads in India.
Actually, Anil has been trying for almost a quarter century now to find an affluent collaborator to help him make the various electrically driven vehicles that he designs. He began by powering ordinary bicycles with batteries in 1973, with the financial support of CV B Shah, a small cycle shop owner in Bangalore.
Anil even started a small company called Electro Anil Private Ltd in 1982, which made and sold about 500 electrically powered two wheelers, mostly to customers overseas. He was funded by the kind of resources that were all that young entrepreneurs like him could hope for in those
days, namely small investments from prominent Bangaloreans like M A Sreenivasan, former minister of Mysore.
Anil ran into all the financial bottlenecks that small manufacturers got afflicted with in those days, and soon went completely out of business.
Government lending institutions would not fund him. Private investors thought he was too risky, as he had a very low production level. Anil could not try for large scale production because of the paucity of funds, as only banks were willing to give him money, and that would only finance a very small scale of production.
Eventually, he moved to the US and set up a company with an American partner to make battery-powered vehicles. The vehicles they produce are used in resorts all over the US, but have not proved viable for regular road use because they have several problems like needing very expensive external battery chargers.
Maini's Reva, in contrast, has a built-in battery charger.
Similarly, the Karnataka government itself set up a company called Electromobiles India Ltd to assemble and market battery-operated vehicles as far back as 1982.
Sadly, this company was probably two decades too early, and failed to manufacture and sell roadworthy vehicles. It finally closed down after struggling along for a few years.
Will the Reva break the jinx?
Will Maini and his Reva break the jinx that all battery-powered vehicles for road use have suffered from so far? Or will they too go the way of their predecessors in India?
They seem more poised for success than failure as they have struggled for long enough and taken a few years more to ensure that they are finally ready to go with their car.