Sachin Tendulkar is brand champion for Fiat
Our Correspondent in Bombay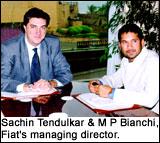 Fiat India has signed on Indian batting maestro Sachin Tendulkar as its brand champion.
His association with the Fiat brand will kick-off the carmaker's new initiative into the Indian market and will commence with the soon-to-be-launched Palio, said M P Bianchi, Fiat's managing director.
He said that Fiat feels Tendulkar is the perfect brand champion as his elevated level of performance and dynamic, creative stroke-play will match perfectly with the new approach Fiat will soon adopt in the Indian market.
"Tendulkar is young, strong, dependable and above all number one - that's exactly what Fiat is aiming to be," said an elated Bianchi.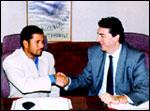 Sachin was equally pleased: "I have always been a big fan of Italian cars, especially Ferrari, and am happy to represent Fiat and Italian motoring."
Fiat plans to produce 50,000 units of the Palio in the first year of launch from a total installed capacity of 60,000 units at its Kurla plant.
The company, which is planning to launch the Palio before Christmas this year, is expecting to add 20 more dealerships to its existing setup by end of this year to increase the strength of its dealer network to 75.