August 24, 2007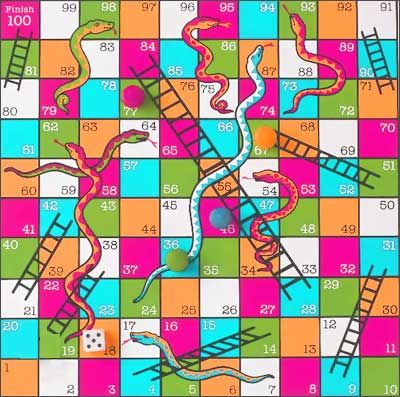 When you live in a nation like India -- with its vast landmass, varied people and ancient history -- it's quite possible that there are many things you may not know about her.
In this series, we hope to satisfy your curiosity with interesting nuggets of information about India:
It's a game almost all of us have played.
Yet, as we navigated our path across the snake-and-ladder strewn board, rejoicing with every boost the ladder gave us, and groaning each time we landed on the snake to slither down many hard earned spots, barely a handful of us must have spared a thought for the game's origins.
Yep, Snakes and Ladders is an original Indian game.
The Government of India site credits the invention of the game to the 13th century saint, Gyandev. The game, they say, was originally called Mokshpat; with the ladders representing virtues and the snakes representing vices. Through its several modifications over the decades, however, the meaning of the game has remained the same -- that good deeds will take people to heaven while evil deeds will lead to a cycle of rebirths.
According to The Online Guide To Traditional Games, which also credits the game to India, the original game was called Moksha-Patamu. The concept of morality remains the same, with a ladder representing good deeds and the snakes representing evil.
In Moksha-Patamu, the squares of virtue are faith (12), reliability (51), generosity (57), knowledge (76), asceticism (78), while the squares of evil are disobedience (41), vanity (44), vulgarity (49), theft (52), lying (58), drunkenness (62), debt (69), murder (73), rage (84), greed (92), pride (95) and lust (99). The last square (100) represents Nirvana.
A report in The Hindu newspaper talks of yet another version of the game called Vaikuntapaali or Paramapada Sopanam. Again, both rebirth and morality have a role to play in the game. The snakes represent death, while the ladders represent life.
The game has 132 squares, with a different picture on each square. They denote either a living creature or a human quality. Once the player reaches the second last square, he has to have the patience to wait for the right number to fall so that he can finally reach home.
Information courtesy india.gov.in, tradgames.org.uk, The Hindu
MORE IN THIS SERIES:
Crazy about cricket?
When the Buddha smiled
Name India's first airport
Rs 350 -- An IAS officer's salary