How to achieve your financial goals: A case study
Last updated on: February 7, 2011 18:35 IST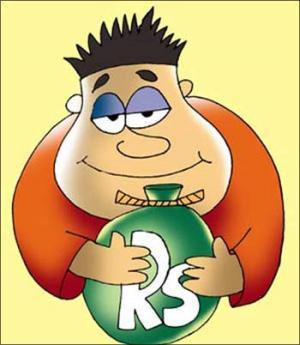 Dehradoon based Saurabh Sarin, 36 and his wife Shreya Sarin, 34 lead a simple life with their young son Shuarya 6, in their small but beautiful house. But in this calm fa ade of the Sarins, there is a storm inside.
Saurabh, a digital designer with mid-sized company and Shreya, a homebound IT professional are working hard towards repayment of their home loan.
Besides, Saurabh feels that complete dependence on salary is not a good situation to be in hence he wants to have plan B in place to fend for his future. For this, he is looking to invest in some kind of commercial property, which can be effectively utilised in future. But before this they want to close their home loan.
But in their urge to do so, their investments have taken back seat which can adversely affect their future events like son's higher education. Moreover they are unable to utilise their monthly surplus, which can ensure good returns.
Shreya, who loves to design dresses and Saurabh who loves to design houses, have many other ambitions to fulfill like to visit some exotic locales in the near future. So how can this starry-eyed couple achieve their financial goals?
To know this and more, here is the action plan recommended by the financial planning expert Harsh Roongta.
Click NEXT to read more.

Apnapaisa is a price comparison engine that allows consumers in India [ Images ] the ability to compare the EMI, interest rates and other fees for home loans, car loans, personal loans, business loans, credit cards, compare online quotes and features of life insurance, health insurance, car insurance, travel insurance and other general insurance policies in India.  
How to achieve your financial goals: A case study
Last updated on: February 7, 2011 18:35 IST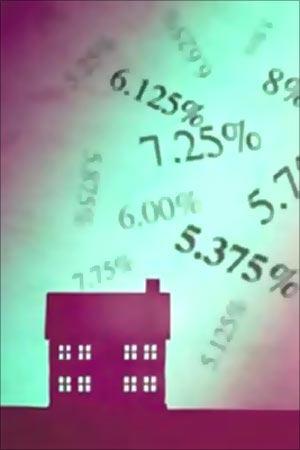 Sarins' immediate concerns:
Repayment of their home loan
Proper utilisation of surplus money
Remove their dependence on salary
A concrete retirement plan in place
Education and marriage expenses for their Son
Income & expenses:
The yearly family inflow of Sarin's is Rs 7.80 lakh and their outflow is Rs.4.8 lakh, including regular household expenses, home loan EMI and regular investment in some tax saving mutual fund scheme for Rs 35,000. This leaves them with Rs. 3 lakh as yearly investible surplus.
How to achieve your financial goals: A case study
Last updated on: February 7, 2011 18:35 IST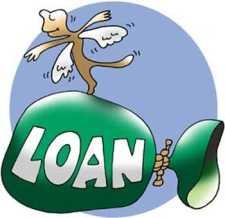 Assets & liabilities
The major part of their investments is in their recently purchased home for which they had utilised most of their savings and investment.
The outstanding loan as on today stands at Rs 15 lakh.
They have kept Rs 100,000 in their saving accounts and another Rs 75,000 in short-term deposits, which they plan to use to pre-pay their home loan.
Their exposure in equity is limited to investment in mutual fund schemed having current market value is Rs 35,000 only done for the purpose of tax saving.
Goals & costs: Present & future

How to achieve your financial goals: A case study
Last updated on: February 7, 2011 18:35 IST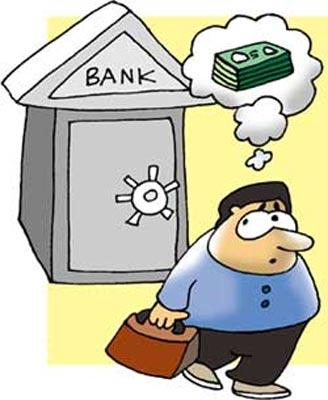 Action plan for the Sarins
Contingency fund:
Your current monthly regular expenses, towards household, loan EMI and insurance premium amount to Rs 40,000. This amount will be needed in spite on any unforeseen event. Your available resources of Rs 1,75,000 in saving account and fixed deposits will take care of 4 months of your regular expenses.
Life insurance
Saurabh has only one insurance policy with insurance over of Rs 8 lakh for which he pays an annual premium of Rs 60,000 which is on the higher side. It is suggested to either surrender or convert it to fully paid-up policy.
Tip: Exit expensive insurance policies to increase the monthly surplus.
Looking at the need of maintaining current life style of the dependent family, of growing up child and outstanding loans, we recommend term life insurance of Rs 75 lakh for 30 years.
Tip: Life cover to be obtained by taking a term cover for 30 years.
Health insurance
Saurabh and his family have been provided health cover of Rs 2 lakh by his company. Even if you have an employer provided health plan, it is always advisable to have a private health insurance plan as often an employer provided plan does not fulfill all needs. Further, if you were to change your job, you may not get any coverage during your transition period. And, your new plan may not cover any pre-existing ailments.
Tip: Buy individual health insurance plan for Rs 300,000 covering each member of the family. 
How to achieve your financial goals: A case study
Last updated on: February 7, 2011 18:35 IST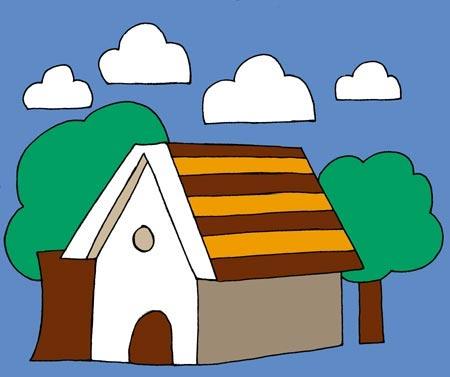 Home loan
Saurabh has a high interest home loan @11.50 per cent and it will be better if he shifts their outstanding loan of Rs15.00 lakh to a low cost loan taking cognizance of current home loan scenario where leading banks are offering festive home loan rate which are quite competitive @9.50 per cent.
Tip: Switching to low cost home loan will not only bring down Saurabh's overall cost but also tenure of his loan.
Proposed investments
The goal of property as an investment needs to be reviewed properly. Your existing cash flow does permit you to save for required down payment. But the actual decision to go ahead or not for the property purchase will need to be analysed at that point of time only.
As all their financial goals are ten years away, the Sarins need to focus more on equity allocation rather than debt.
For the long term (exceeding 10 years), nothing beats equities for excellent returns. Our instrument of choice is diversified large-cap mutual funds.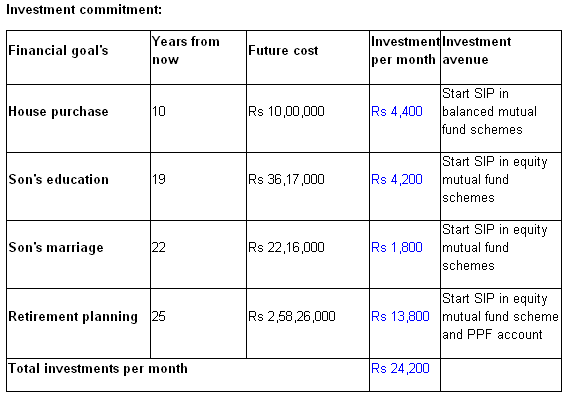 Cash flow post recommendation:
Premium amount for term insurance plan for cover Rs 75 lakh along with health insurance policy for sum insured Rs 3 lakh for each family member of 3.
Plan assumption:
Inflation: 7 per cent
Post tax return on equity: 12 per cent
Post tax return on PPF: 8 per cent
Conclusion:
Saurabh must resist the temptation to prepay the home loan which will come at the cost of investment for future goals. With the above strategy the Sarins will be in a comfortable position to achieve their dreams.