VIDEO: Jewellery ad celebrating remarriage gets two thumbs up!
Last updated on: October 28, 2013 21:44 IST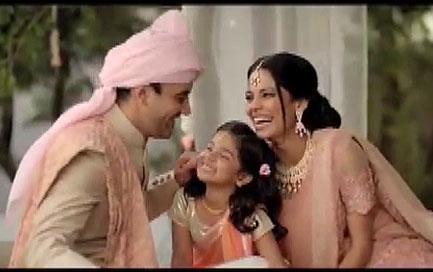 Tanishq's latest advertisement, featuring a dusky mom as its heroine, is a super hit!
The wedding season is here and jewellery brands are clamouring over each other to get as many eyeballs as possible.
However, it seems like the race this season has already been won by Tata's jewellery brand, Tanishq.
The advertisement -- which comes as a breath of fresh air from the annual overdose of young, fair-skinned couples falling in love over diamonds -- begins with a young, dusky bride getting ready for her wedding.
Next, we are introduced to a little girl who seems to share a special chemistry with the soon-to-be-married heroine.
The girl accompanies the bride to the mandap and settles herself between the bride's parents.
Click NEXT to read the rest of the story.
VIDEO: Jewellery ad celebrating remarriage gets two thumbs up!
Last updated on: October 28, 2013 21:44 IST
As the couple starts taking the pheras, the little one insists on joining them, revealing herself to the audience as the bride's daughter.
While her mother tries to shush her, the groom invites her to join in and carries her in his arms as they complete the ritual.
The advertisement has received rave reviews over social media platforms:
Twitter user Richard KD Parker commented: 'A dusky bride with a daughter! That's brave in India.'
Fashion designer Masaba Gupta tweeted: 'so proud 2 hav lived to see a time in advertisement where caramel skin& remarriage r celebrated unbashedly by a leading brand. (sic)'
Filmmaker Nikhil Advani wrote: 'The new #tanishq commercial is a super step in the right direction. Full marks for saying while selling. Salute!!!'
The commercial has been directed by Gauri Shinde, the woman behind the superhit Sridevi-starrer, English Vinglish.
Priyanka Bose, known for her roles in movies such as Love Sex aur Dhoka, Guzaarish and Johnny Gaddar, plays the role of the young bride.
She has also starred in the critically acclaimed play featured at the Edinburgh Festival, Nirbhaya that tells the story of the unnamed girl gangraped in New Delhi last year (You can contribute to the project here).
What do you think of the advertisement? Post your comments here!