Top 6: Getaways to beat the Delhi heat
Last updated on: May 19, 2014 08:09 IST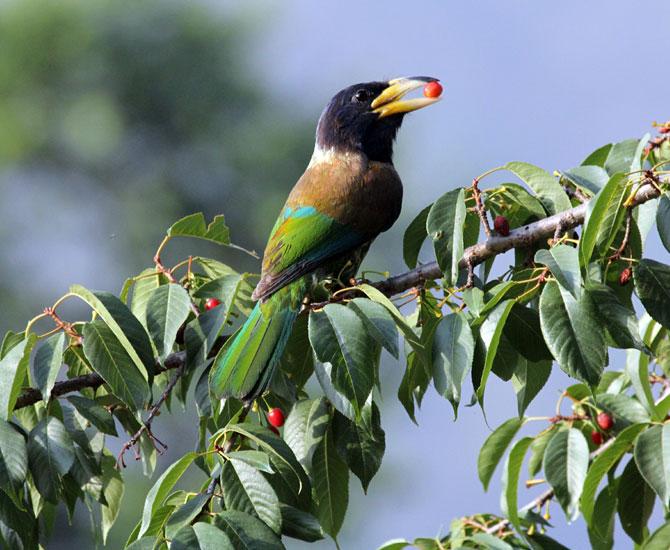 If you want to escape the sweltering Delhi summers, these are the places to visit.
Summer's here and so are the holidays.
If you are planning your family vacation, here are six hill stations from Delhi you should be heading to.
I am leaving out the Simlas and the Chails on purpose because much has been said and written about them already.
So let's gets started, shall we?
1. Binsar Wildlife Sanctuary
Unlike other sanctuaries, exploring the wildlife here is on foot.
So do carry a pair of good walking shoes.
Since trails are many, there is a chance you could get lost.
Hence it is advisable to have a guide with you.
Some walks could be a steep climb, so be prepared.
Amongst other things you will witness is the clear view of the 300km stretch of the snow capped Himalayas..
---
Want to share your travel pictures?
Post them here -- #India-Photos!
Do also add a description, mentioning the place and any other details you'd like our readers to know!
We will publish the best photographs right here on Rediff.com!
What are you waiting for? Hurry!
Disclaimer: The photographs featured in this series are, to the best of our knowledge, original entries submitted by readers. Rediff.com does not assume any responsibility for their originality.
---
Click on NEXT to continue reading...
Late evening in Binsar
Last updated on: May 19, 2014 08:09 IST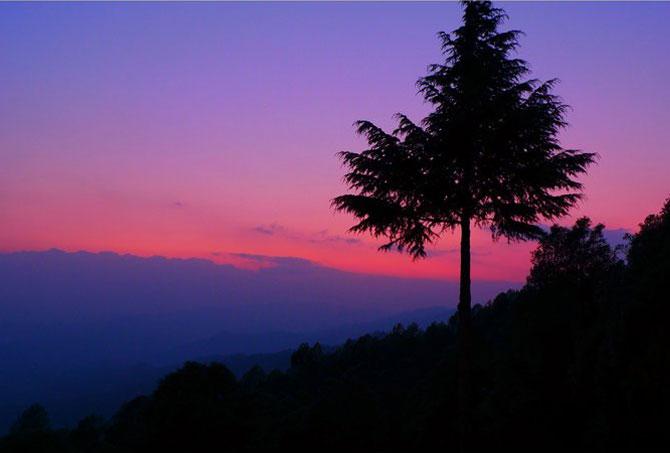 You are also sure to get a good view of peaks like Gauri, Hathi, Api etc during this time of the year.
Binsar also has a 16th century Shiva temple called Bineshwar Temple.
That's where the hill station gets its name from. It is situated 6 km from Ayarpani.
Binsar also offers some shopping.
The Panchachuli Women Weavers, a cooperative, produces naturally dyed shawls, stoles and scarves.
It was started by Mukti Datta, a lady of Belgian origin around 40 years ago.
Specialities here are the shawls made from the yarn of the Himalayan nettle.
You can purchase these from the Aipen: The Kumaoni Shop.
Binsar is also known for its oils, jams and pickles.
Must buys include the Rhododendron jam, wild red rice and the apricot oil.
Binsar has various home stay options.
Amongst hotels are the KMVN's Nanada Devi Tourist Resthouse and The Binsar Retreat.
Inside the sanctuary is the Mary Budden Estate -- a luxury stay with a brilliant location and lovely interiors.
It is located in Uttarakhand, 35 km from Almora.
A little less than 400 km from Delhi, it takes around 10 hours to reach.
Click on NEXT to continue reading...
2. Rajgarh
Last updated on: May 19, 2014 08:09 IST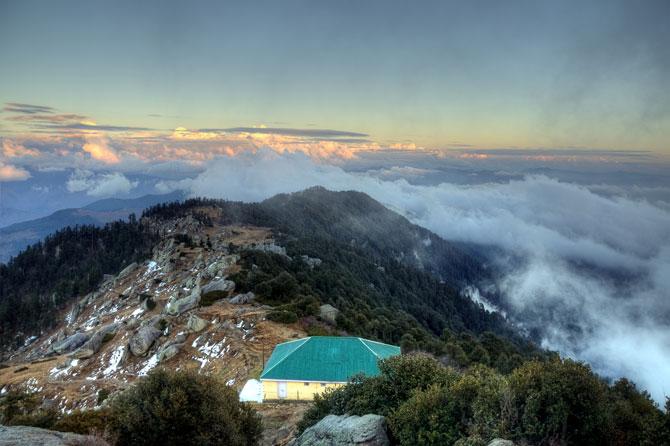 At Rajgarh you can choose how you want to spend your holiday.
You can while away your time on hammocks staring at the Choor Chandni Peak or indulge in trekking, rock climbing and hiking to nearby villages.
The place to stay here is at Camp Bodhisatva.
While packing for these camps don't forget to put in your trekking shoes, a torch, binoculars and a mosquito repellent cream.
The camp gives sleeping bags but if you wish you can carry your own as well.
The food is decent and if you are not too finicky then drink the pure natural spring water (else bottled water is available).
Spend your holiday at Rajgarh identifying different birds, picnicking near the streams or learning the art of river crossing.
You can even go fishing to Giripul, a well known spot for fishing on the river Giri. But you have to get your own gear.
If trekking is of interest to you, then you can go for a full day trek to the Churdhar Peak. You can carry packed meals from the camp before you begin your trek.
Click on NEXT to continue reading...
Churdhar Peak, Rajgarh
Last updated on: May 19, 2014 08:09 IST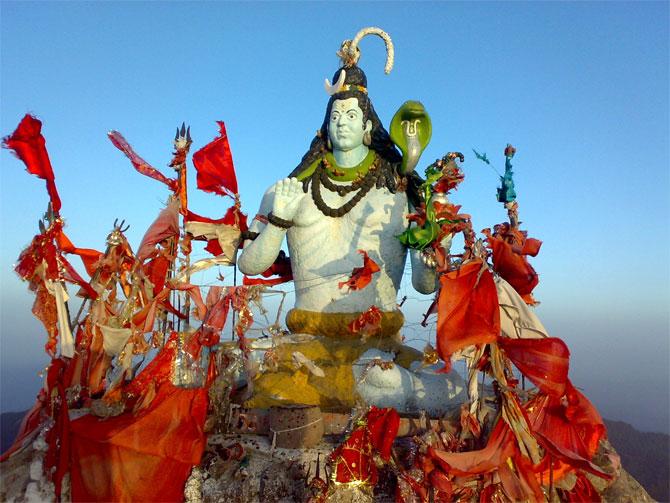 Two other must see places here are the Dolanji Bon Monastry and the Shirgul Devta Temple. The latter has hundreds of coins nailed on the doorway. These are offered by devotees when their prayers are answered.
Looking for some shopping? A 40 minute-drive from Rajgarh will take you to the Bhuira Jam Factory.
All the produce is handmade.
Located in Himachal Pradesh it is 332 km from Delhi, and takes about 8 hours by road.
June-July are the most ideal months be here because it is the peach season.
For a long time Rajgarh remained pretty unknown except for the existence of the PWD Rest House.
Now it is slowly gaining popularity and tourists and begun flocking to this hill station.
Click on NEXT to continue reading...
3. Sonapani
Last updated on: May 19, 2014 08:09 IST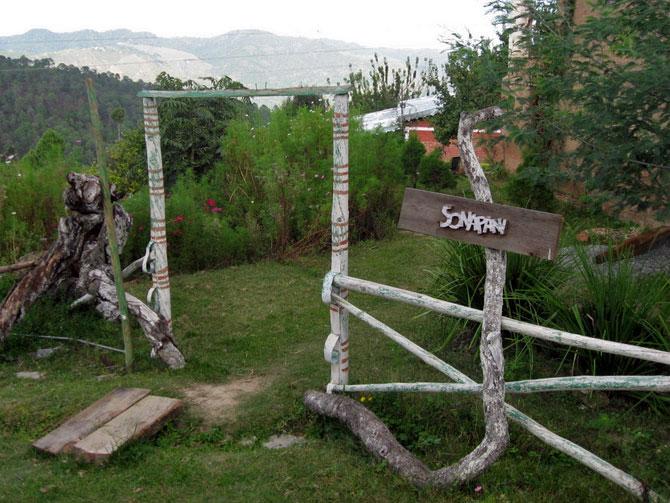 This place is actually an old stone house that was built many years ago by an army man who fell in love with this place.
Amongst things to do are walks in the forests.
After you have spent enough time lazing around head towards the village.
From there it is a steep climb till you reach the pine dotted ridge.
Carry a bed sheet and some food and spend the entire day smelling the pines and oaks and watching magpies flying around.
Click on NEXT to continue reading...
Walks and trails in Sonapani
Last updated on: May 19, 2014 08:09 IST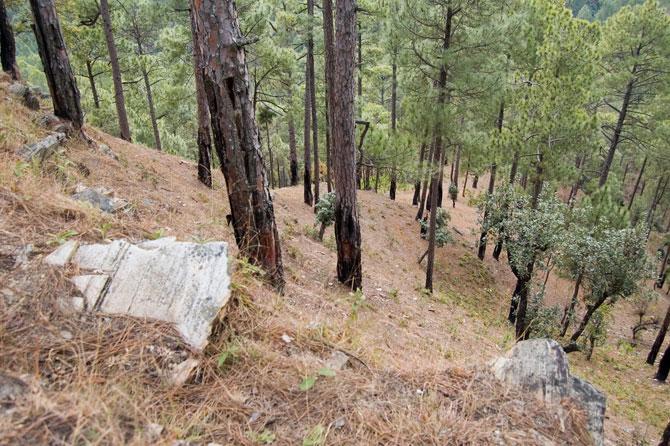 If you are an adventurous lot, go for rock climbing, river crossing and treks.
Located 340 km from Delhi in Uttarkhand, it takes nine hours to reach plus an additional half an hour of walk.
Himalayan Village Sonapani is a good option to stay. Each cottage has a sit-out area and all of them the Himalayan peaks.
Click on NEXT to continue reading...
4. Thanedar
Last updated on: May 19, 2014 08:09 IST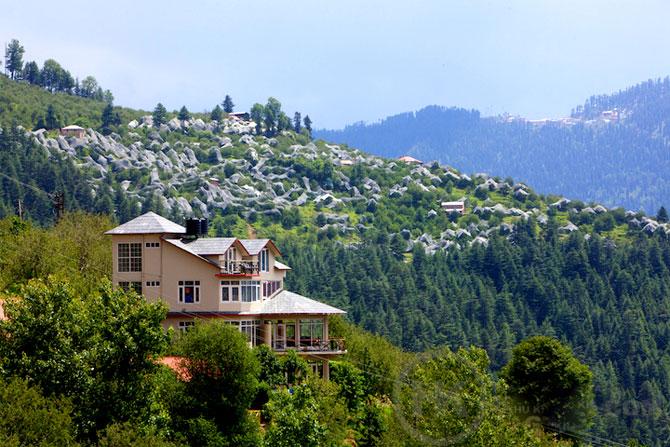 If you are looking for some apple-picking then this is the place to visit during the months of June and July.
In fact these apple trees were planted in Kotagarh by an American missionary many years ago. They continue to reap a rich harvest even today.
There is nothing else to do here than to pick and eat apples and take in the sweet smell of the apple blossoms along with those of plum and the almond trees.
If you like 'up the hill' walks, visit the Arya Samaj Mandir.
This is also the spot where the seedling of the first red and golden apple of the region was planted.
Click on NEXT to continue reading...
Tani Jubbar Lake, Thanedar
Last updated on: May 19, 2014 08:09 IST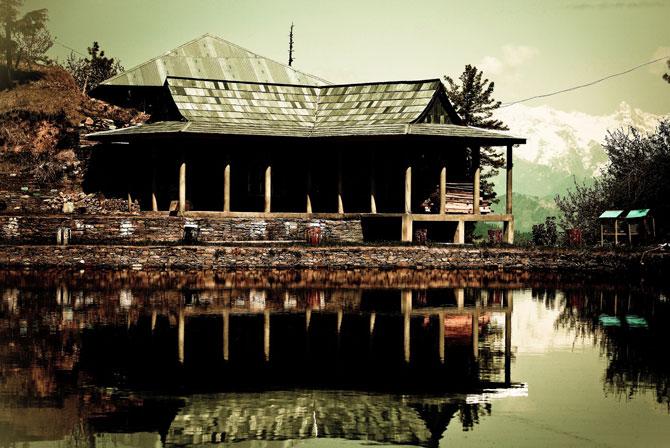 You might even spot the bright red rhododendron flowers on the way! Feeling adventurous? Pick and eat it raw! Like the taste? Buy its squash from one of the Himcu shops.
Other than this, you can visit the St Mary's Church in Kotagarh Dkm away or the weeping willow surrounded Tani Jubbar Lake, 7 km away.
In June, a fair is also held here where local artists sell their wares.
Banjara Camps' Orchard Retreat and the no-frills PWD Rest House are good places to stay.
It is located a little over 420 km from Delhi, to the north of Shimla.
Click on NEXT to continue reading...
5. Jilling Estate
Last updated on: May 19, 2014 08:09 IST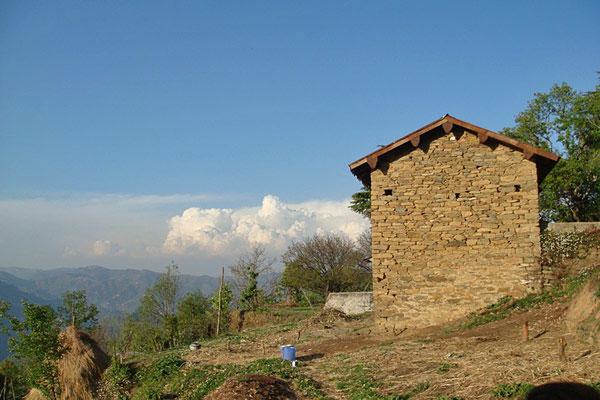 The estate has 4 cottages with 6-7 bedrooms; the Mountain Eyrie cottage is located on the highest point of the hill.
There is nothing much to do here except go for peaceful walks, discovering the forest and then going to the ridge to stare at the valley below.
The estate also gives breathtaking views of the Nanda Devi, Trishul and the Panchachuli peaks.
The meals are fresh and delicious at the estate, especially because a lot of the ingredients come from the farming that's done on the estate.
Summer is the best time to visit.
While the rhododendron blooms around April, this is the time when the orchards are filled with fruits.
So go enjoy yourself here!
Located in Uttarakhand, it is 308 km away from Delhi and takes seven hours by road plus an additional hour by foot to reach.
Click on NEXT to continue reading...
6. Sitla Estate
Last updated on: May 19, 2014 08:09 IST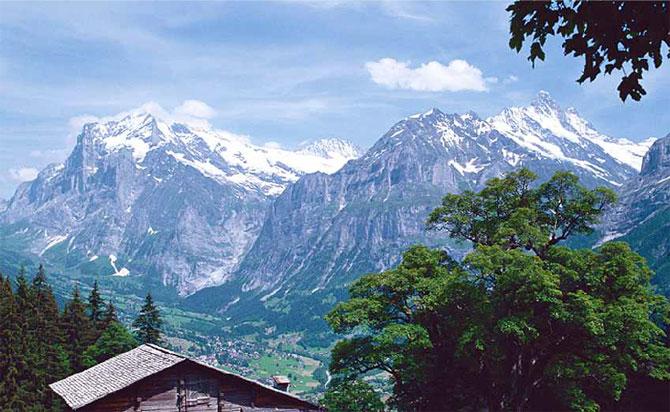 Set on 40 acres of land, the Sitla Estate is a 100 year old stone house plus the owner, Vikram's, cottage.
The old stone house offers a charming atmosphere.
The wooden floors, the antique wardrobes and plethora of lamps give it a warm and cosy feel.
It also has a lovely living room and games like table tennis and badminton.
While at this estate, the best thing to do is to spend your time on the terrace.
While you dreamily look at the fruit orchards and the snow-capped mountains, the kids have a lot of space to run around.
Ample cushion seating has been made for the guests.
Also this is where you make and sip your evening tea as scarlet minivets keep you company.
You can also opt for a guided walk.
This will take you through a reserve forest of oaks and pines, some pretty Kumaoni villages and lots of birds to spot.
The food here is especially very good and is prepared with a lot of care.
Be it the soup made with thin noodles or the mushroom pasta. Or even the homemade bread and jams. They all make the stay very pleasurable and welcoming indeed.
Sitla Estate is located 340 km from Delhi in Nainital district of Uttarakhand.
Turn to the unexplored destinations like these or even to the more popular Mussourie, Nanital and Simla.
But do run to the mountains and beat the heat!
---
Want to share your travel story and pictures? Simply write in to travelpicsga@rediffmail.com (subject line: 'My Travel Story'), along with pictures of the destination you're writing about. We'll publish the best ones right here on rediff.com!