PIX: Road trip through Spain and Portugal
Last updated on: October 21, 2011 15:32 IST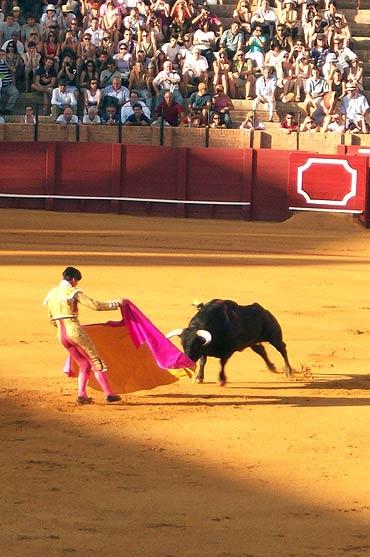 Harnoor Channi-Tiwary decided to visit Spain and Portugal for her first European vacation. This is her travelogue.
For a first European vacation, there are many contenders but rarely do Spain and Portugal figure on that list. With the thought of doing something different (and our decision had absolutely nothing to do with the film Zindagi Naa Milegi Dobara which was released way after we had planned out holiday), we decided to do a road trip across these two countries for our annual vacation.
This would of course be very different from our past trips where we explored at will. It was our five-month-old daughter's first long vacation and it took a lot of courage to go ahead with our plan. We want our daughter to grow up and be a traveller like her parents and it is never too early to learn. My sister and brother-in-law from Canada also jumped at the plan and it we all decided to take the trip together.
So with the tickets booked, visa stamped, we were all set to go. The flight to Madrid was eventful with an infant as she managed to keep quite a few people awake. But the bassinet was a blessing and after a few hours of rest and a flight change at Frankfurt, we landed in Madrid, the capital of Spain.
The road trip was planned through south of Spain, the famous moor state of Andalucia. From there we would cross the border of Portugal and spend two days on the beaches of Algarve before ending up in Lisbon.
Madrid is a delight and was my favourite city experience during the entire trip. It has beautiful buildings, sculpted fountains at every road intersection and a general aura of stateliness. With five days to spend there, we planned our itinerary at leisure. Our hotel, The Westin Palace was just a few minutes away from the famous three museums of Madrid and very well connected to the rest of the city by metro.
Harnoor Channi-Tiwary is the founder of Journey My Way, a personalised travel advisory firm journeymyway.com
PIX: Road trip through Spain and Portugal
Last updated on: October 21, 2011 15:32 IST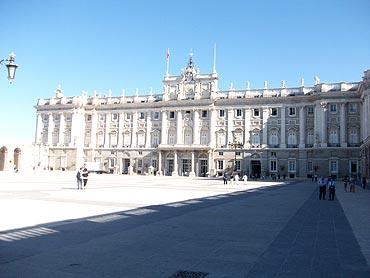 What better way to kick off a vacation than shopping?
The famous El Rastro flea market in the La Latina district beckoned us. If you ever thought that Europe is sparsely populated, visit this market on a Sunday morning!
The crowds on the narrow street swelled to such proportions that by noon it was almost impossible to walk. We gladly stepped off the street to sit in a local pub and enjoyed some Sangria and Tapas. The Spaniards concept of drinking is to pub hop, going to one bar after another after a glass of beer or Sangria.
Also, if you happen to drink at lunch time, most pubs offer free Tapas (appetizers) which are small portions of food as varied as grilled fish, Paella (the national dish made of rice and usually seafood), ham sandwiches etc.
If you have a large drinking capacity, often you may get enough free Tapas to fill your stomach! Though we tried the Galician octopus stew and many weird sea creatures, the best food in Madrid was the fried fish at Casa Labra and the Churros (fried flour sticks dipped in molten chocolate served in a cup) at the century old Chocolateria San Gines.
Madrid is beautiful. Culture, glamour and aesthetics peek out from every corner. The people are fashionably dressed and usually don't speak a word of English.
PIX: Road trip through Spain and Portugal
Last updated on: October 21, 2011 15:32 IST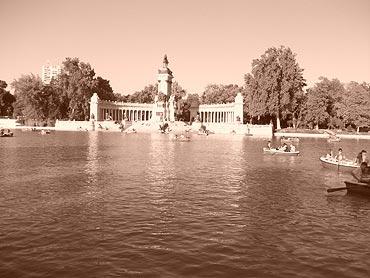 The Prado museum is the Louvre of Spain but my dreams were answered when I saw the Van Goghs and Rembrandts at the smaller Thyssen Museum.
On days when the touristy trails became too hectic, we would go meander in the enormous El Retiro Park in the middle of the city, which has trails, lakes, palaces and more -- a great place for a picnic.
Five days of exploring Madrid and we picked up our rented car and headed off towards the Moorish lands of Granada. What Taj Mahal is to India, Alhambra is to Spain. Set atop a hill, Alhambra is a township with palaces, fort walls and acres and acres of manicured gardens.
PIX: Road trip through Spain and Portugal
Last updated on: October 21, 2011 15:32 IST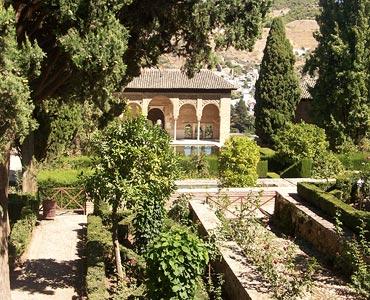 The palaces at Alhambra are lovely and differ in their architecture from the Mughal palaces though both are Islamic in origin. The Mughals had ornate walls and ceilings decorated with gems and stones.
In contrast, the Moors decorated Alhambra with very intricate inscriptions and carvings. The walls are stunning in their details and the wooden roofs an interesting change.
Granada also has a large and beautiful cathedral but our prayers were answered when we found the much-celebrated Tapas bar Bodegas Castaneda.
With animated bartenders and free food that flowed like Sangria, it was an afternoon well spent. The bar also has the best Paella we ever had and thankfully it was the original chicken version not with strange seafood.
PIX: Road trip through Spain and Portugal
Last updated on: October 21, 2011 15:32 IST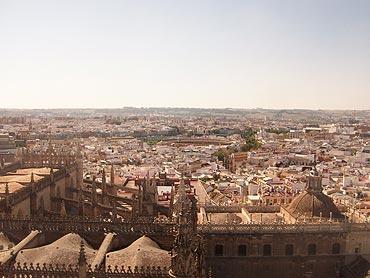 Our next and last stop in Spain was the 3rd largest city of Spain, Seville.
Renting an apartment and staying in the old quarters was a good idea as most places were walking distance through the tiny cobbled alleys.
The Cathedral at Seville is phenomenal to say the least! With 20 chapels within it, it is not only a humungous structure but beautifully decorated as well.
And Christopher Columbus' tomb lies within these walls though whether his remains are here or in the Dominican Republic is disputed. Seville is known for being the home of both bullfighting and the Flamenco, both of which we decided to experience.
The bullfight was a spectacle that was fascinating but needs to be banned in a civil society for being too gory! The courage of the matadors was unmistakable but pitting eight matadors against one bull is not truly a fair fight!
But if there was a highlight to this city, it has to be the Flamenco show. With tickets costing an arm and a leg, the show left us spellbound.
Even though we couldn't understand their language, the yearning in the songs, the erect postures, beautiful dresses and feverish tap dancing left us wanting more.
Even my five month old had a ball watching the dancers though our seats next to the stage got a little loud for her tiny ears.
PIX: Road trip through Spain and Portugal
Last updated on: October 21, 2011 15:32 IST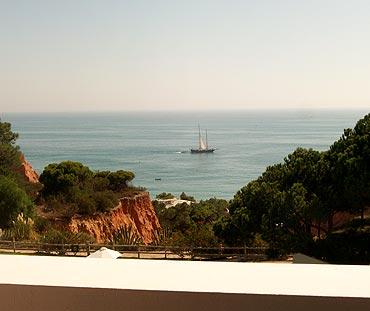 To take a break from our frantic sightseeing itinerary, we drove across the Portugal border into the district of Algarve and spent the next two days on the sandy beaches of Albufeira.
The days were spent leisurely exploring the sprawling Sheraton property on the cliffs overlooking the Atlantic and the evenings eating great food and sipping Sangria on the balcony of our suite. The beaches of Algarve stretch for miles but the ocean is dark and cold. My favourite beaches remain those at pristine Lakshadweep back home in India.
After two days of recuperating and we drove off towards our final destination, Lisbon.
En route, we decided to visit the fairy tale palaces of Sintra. The entire township is a great place to spend a day, walk around and eat even though the palaces there were somewhat of an anticlimax after Spain and India.
PIX: Road trip through Spain and Portugal
Last updated on: October 21, 2011 15:32 IST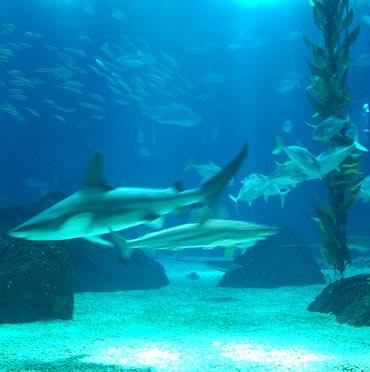 The last day of our trip and perhaps our favourite part was visiting the awe-inspiring Oceanarium in Lisbon.
With four sections recreating each ocean, its marine life and climate, it also has a central aquarium with a variety of creatures like sharks, tuna and many more!
The penguins were adorable and the otters almost cartoon like. We walked a little distance to the Vasco Da Gama mall and did our bit of retail therapy before calling it a fortnight.
With our cameras full, pockets empty and stories to tell, we boarded our flight back home from Lisbon. The two weeks seem to have sped by.
But this I can say now, if Spain is not already in your list of places to do, it's not too late to make some edits!
PIX: Road trip through Spain and Portugal
Last updated on: October 21, 2011 15:32 IST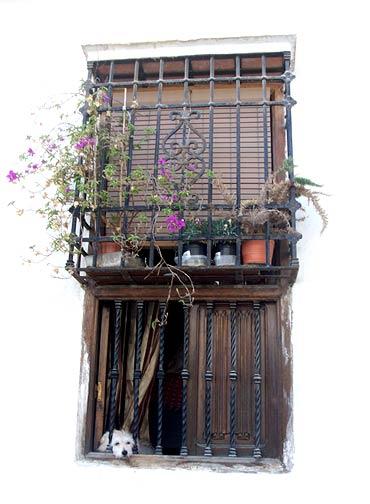 Travelling with an infant is a daunting prospect.
New mothers are so protective of our little ones and so very scared of taking them out of their routine that we literally press the pause button in our lives.
But as my little munchkin was growing, I realised that babies are like clay.
They adjust to their environment way faster than adults do. So instead of having to overhaul your life according to the new addition, sometimes it is better to get your baby adjusted to your way of life.
Being travellers, my husband and I decided early on that we would not go into hibernation when we had a child.
Thus my daughter was merely 10 weeks old when we took her to the hills at Landsdowne and five months when we flew off with her for a road trip in Europe.
If people caution you, hear them out but don't let them put shackles on your wings. If you keep a few things in mind and take a few precautions, travelling with your infant can be a rewarding experience.
Here are some tips to help you in your journeys.
PIX: Road trip through Spain and Portugal
Last updated on: October 21, 2011 15:32 IST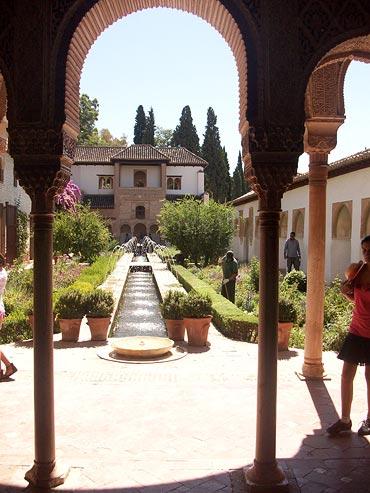 Tips for travelling with an infant:
Car travel for infants is safest in a baby car seat. Get your baby used to one as early as possible, she may cry in the beginning but don't reward that by taking her out. Instead, try it on short journeys first and then try a longer one.
Your car seat should never be in the front and never next to an airbag. For babies less than 6 months old, always get a rear facing seat.
If travelling by air, babies can either travel on your lap (you pay 10% of the ticket) or in their own seat (on a car seat and you pay 90%).
For shorter journeys, try to get a row of seats with a free seat next to you so that your baby can stretch her legs and kick around. Long haul flights offer a bassinet to seats booked in the bulkhead so make sure you call the airline ahead and reserve your seats.
The hum of the plane engine, the rocking of a train and the motion of the car, all lull babies to sleep. Your baby will probably sleep off 60-70 per cent of the journey.
If travelling by air, make sure while landing and taking off your baby is sucking on a soother or is feeding. As it is tough to breastfeed the baby with the baby seatbelt on, make sure you carry bottle feed along. 
The best thing about travelling with infants is that you are priority at airports and rarely ever have to stand in line. You will be the first to board and will get to use the special assistance lines at security and immigration.
Airline rules stipulate that babies on lap also get one check in bag and one cabin bag allowance. In addition, the stroller is not counted as a piece of luggage and you can take it upto the gate of the aircraft and get it back just as soon as you alight.
As early as possible, get your baby used to strollers and being around people. Since she was two months old, I took my daughter regularly to the mall and she would happily look around or sleep while I shopped or dined.
Make sure you carry a stroller that has a sitting position and a lying down position for when your baby gets tired. It is also handy to carry the baby holder wherein you can carry your baby on your back or in front.
Schedule your day such that you account for naptime in the afternoon and don't go to bed too late.
Try not to deviate too much from her schedule. If she is used to a massage and bath in the morning, stick to that.
Take along toys that your baby is used to so she feels at home.
If your baby is bottle fed, carry a steam sterilizer and make sure you don't compromise on hygiene.
Baby skin is very soft and delicate! Buy a sunscreen for infants and use it whenever you go in the sun. Use an umbrella too.
Wash her hands often as she may be touching things and then putting her hand in her mouth.
Take cues from your baby. If she seems tired and cranky, take a rest day from your sightseeing.
Some hotels offer convenient baby cots. If one is not available, make sure you get a king bed and sleep horizontally with your baby next to the headboard and pillows blocking both the front and behind.
Diapers and baby food are comparatively very expensive abroad. If you have luggage space, carry them along.
More than anything, it takes courage on the part of the parents to travel. But if you can take that leap of faith, you will realise that your little one doesn't necessarily have to change your life, but rather enhance it.