The absolute best places to eat in Goa
Last updated on: February 07, 2014 20:33 IST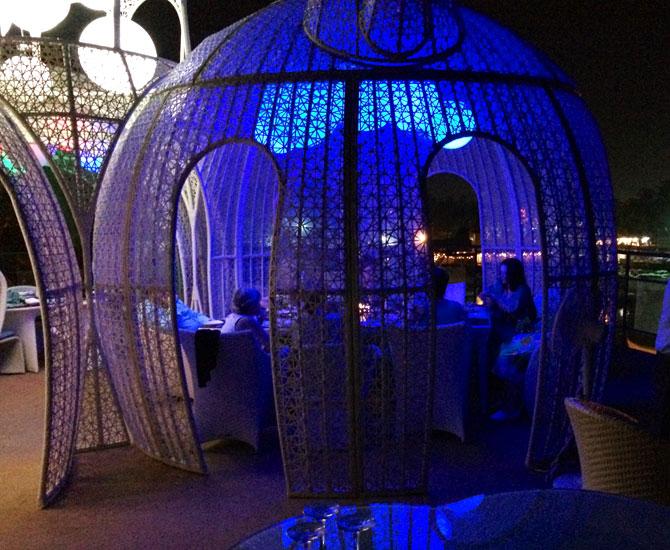 There's something about Goa that makes it a must-visit on everyone's itinerary. Suparn Verma is no exception. Here he lists out his favourite eateries in India's beach state
Goa is one of everyone's favourite places in India, synonymous with sun soaked beaches, beer…lots of it, places to party, lovely stretches of road to keep driving on, lazing around, Goan food, happy people, spending the weekend just soaking in the vibe.
For me Goa is also about its culinary delight, not just Goan/Portuguese cuisine but for some years now there has been a renaissance in the food scene in this lovely coastal state.
Let us get to the food and some of my favourite places right away.
Click here for more recipes and food features!
The absolute best places to eat in Goa
Last updated on: February 07, 2014 20:33 IST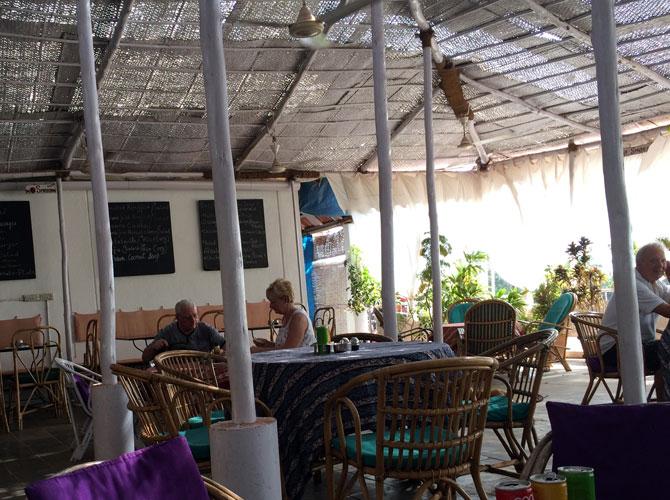 Lila's Cafe is the breakfast place, situated near the Baga river, I begin my day in this white tent like restaurant started by a German couple, it has evolved over the last 40 years and hosted various luminaries in its lifespan.
You begin the day with fresh fruit juices, omelette, German bread or their lovely croissant, bagel, roesti, chicken liver pate, avocado salad, smoothies, and down it all with coffee or more juice.
They are open for lunch and shut shop by 6 pm, their water buffalo ham, fillet steak and pan-fried chicken come highly recommended but for me
Lila's remains the breakfast place and that is how it shall forever be.
But history does come to an end, as August onwards this place shall lose its lovely location and move to Tito's White Place, I'm hoping that it takes the magic there with it as well.
The absolute best places to eat in Goa
Last updated on: February 07, 2014 20:33 IST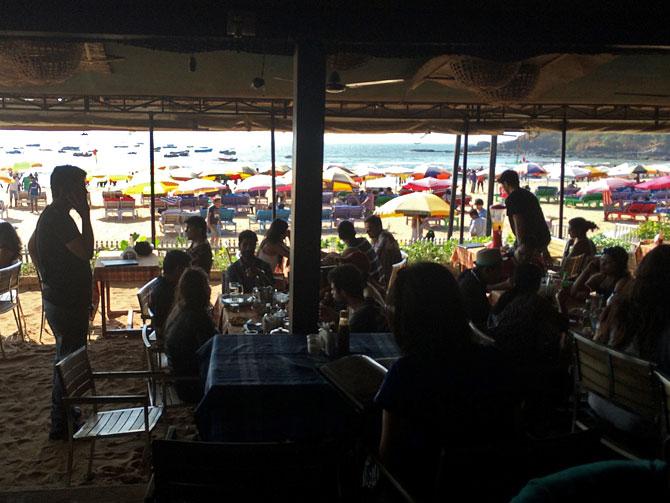 Britto's like Souza Lobo is a haunt that one does end up going to at least once, the food hasn't changed since the time I began going there, the novelty remains its next to the beach you can watch the sun go down while having beer or do a late afternoon lunch on Prawns Balchao, Chicken Xacuti or Cafreal, Fish curry or fried depending on your taste, crabs and lobsters all soaked in vinegar infused curries, all their dishes come with portions of French fries and salad.
The reason I keep going back to Britto's is because of their fresh strawberry tart. No one makes this dish like the way they do!
A nice soft tart, coated on the inside with chocolate, filled with strawberry custard and generously topped with sweet strawberries.
The absolute best places to eat in Goa
Last updated on: February 07, 2014 20:33 IST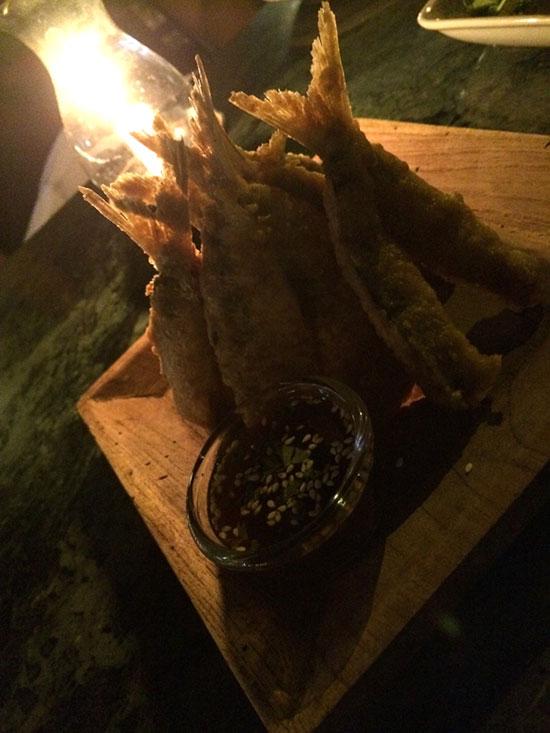 Bomras named after the chef-owner is just off the main Fort Aguada road, the setting is simple, cane chairs, paper lamps hanging near the bar area and on trees, candles on the table, but this Burmese cuisine place is one that I have been missing each and every time because they are closed half the season and open only during peak season.
The evening started off with their lemongrass and tamarind infused martinis along with the pickled tea leaf salad (lah pet toke), crispy battered fried sardine with their signature tamarind soy sauce, followed by a main course of the mussels curry with coconut milk, lemon grass, chilli and coriander a chicken dish whose name I cannot recollect for the life of me and finally winding up the evening with the lemon grass and ginger creme brulee.
The food across the board was excellent and if you like adventure in your life and food this place is a must visit.
The absolute best places to eat in Goa
Last updated on: February 07, 2014 20:33 IST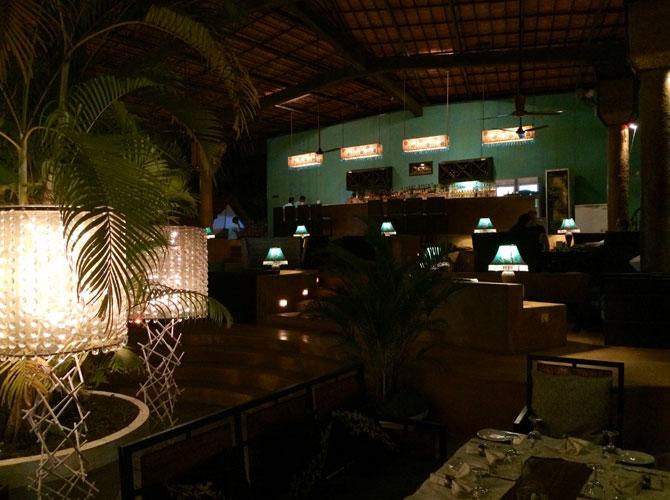 Infantria is a very simple looking place in Calangute, with a dozen bikes parked outside, the entrance has a bustling bakery with locals thronging for bread and pastries, it has some tables downstairs, and a mezzanine section.
The waiters keep darting up and down and this place is always full, not just with tourists but even the locals eat here.
The reason is very simple.
The minute you enter the place you can smell the freshly made masala they use on a daily basis.
They have an extensive Continental menu and the mandatory Indian/Chinese one, but skip past all that and go to their limited Goan food menu.
Order anything and everything from it and trust me you won't be disappointed because they take time with their dishes and when they come to you it is like eating home-cooked food goodness in your mouth.
This is one place I didn't even stop to take pictures because it is not about the ambience or the service or presentation, go here for the food, and the mandatory bottle of beer that goes along with any meal in Goa.
***
A Reverie is a place I went two years ago and have been going there ever since. This lovely restaurant created within an old colonial bungalow is designed in a unique way, which can only be described either by being there or seeing some of the images I have clicked.
Earlier I have eaten the normal way, which is having a starter or two (Baked Camembert, Goat cheese salad with beetroot, aged balsamic, rocket leaves, walnut, orange, boneless chicken wings with terayaki marinade with soy, mirin and honey) and then ordering main course (this time the menu had changed for the new season) followed by dessert.
This time I wanted to try out as many starters as I could, so mini Tacos with pulled pork topped with iceberg, sour cream and jalapeno, Chicken liver pate canapes which are so melt in your mouth that I had to order two portions of the dish, the Wasabi prawns bunched up on long tooth picks covered in wasabi mayonnaise, nori seaweed and furikake which is a dry Japanese condiment of dried and ground fish, sesame etc), Spanish chorizo salami bruschetta, the bread base being the goan poi.
When it came to drinks, I have a problem. I can never ever get high in Goa!
No amount of drinks does the trick so I try to taste all the tasty cocktails and I was keen to find out what could they do to the lamest choice for a cocktail, a Long Island Iced tea.
I'm glad I choose it because I had the best LIT of my life infused with fresh strawberries it was a revelation and for the second rink it was a passion fruit mojito, the last time I had a passion fruit mojito was in Kandy, Sri Lanka, to have it here brought memories and a big smile to the already stuffed face.
Obviously dessert was out of the question but I have had their trilogy desert platter before the Chocolate platter with Belgian chocolate parfait, warm chocolate pudding, salt caramel ice cream was to die for).
My love affair with A Reverie continues and I doubt it will stop for a long time.
The absolute best places to eat in Goa
Last updated on: February 07, 2014 20:33 IST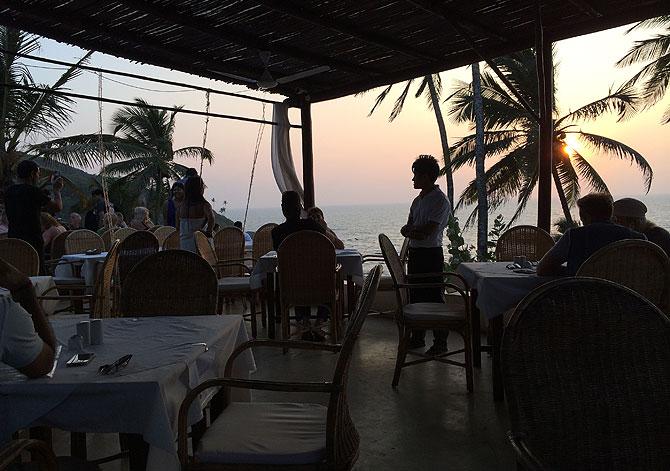 Another love affair began four years ago with Mariketty's Thalassa in Vagator, it has the best location in all of Goa, set atop a small hill, leading down to the beach and the most stunning sunsets.
This Mediterranean beauty is done up in white and cane, smart slick servers dressed in black, the gregarious and charming host Marikatty going from table to table and in our case once sitting down with the group ordering a bottle of champagne and regaling us with stories from her native Greece.
The food is delicious, the dolma's (rice and meat wrapped in vine leaves), their wraps their grilled meat make for a lovely evening with unending glasses of wine or cocktails, even if you don't go for dinner, make sure every sunset you are here for your evening drink.
Every visit will be a memory to cherish. This time it was two servers performing the traditional Greek dance which began all off a sudden with them breaking plates.
The absolute best places to eat in Goa
Last updated on: February 07, 2014 20:33 IST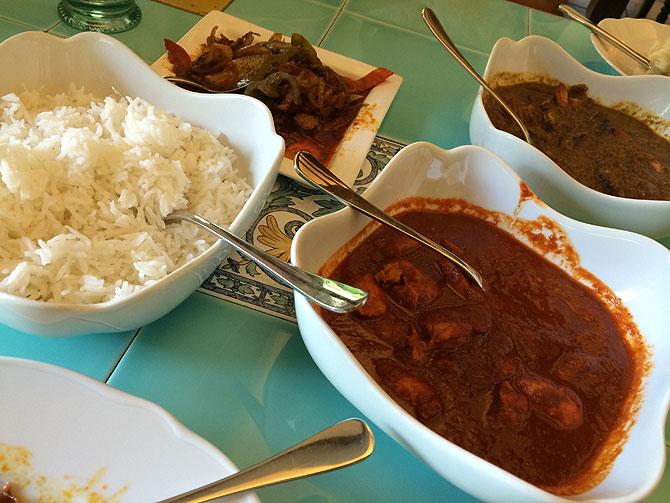 Driving down to Mum's Kitchen in Panaji is worth every kilometre, the cuisine is strictly Goan, this is a high end place made for Goan food lovers.
I have eaten a lot of dishes here but there is one that I cannot recommend enough, sambarachi kodi, a prawn-based dish made in a curry prepared of coconut, ganthi chillies, served with rice.
The absolute best places to eat in Goa
Last updated on: February 07, 2014 20:33 IST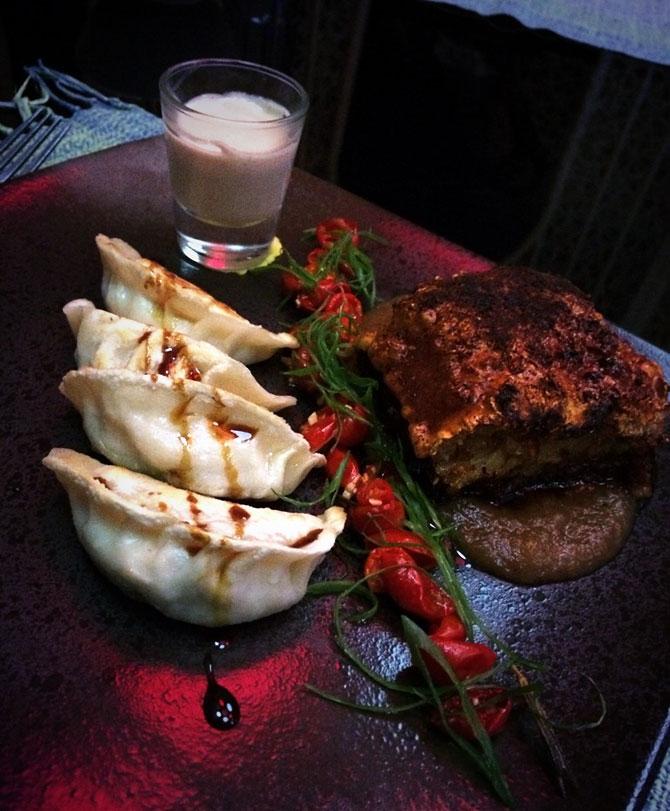 Samovar has reopened in Baga now called Go with the flow with a Brazilian chef Guto Sauza, the view of the Baga beach is spectacular, try and book ahead so you can get a table on this dome shaped area atop a metal platform.
The drinks were nice but the food was spectacular, it began with as soon as you are seated the chef sends over a small treat in the form of fried fritter with a cheese base and a small shot glass of pea and carrot soup, this was followed starters, the fried Philadelphia salmon followed by pulled pork covered with baked cheese and infused with spices which set the bar for the main course, the pork belly with a thick crust, glazed with a sweet and sour sauce, apple puree and momos filled with truffle and a sauce in a shot glass is a dish I went looking for the chef to give him a hug and thank him, sadly he had left by then, the other dish was grilled basa in oriental spices accompanied with coconut rice and fritters.
The other favorites and recommendations in Goa are House of Llyod's, Jamie's Colva, Taj Holiday Village, The Ritz, Hotel Mandovi, Bean me up (breakfast), Chocolait (high tea) and one place you must visit is Casa Portugesa an elegant 18th century colonial house, great Goan food, limited wine options and a fabulous host in Fansisco Sousa who sings for you with his guitar and sometimes joins you for a conversation and you get to taste the lovely house port wine which is more potent than three shots of tequila.
Goa for me is a state of mind; coupled with such good food it is Zen.