Why I am looking forward to Papa's box of sweets this Diwali
Divya Nair
Soon-to-be-married Divya Nair will celebrate her last Diwali at her parents' home. She looks back at some of her most memorable festive memories growing up.
Diwali happens to be one of the three festivals close to my heart besides Ganesh Chaturthi and Onam.
I would look forward to the 20-day Diwali vacation after the two gruelling weeks that preceded the semester exam.
On the last day of the exam, quite religiously, my group of friends and I would run out of our school, exchange hi-fives, hug each other and wait for the rest of our bunch to come out.
Irrespective of how bad our papers were, we'd gather at the nearby kulfi wala to celebrate the temporary freedom from academics.
On our way home, we'd happily exchange our plans for the next twenty days.
Some of them would be accompanying their parents to their hometown; others would be visiting relatives, while the rest of us would discuss taking turns at spending the night at each other's place during Diwali.
We'd talk excitedly about buying fancy clothes, playing with plastic guns and relishing karanjis, laddoos and chaklis that would be made at my friends' place.
When I'd go home, I'd tell Amma about the endless plans my friends had discussed.
She'd nod her head to some, refuse some others and lay a whole set of dos and don'ts for the next few days and would end with the ritual threat -- 'Complete your homework or you won't get any firecrackers'.
In case one of my friends came knocking at the door looking for me during the afternoon, she'd shout from inside the kitchen, "Unless you help me in the kitchen today, you are not going out to play."
Reluctantly, I'd send my friend away and join Amma helping her fill the dough to make murukku (a crispy south Indian snack).
Since my younger days were spent in a chawl where 90 per cent of our neighbours were Maharashtrians, I'd grown up enjoying the custom of exchanging sweets and snacks during Diwali.
Every year, almost a week before Diwali, amma and I would spend our afternoons sweating it out in the kitchen, busy preparing some sweet or snack.
We used a kerosene stove at that time, and amma would always warn me from doing something naughty in the kitchen -- I had once burnt my fingers when I accidentally touched the still-hot pan of oil while the stove was on.
Since snacks like chakli, chivda, karanji and besan laddoo were common among the Maharashtrians and we were one of the few South Indian families in the chawl, we'd score on snacks like murukku, michhar (a type of farsan) appam, achhappam, boondi and/or rava laddoo.
Each of us liked tasting the other's preparations and looked forward to the plateful of delicacies.
In the evenings, my brother and I would accompany Papa to the nearby market. The colourful shapes and sizes of lanterns always attracted me -- every year, there'd be something new on offer.
There were plastic lanterns, colourful Chinese ones made of kite and crepe paper; then there were cartoon-shaped lanterns that changed colours at the click of a button.
I'd press my father to buy a new lantern each year, but he'd insist that the one we had at home from the previous year was good enough.
He'd smartly divert my attention to pistols and crackers of varying features -- the sursuri (sparklers), chakri (round crackers), fuljhadi (flower pot) and saanp ki goli (snake cracker) were the most popular.
He'd buy all of them, divide them carefully -- one for me, the other for my brother. Then we'd join Amma in choosing the diyas. Amma always loved collecting new diyas every year.
When we'd return to the chawl, some of my male friends would laugh at our choice of crackers -- their shopping bags would contain lavangi (a small set of bidi-sized crackers tied with a thread), sutli bombs, atom bombs and rockets.
Diwali is synonymous with Laxmi Pooja when people wear new clothes and worship Goddess Laxmi. After the pooja, we'd light our homes with diyas and draw a rangoli outside the house.
Although the day has particularly no significance for Keralities, Papa has never once failed to buy us new clothes and crackers. He'd go to work in the morning and join us in the celebrations in the evening.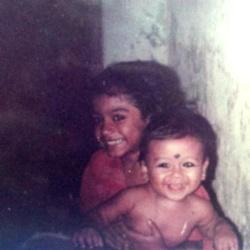 I still remember how on my brother Deepu's first Diwali, my dad had got a long papaya stem and fixed the sparklers at the edge of one side of the stem and made my brother light it and make circles in the air.
The sight of my brother leaping with joy in Papa's arms is still fresh in my minds.
Another Diwali memory that is close to my heart is that of a sweet box.
Since Papa worked in a hotel, besides the yearly bonus, he used to get a two-kilo box of assorted sweets from his office as a Diwali gift.
Until I was about twelve years of age, every Diwali, I'd fight with my brother over who will open the box first and grab the first unique sweet in it. If there were two sets, mom would divide it equally among the both of us.
Since my brother was five years younger, he always had the beginner's advantage.
Every year, he'd either pick the laddoo or go for kaju katli. After he got what he wanted, he'd make a naughty face and tease me. That was enough to start a fight.
As years passed, the fights reduced, but the excitement was still the same. My brother and I would wait for the box of sweets that gradually became smaller in size.
Today, 25 years later, the brand of sweets is still the same, but the taste isn't.
The two-kg sweet box has been reduced to one-kilo, which Papa says must be due to inflation or cost cutting measures.
Besides that, a lot of other things have also changed in the last twenty-five years.
Our family has moved from the rented house in the chawl to a 1BHK apartment.
I am working now and my Diwali vacation doesn't last beyond two days.
We no longer burst crackers like we used to, because it causes noise and sound pollution.
We no longer make elaborate snacks -- just the murukku or appam; rest of it we buy from the nearby shop.
But every year, I make a rangoli outside my house and reluctantly buy a new set of lights -- not out of love, but the current ones don't last until the next Diwali.
All these years, Diwali has always surprised me.
Last year on Diwali, after helping Amma in the kitchen and decorating the house, when I opened the fridge in the evening and found the box of sweets, I had tears in my eyes.
I thought of my brother who was sailing at that time. Just then, my phone rang and I was overjoyed to hear my brother's voice -- I was suddenly filled with nostalgia of our childhood.
With a lump in my throat, I wished him Happy Diwali and told him how I did not feel like opening the sweet box without him.
He was silent for a few seconds and asked me to have his favourite sweet on his behalf and buy him a box of kaju katli when he was back.
This Diwali, my brother is home and Papa has promised to bring home that box of sweets, which has been the only constant in our ever-changing lives of moving homes and making new friends.
The box remains the only connect we have with our past and will be all the more important in this Diwali of changes.
It will be the last year when my father receives his annual box of sweets from work; he retires from service next summer.
It will also be my last Diwali at my parents' home. By next year, I will have been married and moved out.
So this Diwali will be special indeed. There will be several things to look forward to and I hope several to look back upon with fondness.
I do not know what the future holds for me but I do know that no Diwali after this one will ever be the same again.
Image:
A young lady holds a diya, or oil lamp, in a street during Diwali celebrations.
Photographs:
Andrea De Silva/Reuters