What it means to be Sikh in America
January 03, 2014 15:05 IST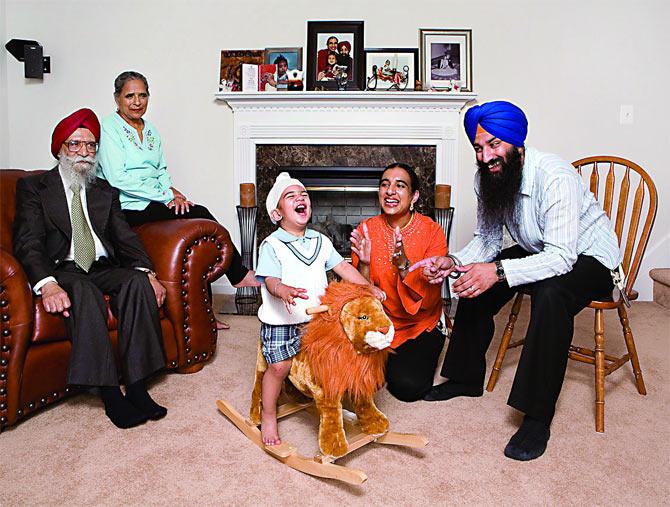 While her photographs of a Sikh Captain America -- more about him as you click through this slideshow -- caught the world's collective imagination in 2013, Fiona Aboud has been documenting Sikhs in the US since 2006.
The photographer shares her vision of the community with Rediff.com's Chaya Babu.
Photographing Sikhs is not new, novel, or particularly unusual.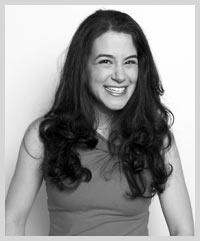 Photographer Fiona Aboud says when the British colonised India, they posed Sikhs against exaggerated Orientalist backdrops, palettes that were almost more Arabian than Indian, and took the photographs back to England to show off the 'otherness' of the Sikh people. These depictions not only emphasised, but also forced difference and exotification.
In a way, while other modern-day photographers may not have the same intentions, that undertone often seems to be there. For many, photography is about capturing the rare and different, Aboud points out; it is why we are constantly snapping away when we go to a foreign country.
She admits that she herself did this in her project on Sikh Americans -- Sikhs: An American Portrait -- but she hoped to do it in a way that actually minimised their status as ethnic minorities in the US context.
"My idea is to photograph Sikhs and, instead of photographing them in the gurdwara and places that more typically highlight indicators of their Sikhism, to photograph them in their homes, in ordinary American places, in their everyday lives basically, in order to visually make them American," she says.
"Because that is the whole problem with all the hate crimes -- the misunderstanding is that people go, 'Oh, well they're not American.' By showing them in those environments, people can start to see them as more similar maybe. Like reverse-Orientalism or something."
This is not to say that she is attempting to erase their Sikh-ness in the images. It is just a matter of redefining what that means for Sikh Americans.
Her photographs portray individuals playing volleyball, in lounge chairs on the front lawn, at the petrol pump, holding crying toddlers in lion costumes, in the driver's seat of a freight truck.
The men have beards and turbans. The children have long hair, let loose, hanging to below their waists. They are unquestionably of Indian descent -- with the exception of a few shots of White Sikhs -- and Sikh religious affiliation.
With the rising incidence of violence against Sikhs Americans in the post-9/11 era, and more specifically the recent high-profile attack on Dr Prabhjot Singh in New York, this type of work is timely and more necessary than ever.
Aboud believes that bringing visibility of Sikhs as a part of the fabric of American society to a broad, mainstream audience is helpful and possibly transformative over time.
"I do think that images can change our ideas about people because when you see an image that you don't expect, you have to put the two parts together, and over time that juxtaposition becomes normal or everyday," she says. "It becomes less of a 'Oh that's weird'."
Though Aboud's desire to photograph Sikhs was partly inspired by her time in India, where she -- half Brazilian-Lebanese and half Russian-Jewish -- felt that the Sikhs were kind of like the "Jews of India," her interest in the community was sparked more strongly when just days after the World Trade Centre attack, a Sikh man was shot and killed in Mesa, Arizona, by a revenge-seeker.
The misplaced hatred fascinated her.
"They are really very misunderstood in America on all levels, and I think that's really what drew me to them as opposed to the broader Indian community," she says. "I felt like I was very aware of these hate crimes and this misunderstanding."
"Even very educated, informed people do not know that Sikhs are a completely distinct religious group -- they think turban, they think Muslim. I don't know why it is an association, but it is. I wanted to contribute to breaking down this confusion."
Defending against being mistaken for Muslim has its own problematic issues -- and there has been a growing fear and alienation of immigrant and minority populations in a broader sense in the US over the past decade -- but throughout her time interacting with Sikh Americans, Aboud has heard numerous accounts from those who say their experience changed after 9/11.
"A lot of people I've met say they had rarely had a problem, if ever, before that, and now pretty much everyone I've spoken to has had some sort of issue or some aspect of their lives has been affected since then," she explains.
"It has been anything from a really intense stare to a verbal assault to a physical assault to murder."
Aboud spoke to many people in the Sikh community as she embarked upon her research for the project in 2006, the same year she became pregnant with twin girls.
She started one year at the Sikh Day Parade, just waiting at the end and asking people if they might be willing to pose for portraits. She took e-mails and phone numbers, which provided the seeds for what became her network of Sikhs.
At first she'd reach out to whomever she had already met, letting them know she was travelling to this city or that for a different shoot and could they connect her to other Sikhs there.
Slowly, she was able to go from working with anyone who was open to her to being able to have a more thoughtful and curatorial approach to her subjects.
On the whole, what stood out to her was that people invited her into their homes, told her their stories, and let her take pictures of their families's small, intimate moments. And for short bits of time, she was let into their lives.
Aboud's larger body of work has included a lot of other portraiture, some of it appearing in The New York Times, Time and New York magazine.
Recently her colourful shots of Vishavjit Singh dressed as Captain America around Manhattan made rounds in the mainstream media.
A common theme in her portfolio is the subjects's relationship with their culture -- from the Brazilian Carnival and Harlem churchgoers to marathon runners and African Amputee Soccer stars in Sierra Leone, to name a few.
But with seven years of capturing the mundane realities of Sikh lives under her belt, Sikhs: An American Portrait has been a passion project like no other: Personal, emotional, strenuous, and from the heart.
Like any artist, it is difficult for Aboud to choose favourites from a project so dear. Each shot contributes something to the larger picture of Sikhs in America.
She did, however, say that one in particular that stands out is of three children sitting poolside with their backs to the camera. Two boys and a girl, the ends of their wavy hair touching the concrete; they are identical from behind.
The symbolism of aspiration of gender equality in the religion, she felt, gives the photograph a poetic quality, but she also clings to its candid, intimate feel because of the kids's willingness to let their hair down, something that she felt Sikhs of an older generation would not do.
Please click NEXT to take a look at Fiona Aboud's photographs of the Sikh community in the US...
9, and on Homeland Security's watch list!
January 03, 2014 15:05 IST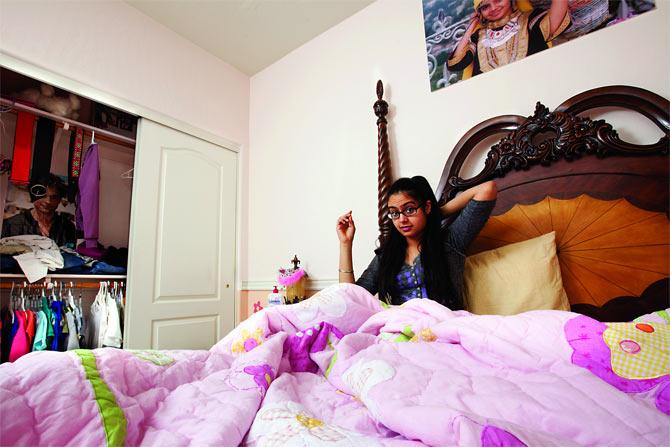 When you see an image you don't expect, you have to put the two parts together, and over time that juxtaposition becomes normal, says Fiona Aboud, offering a peek into Sikhs: An American Portrait.
Rose Kaur's given name is Bhupinder. While going through airport security in 2005 her name was flagged for being on the terrorist watch list.
Her father was given a phone number to call to explain that there must be a mistake because she is his 9-year-old daughter.
There have been a number of Sikhs who are still on the watch list even though they have repeatedly tried to get their name removed.
Please click NEXT to take a look at Fiona Aboud's photographs of the Sikh community in the US...
Just Kids
January 03, 2014 15:05 IST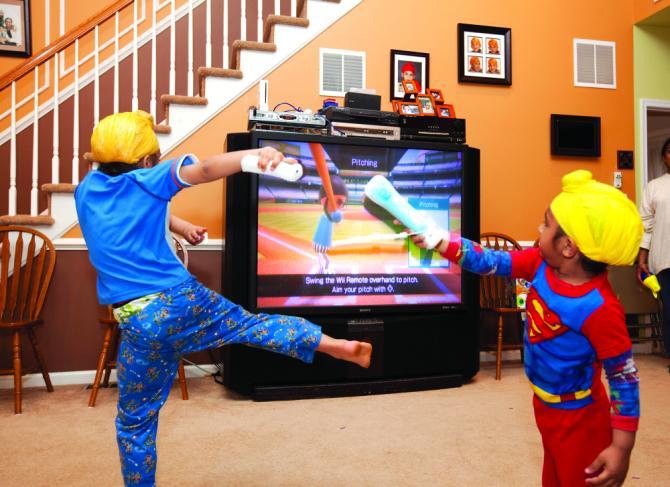 Ishar and Kabir Singh, Princeton, New Jersey, 2010.
The kids are playing Wii with their 'Sikh' Mii character.
Please click NEXT to take a look at Fiona Aboud's photographs of the Sikh community in the US...
The Peach Farmer
January 03, 2014 15:05 IST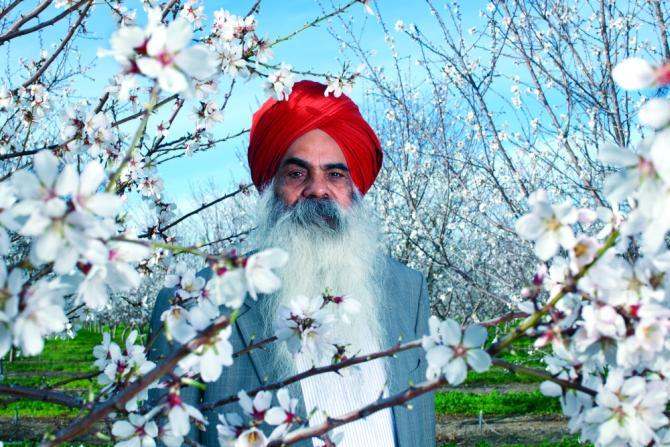 Didar Singh Bains, Yuba City, California, 2009.
In the 1950s, Didar Singh Bains came to America with $8 in his pocket.
He worked his way from a farm labourer to become one of the largest peach farmers in the US.
Please click NEXT to take a look at Fiona Aboud's photographs of the Sikh community in the US...
The Hero
January 03, 2014 15:05 IST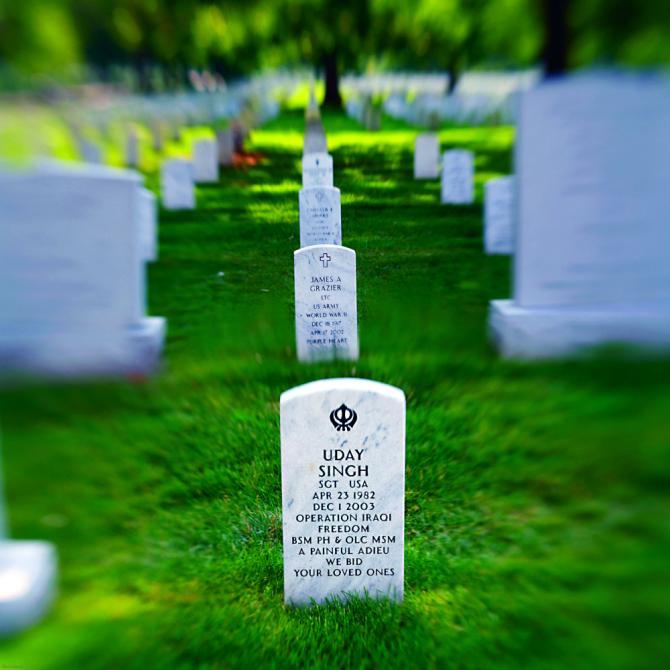 Sergeant Uday Singh Taunque's grave, Arlington National Cemetery, Arlington, Virginia, 2008.
Uday, 21, was killed when his patrol was attacked in Habbaniyah, Iraq, on December 1, 2003.
He was the first US soldier of the Sikh faith killed in the war in Iraq.
Please click NEXT to take a look at Fiona Aboud's photographs of the Sikh community in the US...
Brothers and Sister
January 03, 2014 15:05 IST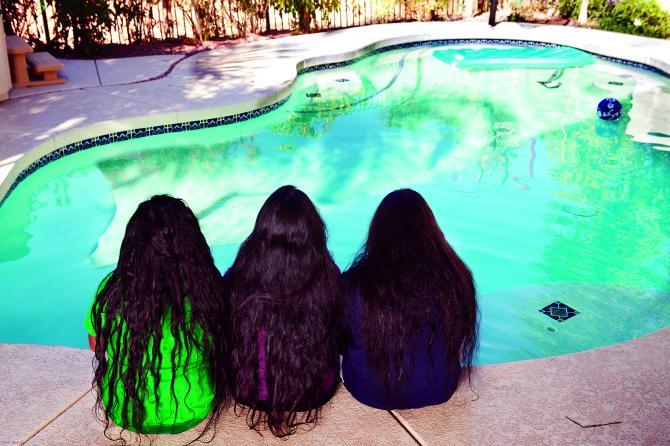 Deep, Rose and Satpreet Sodhi, Phoenix, Arizona, 2009.
The children sit by their pool to show Fiona their long uncut hair (or Kesh as it is known in Punjabi).
A Sikh's uncut hair is very symbolic of the equality between men and women in the Sikh religion.
Their uncle was the first victim of a post-9/11 hate crime.
Please click NEXT to take a look at Fiona Aboud's photographs of the Sikh community in the US...
The Widow
January 03, 2014 15:05 IST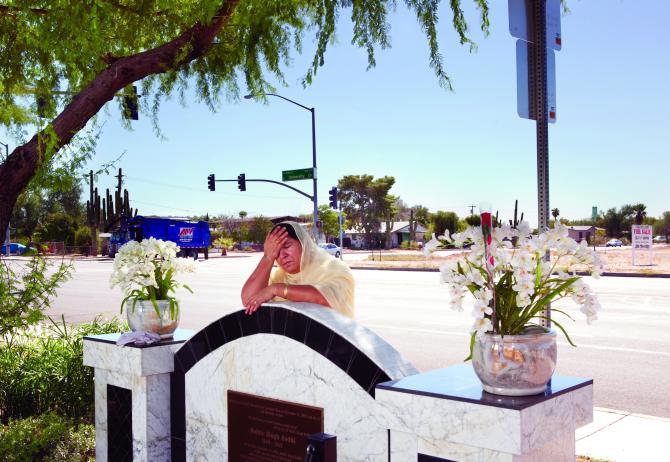 Harjinder Kaur, Balbir Singh Sodhi's widow, Mesa, Arizona, 2009.
On September 15, 2001, Balbir Singh was gunned down in Mesa.
He was the first victim of a post-9/11 hate crime.
His killer mistook Balbir Singh for a Muslim Arab, though the petrol pump owner had emigrated from India to the US in 1989 and was a Sikh.
Please click NEXT to meet the Sikh Captain America...
What does Captain America look like?
January 03, 2014 15:05 IST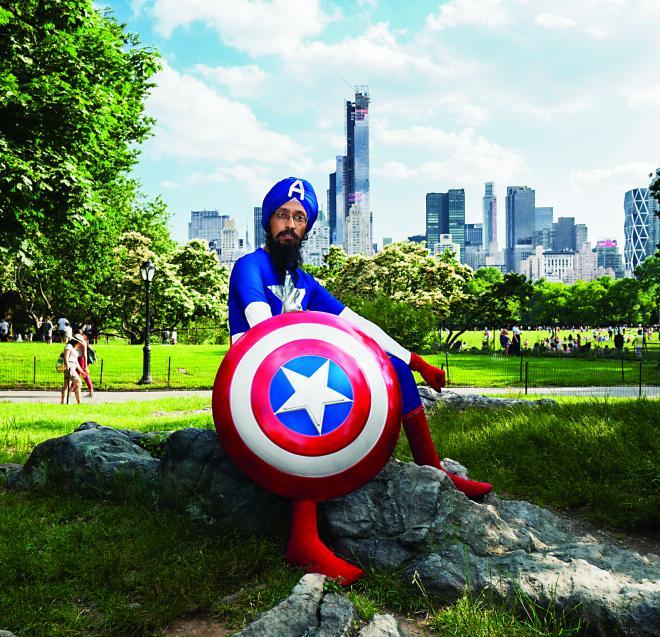 Captain America: The First Avenger came out in theatres in 2011. It fell in line with the comic-book-turned-feature-film trend of the past few years, with the Batman series, various makes of Spiderman, The Fantastic Four, and more.
The movie starred a beefed up version of Chris Evans, an A-list star with goldish brown hair, blue eyes, chiselled features, and white skin. By most people's standards, he fit the bill for the role. To a T.
Vishavjit Singh, a New York-based Sikh cartoonist and creator of Sikhtoons, thought it was perhaps time to challenge this.
Does someone wearing the iconic Captain America blue unitard with a star on the chest and holding the bullseye shield necessarily have to look like Chris Evans?
Singh created an illustration for New York Comic Con a few years ago of a Sikh man -- with a beard, turban, and brown skin -- in superhero regalia.
Above the drawing was a dialogue bubble, which read: 'Just relax! It's called a turban. Inside is my long unshorn waist length hair. Now let's kick some intolerant ass.'
A year later, the Oak Creek massacre occurred, and then Singh met photographer Fiona Aboud. She envisioned this character in 3-D -- more specifically, she encouraged Singh to don the Captain America costume himself and pose for a photoshoot around Manhattan as part of her project Sikhs: An American Portrait.
Singh dressed as a classic American superhero was an ideal addition to her work, which aims to redefine what it means to 'look American' while simultaneously building greater understanding around the presence and identity of Sikhs in the US.
Singh described his experience in Salon last September. He wrote of his first encounter on the day of his escapades as Captain America with a little boy:
'Captain America does not have a turban and beard,' he said. He had a child's curious tone. No malevolence.
'Why not?' I asked him. 'I was born here. We could have a new Captain America who is Sikh or black or Hispanic.'
He thought about this. Finally, he conceded that yes, maybe a black or Hispanic Captain America would be OK. But his brain couldn't make sense of it: Captain America in a turban? Captain America in a beard? He'd never conceived of such a thing before.
That's exactly what brought me to this park on a beautiful summer day. To make fresh neural connections in our collective consciousness. To leave a new image on the hard drive of that boy's mind.
Singh experienced and observed people's reactions as he walked around Manhattan, in Central Park and on Fifth Avenue, garnering mixed comments ranging from 'Terrorista!' to wanting to take pictures with him. He even got some fire officers to let him hang out in their truck.
Overall, he was a hit, even if he did have to talk down some people's ignorant or misunderstanding words and gestures.
Last autumn, Singh dressed up as Captain America once again for a trek through New York, this time at Union Square, for Totally Biased with W Kamau Bell, a comedy show on the FX television network.
Standup comic Hari Kondabolu -- who said, "I thought it was really brave -- and kinda weird. So I had to meet him" -- interviewed him and together they talked to bystanders about their thoughts.
The responses were mixed once again. A few men, all of different racial and ethnic backgrounds, were the first to speak on record.
One said he thought of the superhero as taller with more muscles and, with a littler laughter and hesitation, 'whiter.'
Another said it was just awesome.
And another said that if America was not ready for a half-black President, it's not ready for Singh's new persona.
Oddly enough, flipping the idea of racism on its head, one man said, 'I think it's rather racist, an Arab dressed up as Captain America.'
Not surprisingly, children were the most open. Kondabolu stopped a boy-and-girl pair on the sidewalk who were all smiles as they explained that Singh might need to work out a bit to add some bulk to his thin frame, but to them, the beard and turban were no issue at all.
A hope for change perhaps in a generation that is growing up in a world where Miss America is an Indian woman named Nina Davuluri and Marvel Comics just unveiled its first Muslim American superhero, Kamala Khan.