'What I'd taken for granted was precious to them'
Last updated on: February 9, 2011 12:43 IST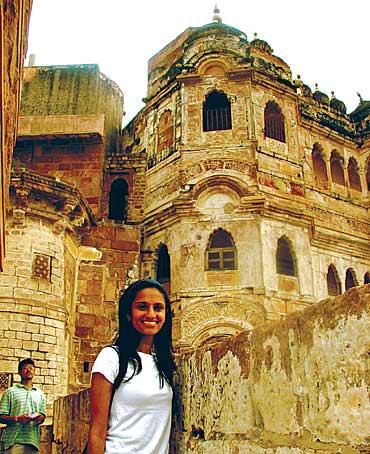 As part of an ongoing series, we bring you stories of young Indian Americans who came looking for the Real India and found their real selves instead. Shivani Sheth speaks to Arthur J Pais
Shivani Sheth, a student at Temple University, had wondered for many years why her parents and grandparents cherished India. Though she had been to India previously, it was her recent visit as a Bharat Yatra fellow that has made a profound impact. She plans to graduate with a degree in biology and take up pharmaceutical studies:
From the golden glow of the desert, to the grand forts and palaces, a group of young ambitious Bharat Yatris trekked across Rajasthan. As I stepped onto Indian soil, I did not know what to expect or what we would see. However, I knew our lives were about to change.
The bustling bazaars in the pink city of Jaipur dazzled us all. The endless desert sands provided a beautiful backdrop, as we contemplated the intricate, yet simple cities of India. Every city made a lasting impact.
From the beautiful architecture of the Rajasthani havelis to the Blue City of Jodhpur, I was astounded by the simplistic lifestyle of the Rajasthanis and satisfaction with the simple things. With a personal goal to reconnect with the country of my ancestors, I tried to absorb every detail.
Although I was astounded by the beauty of the massive forts, enchanting havelis, and other well-known monuments, my most memorable experiences came from the people of Rajasthan and their way of life. I was greatly impacted by the Badhir Vidyalaya Vaishali school for the deaf in Harlalka Kothi, Nawalgarh, and the Mathura Das Mathur hospital, Jodhpur. Both left me speechless.
The minute I stepped into the school, children of all ages eagerly invited me into their classrooms. They showed us the educational facility, consisting of a tiny, dimly lit room with a window or just a door for ventilation.
Their academic material consisted of small notebooks and a pencil per student. There were too many students and only a few teachers. This resulted in a mix of student dynamics, with children of different ages placed into the same room.
'I couldn't believe I could be so selfish and discontent'
Last updated on: February 9, 2011 12:43 IST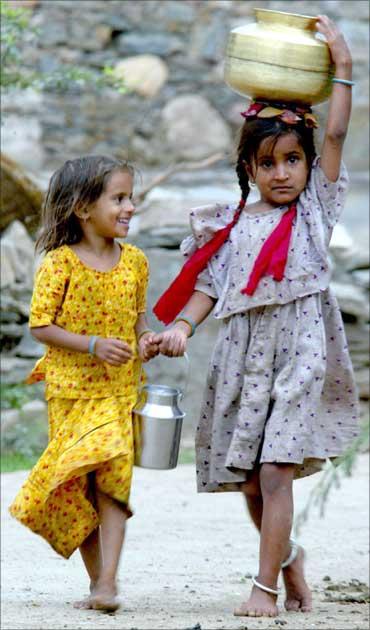 In another room further down the hall, there were sewing machines and carpentry tables set up for students to develop technical skills. Since most of their education stopped after a certain point, the students needed to develop technical skills that they could use in the market. So, the girls learned how to sew and the boys learned carpentry.
As I saw the groups of students bunched into tiny rooms, I thought back to my American high school and college education. Things that I had taken for granted -- crayons, pencils, papers, and binders -- were like gold to these children.
I could not believe that I could be so selfish and discontent with what I had back home. As we played cricket with the children outside in the sand lot, I contemplated how grateful I should be and what I could do to help these children. 
Afterwards, we made our way to the Mathura Das Mathur hospital. I was nervous about how I would react as I entered the facility.
Right away I was taken aback by the number of people. I've never seen so many people inside a hospital, frantically searching for a doctor or nurse.
Walking down the hallway, there were countless women and children sleeping on the floor, exhausted from whatever illness they had and the waiting time. As we learned about the hospital policies, my respect for the health care professionals grew.
'I was overcome with gratitude for what I had'
Last updated on: February 9, 2011 12:43 IST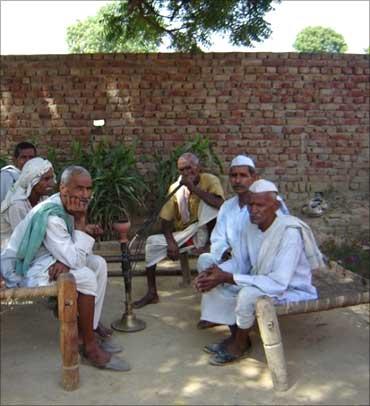 The hospital provided free medical care to most of the population that was under the poverty line. This is an amazingly difficult feat. However, it resulted in a patient overload and lack of medical staff.
It was incredibly difficult to meet the needs of every patient when there was such an influx and a shortage of supplies. This one hospital provided care for numerous densely populated cities around the area.
Working under such conditions, the motivation required to be a health care official had to be strong. These health care officials truly cared about their occupation and patients.
However, due to financial circumstances and an extreme workload, they were forced to provide minimum care and time for each patient. There was much room for improvement.
Again, I was overcome with emotion and gratitude for what I had available at home, thankful for the adequately equipped facilities, health insurance and the overall quality of care at home.
From my Rajasthan trip, I learned a valuable lesson. I learned not only of beauty and architecture, but also of the happiness that results from the simplicity of daily life.
Although we may not have much, we have much more than many of the people around the country. Small things such as basic living, education, adequate sanitation, and health care are extremely valuable, but usually taken for granted. I hope to keep this newfound appreciation for the rest of my life.