Ashwin Sanghi: The birth of India's Dan Brown
Last updated on: December 4, 2012 08:51 IST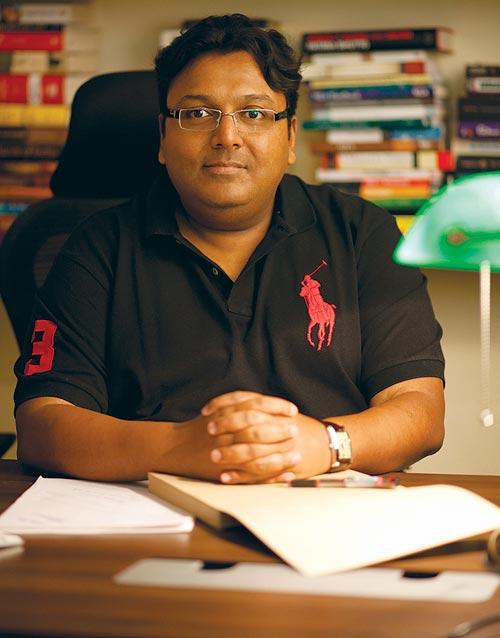 In a two-part interview with Ashwin Sanghi, we bring you insights from the bestselling author of The Krishna Key, Chanakya's Chant and The Rozabal Line and just how a young man from a family obsessed with numbers and business found love for history and the written word.
Ashwin Sanghi was in conversation with Rediff.com's Divya Nair.
In the first part, he talks about the inspiration behind The Krishna Key and what fascinated him the most about the blue god. (Read an excerpt from the book here)
If curiosity nudges you to pick a book, it is good storytelling that retains your intrigue till the last page.
The Krishna Key is one such book by a stellar storyteller, Ashwin Sanghi.
The Hindu described Sanghi as India's answer to Dan Brown. His previous works, The Rozabal Line and Chanakya's Chant are part of among the growing trend of historical thrillers and much like The Krishna Key have both been bestsellers.
The Krishna Key is the story of Ravi Saini, a historian, who embarks on a quest to find Krishna's treasures to prove his innocence in the murder of his best friend.
In a Dan Brownesque style, Sanghi takes you on a fascinating journey, revisiting every landmark vital to the plot detailing it with every possible evidence mankind can lay its eyes and hands upon.
Sanghi wears many hats. When he isn't being an author, the Yale graduate helps run his family business of automobiles in the plush South Mumbai area of Worli crunching numbers and selling cars.
In an hour-long interview, Sanghi told me how he managed to carve his creative space with words in a family obsessed with numbers.
Please click NEXT to continue reading...
'I love the spectrum of grey in Krishna'
Last updated on: December 4, 2012 08:51 IST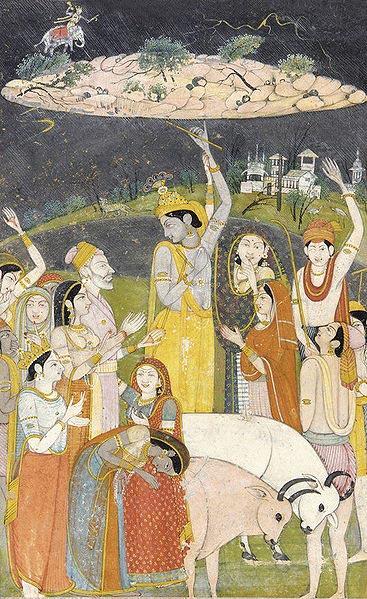 Let's start by talking about The Krishna Key. What do you make of Krishna not so much as a god in the Hindu pantheon but as a character in a story?
Krishna has so many interesting traits. The fact that he is naughty makes him lovable and popular across ages.
On the one hand, you have the romantic Krishna who in madly in love with Radha.
On the other side, you have Krishna, who is the slayer of demons.
You also have Krishna, the statesman who is extremely ruthless in the decisions he makes so he's quite fascinating to me.
Personally, I have always loved characters that can't be called good or bad. Because that's how we all are, right?
In Krishna, too, I love the spectrum of grey he has. He's probably the only deity who is not perfect and is yet so popular. I also feel that the stories about Krishna stealing butter and playing with the girls were added much later.
To my knowledge probably, Krishna was certainly a person who was great enough to be so extensively written about.
I also believe that there could have been an ancient era where the cattle needed to be preserved and there might have been a person whose name had something to do with Krish or Krishi (agriculture) who led some revolution which treated the cow as sacred.
But, so much time has passed by and too much water has flowed over it. It is difficult for one to know which of these possibilities could be true.
Why do you suggest that Krishna could have been a historical and not a mythological figure?
It isn't entirely impossible that Krishna's legends of heroism became so famous that people began to make his statues and worship him as a deity. I am just saying that's a possibility we cannot ignore.
'I don't believe that the Taj Mahal was ever a genuinely Hindu monument'
Last updated on: December 4, 2012 08:51 IST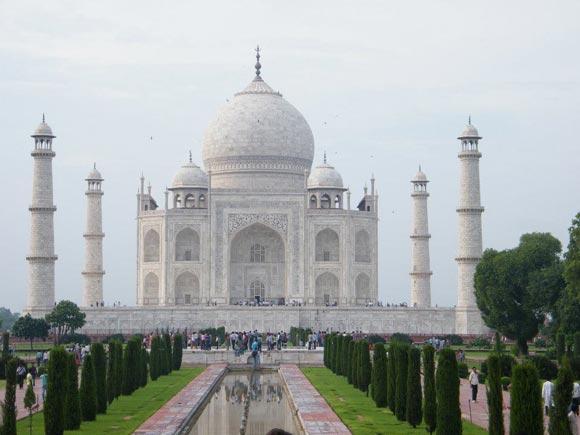 How much of the facts mentioned in the book do you believe in?
It is very important that you believe in the facts that you pick for your book. If you don't believe in it yourself, it would be incorrect to expect your audience to do so.
So you believe that the Taj Mahal was a Hindu temple?
If one were to state the facts, the historical evidences by Prof PN Oak in his book Taj Mahal: The True Story point out that the Taj Mahal could have been a Hindu structure.
I, however, refuse to believe that the Taj Mahal was ever a genuinely Hindu monument. I agree there are Hindu motifs and elements that indicate so, but whether these monuments were real or whether they were gifted by Maan Singh or acquired, is open to conjecture. I have tried to limit myself to what I know.
Similarly, there are a lot of things that are interesting to read and know.
For example, could the Mahabharat have been a nuclear war and the brahmasthra a nuclear weapon?
These subjects make interesting reading. So, if there is material to support that view, I am happy to include it as part of the story.
'It's not my responsibility to tell people what's right or wrong'
Last updated on: December 4, 2012 08:51 IST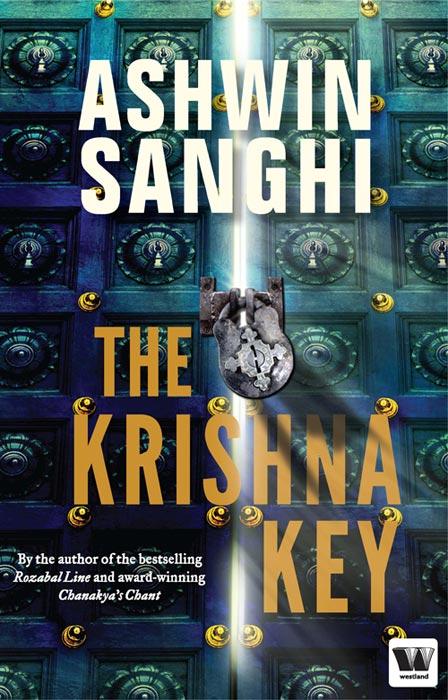 How did you get the idea for The Krishna Key?
My visit to Dwarka set the plot for the book. I had picked up the research work by Professor Shikaripura Ranganatha Rao from whom I got to know more about the submerged city of Krishna.
The data intrigued me and urged me to write a book through which I could answer questions like: Was Krishna more than a mythological figure? Could he not be a historical figure? Could the Mahabharat have been a real event?
There were tons of questions and information that need to be shared with the world. Krishna again became incidental to the whole premise.
What kind of research went into the making of The Krishna Key?
Before writing the book, I referred to three volumes of research material on the city of Dwarka by Prof Rao. That led me to find out the exact time and events of the Mahabharata which were important whether co-related to Krishna's city.
Since most of the ancient books were in Sanskrit, I picked up Rajagopalachari's Mahabharata which gave me a fair understanding of the events and its significance.
I also ended up reading a translated version of the Harivansh, which talks about the life and times of Krishna.
Then I wanted to know more about Krishna as a historic person. So I read some non-fiction works including that of N Rajaram. In about eight to nine months, I must have devoured about an excess of 50 odd books.
But as an entertainer, I choose my facts according to what works for my story. I don't believe that is my responsibility to tell people what's right or wrong. Because, what I am trying to give them is a thriller. 
I will cite the facts that are convenient to my story. Otherwise, it will become a research book. So, any of my readers want to know more than what's in the book, they can always go back to the bibliography and pick up those books and read them.
Click MORE to read the second part of the interview