HIV+ orphan wants to be an IAS officer
Last updated on: November 15, 2012 17:31 IST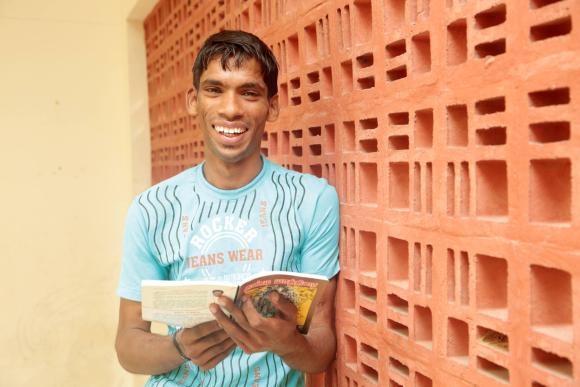 Read on for this inspiring story of a young HIV+ boy whose only dream is to make a difference to society.
Santhosh looked very thin with sunken cheeks that had deep burn marks on them. Even on his hands, there were burn marks.
After hesitatingly standing in front of me for a while, he sat and said with a smile, "I still remember seeing you visiting CHES Ashram when I was 5. You have come again but never spoke to me. You always spoke to Krishnaveni and Ravi..."
He then looked at the photographer and said, "you always carried a camera around your neck."
'Today, I am happy that you are talking to me...' Santhosh looked visibly happy.
There was reason to talk to him now. He was not a 5 year old HIV+, AIDS orphan any more; he is 19 years old and goes to college. And, there are very few HIV+ AIDS orphans who get to go to college.
Santhosh began by saying if not for two persons, his life would have been different; he wouldn't have been going to college, dreaming of becoming an IAS officer and planning all the things that he wanted to do. They are, an Army officer whose name he doesn't know and Dr Manorama of CHES Ashram.
How did you get burnt? I asked him.
"I don't even remember how it happened but my mother told me that I was less than two and was sleeping on the floor, and there was this kerosene lamp near me. My mother was not at home. I must have toppled it in my sleep. The hut got engulfed in fire and I also got badly burnt. I survived but it gave such deep scars on my face and hands."
By the time he was 3 he had lost his father. Much, much later in life, he came to know that his father died of AIDS. "I only remember him very sick and lying on the floor. I think he finally died in a hospital."
What he remembers is that afterwards he was begging and sleeping on the streets of Vijayawada. "My mother and I went around begging for money and food. She was also sick then. Some days, she was too sick to get up and beg. One day, she was lying on the railway platform and didn't get up at all. It was the railway police who disposed of her body, I think."
He came to know much, much later that his mother also died of AIDS.
This HIV+ orphan wants to be an IAS officer
Last updated on: November 15, 2012 17:31 IST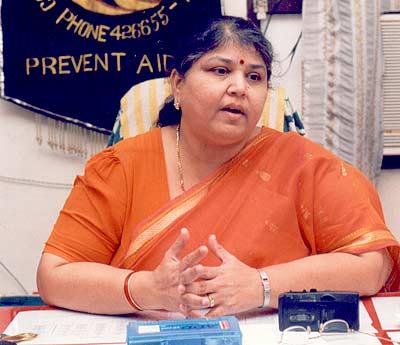 After the death of my mother, I didn't have anybody in life except the other beggars. We all begged for money. One day, we were caught by the railway police when we were begging inside a train."
The detached way he described his days as a beggar and the death of his mother was not something you expect from a 19 year old. Perhaps that was what life has made him: a detached person.
The life changing experience happened when he and other beggar boys were caught by the railway police that day. "Seeing us all huddled together in one corner, an Army officer came over there and asked us, would you go to a place if I sent you? We all said, yes. I still remember he then bought us food. Even today, I can feel the taste of the food in my mouth. He took us to a government hostel. He used to come and meet all of us once in while and used to ask us to study well. I remember his face but I feel so sad that I do not know his name."
From the government hostel, he was sent to an SOS village. "They sent me to a very good CBSE school and I felt awful there. How was I supposed to understand what the teachers were saying when I didn't even know the basics of anything. I failed in all the subjects in the first exam, and felt very miserable."
After a pause, Santhosh said, "I didn't know why but I was brought to Dr Manorama's CHES Ashram here in Chennai by a person from the SOS village. I think I was 5 then. The initial days were terrible as I knew only Telugu and here, everybody spoke Tamil."
I felt I had to now ask him the question. "Santhosh, when did you come to know that you were HIV+?"
He admitted that it was another life changing moment for him. He was in the 10th standard then. Doctor Manorama one day told him that he was HIV+. "Initially, I was quite upset. Then thought I would face the consequences as they came. That was when I came to know my parents had died of AIDS. I started taking ART (Anti Retroviral Therapy) soon," Santhosh said matter of factly.
To the question, how did you cope with the bitter truth?, he said, "Once in a while, I ask myself, why did I get the disease? Why do I have to suffer like this? Then, I sleep for a while. When I get up, I feel better. I also think of the positive things that have happened in my life. Had I not come here, my life would have been different. I would have been begging on the streets and perhaps would have even died by now. I am alive and healthy because of Manorama Ma'am and ART. So, I want to do something for AIDS orphans like me."
From a boy who sat at the home for two years without going to school, he has transformed to a young man dreaming of becoming an IAS officer. "It happened after I read the books written by Iarinbu, an IAS officer. His books motivated me and changed my outlook on life. Though I have never met him in my life, his books transformed me. I also want to be an IAS officer like him. I told Dr Manorama of my ambition and requested her to put me in the IAS coaching academy that coaches poor students free of cost."
Now, Santhosh is doing his second year degree in computer applications. After completing his graduation, he wants to join the Academy and study to be an IAS officer.
"Today I am a nobody. Even if I dream of doing something for children who beg on the streets, I can't do anything. I have no power to make any change in society. When I have the power, I want to see to it that all children who cannot afford education get it free. In my personal capacity, my dream is to sponsor the entire education of at least four children all the time. I have many, many dreams now..."