Healthier Diwali recipes: Gujjias, Chaklis and more!
Last updated on: November 12, 2012 19:21 IST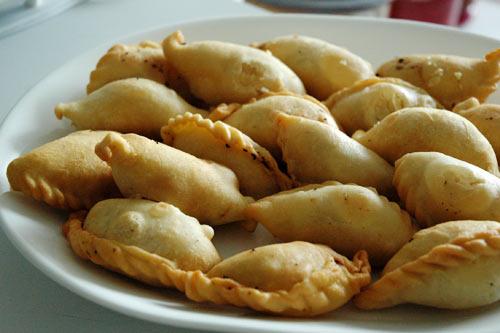 Nirmala Garimella offers healthier sweets and savories for the festival.
Boorelu was always my childhood favorite during Diwali. It is a sweet typically from Andhra Pradesh.
Through the Festival of Lights every home hums -- colourful diyas, fireworks. But the activities in the kitchen really energise families and friends to get together.
Food, we believe should be lovingly made over hours of family gossip, interspersed with pots of warm milky tea and homemade goodies, while the bubbling stovetop adds a dramatic effect to the whole cooking scene. Even today, in spite of our busy lives and moving to bustling metropolises, Indian families still get together to prepare quintals of sweets and snacks.
I live in Lexington and our Diwalis are quite grand. We have a wonderful Diwali party in town. Local residents attend and there are a variety of cultural programmes. It is an occasion for us to wear our Indian finery. The kids participate in Indian dance and drama bringing them closer to their heritage. Diwali becomes the most celebrated and talked about festival in the classroom and at home. Cooking is a more of an individual ritual with only the immediate family participating.
One of the first things I learned to make in Mom's kitchen was Boorelu. This stuffed and fried lentil sweet dumpling features four simple ingredients -- mung and urad dals, sugar, rice and coconut. It has a long shelf life. Mom would measure out the dals and rice the night before, wash them in several changes of water to soak. It was a difficult task since Diwali meant tons of visitors and there was no knowing how many would show up that day. But it was a special ritual and merited careful attention.
Whenever, I entertain at my home here in Boston, I introduce my guests to Andhra's wonderful cooking. This gives me a chance to not only tickle their palate with a new taste, but also share my rich culinary heritage.
In the US, I stick to the original recipe of Boorelu, as far as possible and astonish my friends by using lentils as a base for a nutritious sweet. I substitute jaggery for brown or regular sugar and I use a fryer to get the desired effect.
After donning a traditional silk sari for the morning lighting of lamps, I grind the mixture using a blender instead of the traditional mortar and pestle. Mom always maintained that the traditional way had the best taste and I never really fully understood, till I grew up and tried the same thing in a blender without getting the same result.
My daughter is now sufficiently grown up to take an interest in Indian cooking and joins me in the task as we prepare the sugar syrup and add the steamed lentils into. The mixture is then shaped into tiny balls, dipped in a rice and lentil batter and introduced gently into the sizzling oil. The golden brown Boorelu are then fished out of the oil and put on a rack and stacked in airtight containers, provided it manages to escape the eager hands of the waiting family.
I have also listed other sweets and savories, that I have experimented with, to give a new style to Diwali dishes.
Boorelu
Ingredients:
2 cups rice, soaked overnight
1 cup urad dal, soaked overnight
2 cups mung dal soaked for two hours
2 cups jaggery
1/2 coconut, grated
1/2 tsp cardamom powder
Method:
Soak rice and dal overnight and drain out the water completely. Make a fine powder of it in a blender. Add a tiny bit of salt and a little jaggery to the mixture. Keep aside.
Blend the mung dal with a little water as possible into a coarse paste. Steam in cooker as in dhoklas and after cooling, add the cooked paste in the blender to a coarse mixture.
Grate 1/2 coconut and set aside.
Add one cup of water and the sugar and melt it in a thick-bottomed vessel on low flame.
Make syrup to one string consistency (letha paakam) and add the grated coconut and cardamom powder to it. Mix well and add the powdered dal mixture slowly.
Remove from fire and when slightly cool make medium size balls.
Heat oil in a pan or wok. Dip each ball in the rice and urad dal paste like in bhajjis and fry till golden brown. They puff slightly.
Stored carefully they last for a week and is a delicacy made during most Andhra festivities.
Gujjias with a fruit twist (Inspired by Khana Khazana)
Ingredients:
For the wrap:
2 cups flour
2 tbsp ghee
1/4 tsp salt
For the filling:
3 fresh pineapple slices, finely chopped
1/2 cup coconut, fresh grated
2 tbsp of raisins
2 tbsp of chopped almonds
2 tbsp of chopped cashew nuts
A pinch of cardamom powder
A pinch of salt
4 tbsp of semolina or rava
Oil/ghee for frying
4 tbsp sugar
Method:
For the wrap: Mix all the ingredients, add water and knead to firm dough. Set aside in plastic wrap.
Heat oil and add the chopped pineapples to this and fry well on high heat.
Reduce heat and add grated coconut to this and mix well.
Next add raisins and the nuts along with salt and cardamom powder. Now add semolina and saute for a minute. At this point add sugar as appropriate to taste. The filling is now ready and should be dry.
Knead the dough once again and roll out into small rounds. Cut into half and fill in with the pineapple coconut mixture, seal the edges with water and cut out with a pastry wheel or fold in with your fingers to give a zigzag twist. Set aside in a pan and cover with a wet cloth.
Fill a pan or fryer in oil and gently drop these Gujjias till they turn brown.
Drain and keep aside in an airtight container.
Healthier Diwali recipes: Gujjias, Chaklis and more!
Last updated on: November 12, 2012 19:21 IST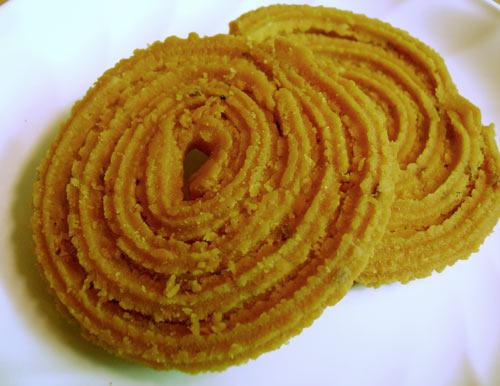 Very Berry Shrikhand (a healthy Diwali special for those who want a quick fix dessert)
Ingredients:
9oz fresh sweet strawberries, cut into four; blueberries too can be added
2 tsp caster sugar
2 tsp balsamic vinegar
For the shrikhand
9fl oz Greek-style yoghurt
2 tsp of a variety of nuts and cardamom, finely chopped
A pinch of saffron strands, soaked in 1 tbsp milk (I use the store-bought saffron or kesar powder)
3 tbsp fine caster sugar
Method:
Place the strawberries in a bowl with two teaspoons caster sugar and the balsamic vinegar. Cover with cling film and leave to marinate for one hour.
For the shrikhand, mix the yoghurt, cardamom seeds, nuts, saffron (and saffron water) and caster sugar into a bowl and mix well.
To serve, place equal portions of the strawberries into sundae glasses. Place a quarter of the shrikhand on the top of the strawberries in each glass. Top with the toasted almonds and a berry or a cherry on top.
New grain protein rich savory Chaklis
Ingredients:
2 cups rice flour
1/2 cup quinoa flour
1/4 cup gram flour/besan
1 cup split roasted gram powder
2 tsp butter
1/2 tsp asafetida powder
2 dry red chillies
1/2 tsp cumin or jeera seeds
Few curry leaves
2 tbsp channa dal soaked for an hour
Salt
Oil
Method:
Grind the split roasted gram along with dry red chillies, cumin seeds, curry leaves into a fine powder. Take this grounded powder along with rice flour, quinoa flour, gram flour, butter, asafetida powder, salt, soaked channa dal in a large vessel and knead a soft dough with enough water.
Heat oil for deep frying, take a golf ball-sized dough, with a little oil and flatten them with hands into thin sized biscuits. Use a greased wax paper to help them into shape.
Drop this into the oil, fry until both sides turns golden brown, repeat the same process until the dough get finished.