Rakhi recipe: How to make Kopra Paak
August 20, 2013 10:53 IST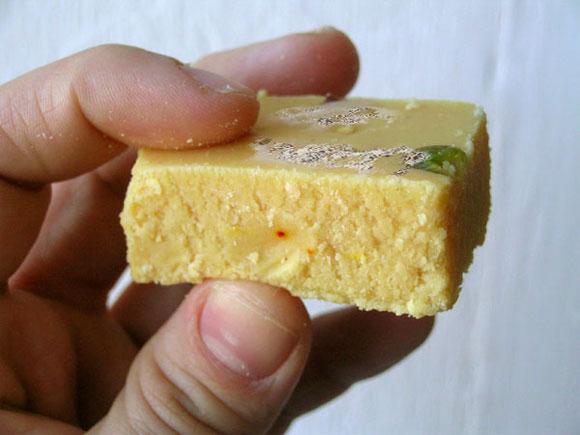 We'd invited you readers to share your Rakhi recipes. Here Coomi Selod tells you how to make Kopra Paak, a traditional sweet made from grated coconut.
Ingredients
1 coconut (grate white part only)
500 gm sugar
4-6 tbs water
2 tsp ghee
1 cup milk
50 gm almonds (blanch and sliver)
Varakh or silver leaf (optional)
Method
Mix coconut, sugar, rose water, ghee and milk into a pan and cook on a low fire, constantly stirring, till a soft ball is formed.
When it starts leaving the sides of the pan, remove from fire.
Grease a clean marble topped table with ghee and spread the mixture on it.
Roll it out to ¼ inch thickness.
Sprinkle the almonds on top, pressing them into the paak to provide a flat surface.
Gently lay the silver varakh on the kopra paak
Cut into diamonds or squares quickly while it is hot. Leave to cool.
Serve when cooled.
These can also be stored in dry air tight jars after they are cold.
Liked this recipe? Click here for more recipes and food features!
Share your special Rakhi recipes along with photographs and we will be happy to carry the best ones right here on Rediff.com and in India Abroad -- simply email them to getahead@rediff.co.in (subject line: 'Rakhi recipes').
At sea this Raksha Bandhan? Rediff Shopping has the answer! Check out rakhis for your beloved brother here and shop for return gifts for your sister here.
What are YOU buying for your sister/brother? Tell us here and post pictures!