Bharwan Aloo, Crispy Fried Snapper: Readers share food pics!
July 19, 2013 16:13 IST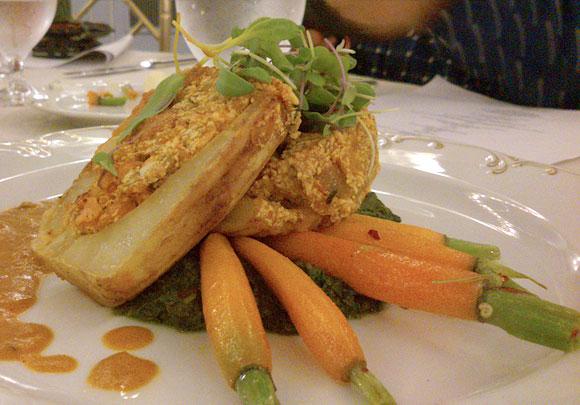 Food photography is becoming a very provocative, glamorous art -- share yours with us!
We invited you to send in delectable food pics -- dishes you love, whipped up yourself, or order at restaurants -- to share with other readers. Here is the next set of responses!
First off we have a few images from Raj Sharma, of dishes shot at various eateries in New York and one in Shillong. Seen here is Bharwan Aloo as it is served at NY's Pierre Hotel.
Send us your food photographs. Make sure they are original, that you mention what the dishes are and where you shot them. If by any chance you happen to have a recipe that can be carried alongside, we'd love to have it!
E-mail your photographs to getahead@rediff.co.in (subject line: 'Food pics') and we'll publish the most interesting ones right here on rediff.com and in India Abroad. Hurry and send in your entry today!
Disclaimer: The photographs featured in this series are, to the best of our knowledge, original entries submitted by readers; rediff.com does not assume any responsibility for their originality.
Korean Chicken over Rice
July 19, 2013 16:13 IST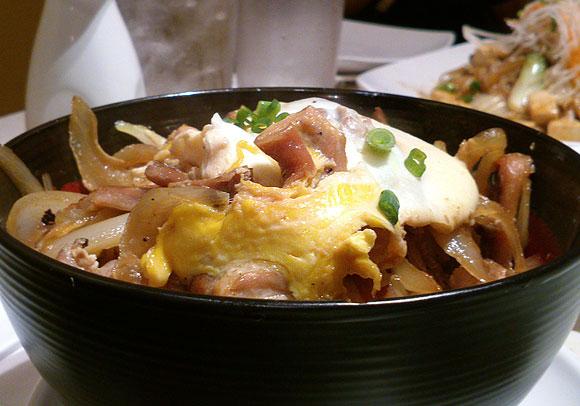 Sharma sampled this Korean Chicken over Rice at Pho 24, a Korean restaurant in Manhattan.
Fried Dumplings
July 19, 2013 16:13 IST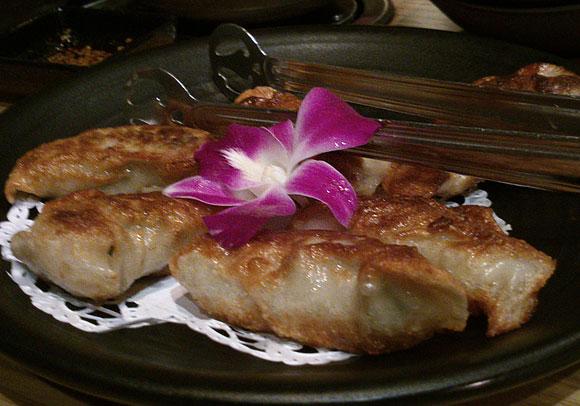 These delectable Fried Dumplings are on offer at the Korean Spoon on 32nd Street.
Crispy Fried Red Snapper
July 19, 2013 16:13 IST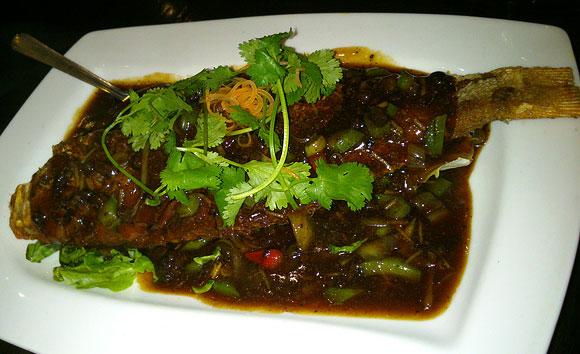 For seafood lovers, the Crispy Fried Red Snapper from Nyonya, a Malasian restaurant in NY is not to be missed. The cuisine is a mix of Chinese and Malaysian, says Sharma.
Pork Stew with flavoured rice and steamed vegetables
July 19, 2013 16:13 IST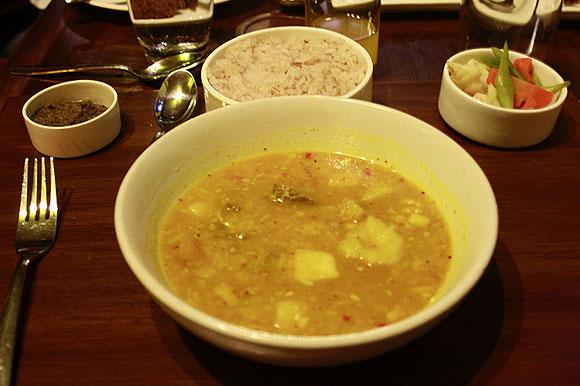 Closer home at Shillong's Tripura Castle, Sharma took a snap of the local fare -- Pork Stew with flavoured rice and steamed vegetables.
Vanilla Rhubarb Cake
July 19, 2013 16:13 IST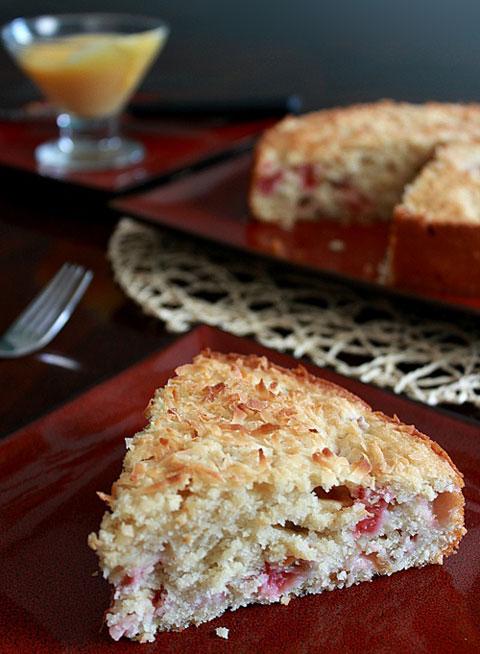 Reader Manju Nair e-mailed in both a photograph of and recipe for Vanilla Rhubarb Cake, from her blog http://manjuseatingdelights.blogspot.com:
Ingredients:
250g or 2 cups rhubarb stalks, chopped
2 tblsp sugar 175 g or 3/4 cup sugar
175g or 1 1/2 cups all-purpose flour
150g or 1 1/4 cups butter
1 1/2 tsp baking powder
50 g or 3-4 tblsp dessicated coconut (I used sweetened coconut flakes)
2 eggs
1/4 cup 3 tbsp milk
1 tsp vanilla extract
A pinch of salt
Method:
Preheat oven to 350F and grease a 9" cake pan and set aside.
Cut the rhubarb stalks into small pieces and drizzle it with 2 tblsp sugar and let it macerate for about 10-15 minutes.
Using an electric hand blender or kitchen aid mixer- beat the eggs, 4 tblsp milk, Vanilla extract and 2 tblsp dessicated coconut (or coconut flakes) until just combined.
Add in the flour, sugar, baking powder, a pinch of salt and slowly add in the ¼ cup of milk and mix well until a smooth and semi thick batter is obtained.
Remove the juices from the macerated rhubarb. Sprinkle 1-2 tblsp flour over the rhubarb and coat it on all sides and add it to the batter and slowly fold it in making sure its evenly distributed and pour batter into cake pan. Sprinkle remaining 2 tblsp coconut flakes on top.
Bake for 35-40 mins until done or a toothpick inserted in the middle come out clean.
Serve with creme fraiche or ice-cream or whipped cream or vanilla custard on the side.
Haleem
July 19, 2013 16:13 IST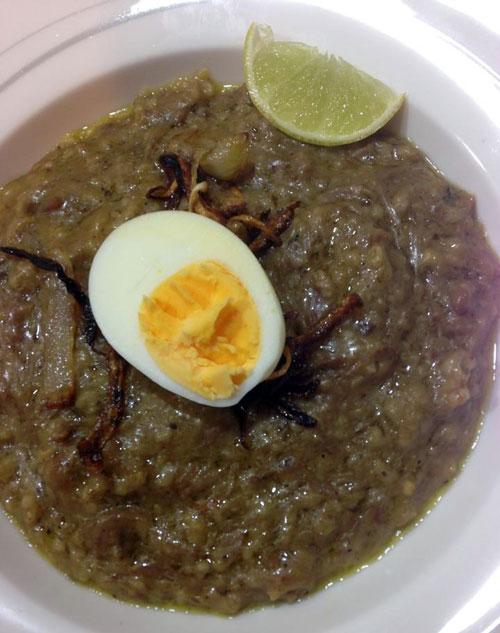 Says Amith S Tonsha, "I live in Melbourne, Australia. I am sharing a photo here of homemade Haleem I made myself."
For those of you who don't know what Haleem is, it's a sweet stew that can be prepared in a variety of ways, but always includes includes wheat, barley, lentils and meat, according to Wikipedia.
Chicken 65
July 19, 2013 16:13 IST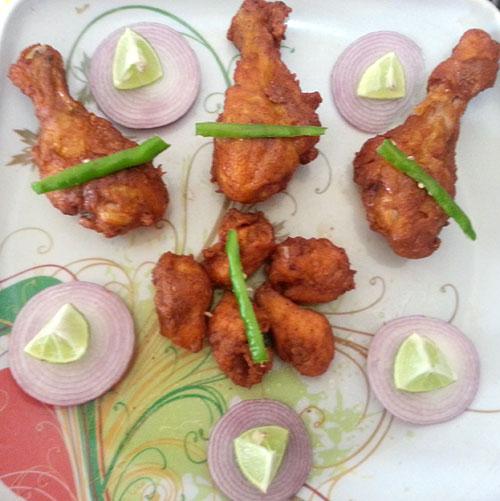 "This is one of my favourite yummy dishes," says Satyasriprasad Kapisetty of the Chicken 65 in this photograph.
Banana Walnut Cake
July 19, 2013 16:13 IST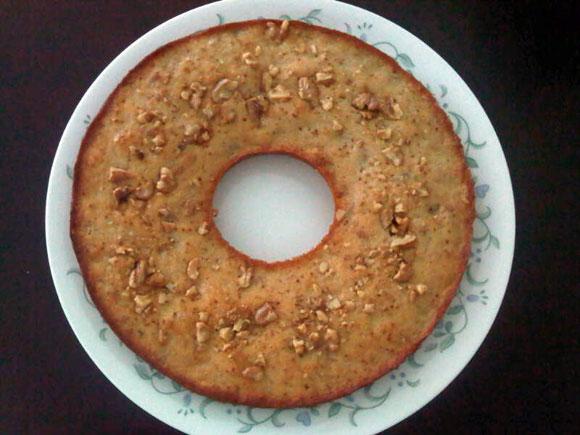 Priyadarshini Bipin shared this appetising image of a Banana Walnut Cake.
Ice-cream sundae
July 19, 2013 16:13 IST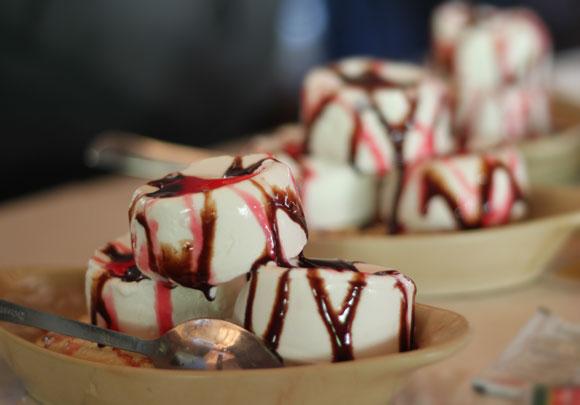 And finally we have these ice-cream sundaes shot by Dinesh Naik, who says they were served up at his brother's fifth wedding anniversary celebrations.