Lighting up the Valley: Celebrating Diwali in Kashmir
November 03, 2013 09:58 IST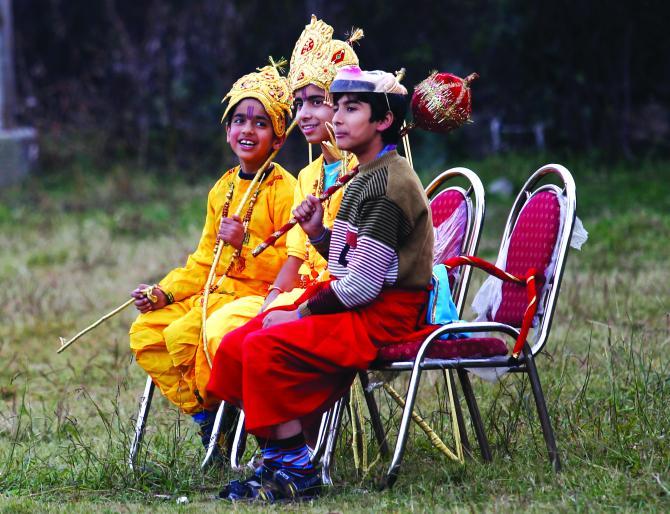 Santoor artiste and composer Abhay Rustum Sopori remembers the festive days of his childhood.
Deepawali is one of the most sacred festivals of Kashmir. It is the second most important Hindu festival after Shivratri.
Kashmiris are predominantly Shaive or followers of Shiva. But the Nilmat Purana, Kashmir's religio-cultural chronicle, records the existence of a Vaishnava cult, with all its incarnations, including Lord Rama in ancient Kashmir.
Legends, epics and other source material, we find in Kashmir, are packed with age-old tradition, customs, festivals associated with Lord Rama, the incarnation of Vishnu.
The Nilmat–Purana mentions the observance of Sukhsuptika as the localised version of Deepawali in ancient Kashmir.
On this auspicious day, in addition to worshipping Lakshmi, Kashmiris light up their houses, streets and temples with clay lamps using pure mustard oil and exchange fruits and Nabat-Naut, traditional Kashmiri sweets, with their family and friends, neighbours in particular. The womenfolk wear new clothes and don traditional ornaments.
Folks rejoiced, celebrated the festival overnight, without any inhibition and prejudices or class considerations. That's why the festival earned the name Sukhsuptika or night of rejoicing and celebrations.
The Bohra community would perform a puja in their shops.
The festival finds mention in all the popular Kashmiri Ramayanas like Prakashram's Ramayana, Vishnupratap's Ramayana and Vishnusharma's Ramayana.
Many of the names of places across the entire Kashmir valley are associated with Lord Rama, Sita and Laxman and bear testimony to the popularity of Lord Rama and his saga in the valley -- like Ramkund, Sitakund and Laxmankund on the hillock of Gosaintang in Baramulla and in several villages in Anantnag district.
The Maharagipradur-Vhava says it was Lord Rama who directed Hanuman to escort Goddess Shyama, popularly known as Kheer Bhawani from Sinhla-desh or modern Sri Lanka, to Satidesha or ancient Kashmir.
Kashmiri's worship Lord Rama and celebrate Ramnavmi and Deepawali in spite of its people being predominantly Shaiva-Shaktas.
Exchanging gifts was not part of the Kashmiri culture, the way it is in many other parts of the country. I do not like the idea of sharing huge, costly gifts. It seems to have gradually developed into a medium of creating influence and bias. In Kashmir people don't play cards the way it is done outside the valley. Burning of crackers was also not part of the Kashmiri culture traditionally.
As a child I have celebrated memorable Deepawalis during the first 10 years of my life when I lived in Srinagar, Kashmir.
What a time it was!
We would all -- Hindu and Muslim friends -- come back from school, finish our homework and assemble at a ground by 5 pm or so. The next three hours would be ours and a daily nightmare for our colony (neighbourhood) folks, especially parents.
Breaking windows with brilliant but unexplainable sixes in cricket.
Cycling at fast speeds, at times banging into oncoming vehicles and landing up with bandages and bed rest for the next week or so.
Falling down while playing hide and seek, being scolded yet loved by all our neighbours. We enjoyed our childhood to the maximum.
This bond was also reflected in the religious festivals, be it Eid or Deepawali.
My family has very open-minded, secular thoughts, which are above any difference or discrimination in religion, region, caste. I didn't even know that I was a Hindu till I was around eight, when someone asked me out of curiosity how my name and my brother's was Rustum and Sohrab.
On Deepawali my friends would spend their entire day with us, as I would on Eid. Their inputs were of equal importance in the choice of crackers, which we all burst together. We all had equal roles even in the puja ceremony.
I remember that I would sit with my closest friend Zahoor and we would offer prayers together, while my parents, the music legend Pandit Bhajan Sopori and mother Professor Aparna Sopori, would teach us that we are one family, irrespective of which house we stay in, and that we all need to respect and love each other.
I thank them for gifting this wonderful bond to our friendship through a medium like Deepawali.
Abhay Rustum Sopori, who hails from Sopore, in Baramulla district, eastern Kashmir, is the ninth generation of a well-known family of santoor artistes who follow the Shaivite Sufi tradition. He is also a composer and conductor. Sopori composed the fusion piece Rind-e-Poshmal in just a few days and presented it jointly September 7 with his Kashmiri folk ensemble, the Bavarian State Orchestra and conductor Zubin Mehta.