Destination dos replace the Big Fat Indian wedding
Last updated on: February 23, 2011 18:15 IST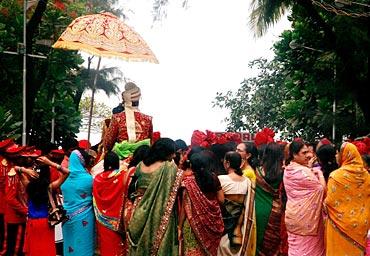 Does the idea of an intimate beach ceremony at the seaside in some exotic locale appeal more to you than an elephantine reception? If so, read on!
The big, fat Indian wedding is being traded in for a smaller one in foreign countries, preferably in Southeast Asia.
It's not just the Elizabeth Hurleys of the world who globetrot in search of a perfect wedding venue. While Hurley chose India, Indians are increasingly stepping out to have their wedding ceremonies in foreign countries.
When Rakesh Sharma*, an investment banker, decided to marry his third and youngest daughter to a Singapore-based bank executive, he wanted to do something different. Bali seemed like an apt choice for an exotic wedding-cum-vacation. To keep the event within budget, Sharma decided to make it a close family affair, cut the 400-plus guest list to 200 and managed to pull it off at the same cost as a 400-plus guest splash in Delhi.
*Name changed to protect privacy
'The air tickets to these places are not too expensive'
Last updated on: February 23, 2011 18:15 IST
If you thought only the very rich could afford weddings overseas, think again. When it comes to tying the knot, an increasing number of upwardly mobile Indians are starting to prefer exotic countries abroad as their wedding venues. Among the most popular destinations for "destination weddings" are Thailand, Bali, Mauritius and Malaysia. Not only do these places bring in their own exotic element to the wedding, but they also tend to be more cost effective.
"The air tickets to these places are not too expensive, plus Indian cuisine is also available there," says Sabina Chopra, co-founder of travel website Yatra.com
'We organise 15 to 20 such weddings every year'
Last updated on: February 23, 2011 18:15 IST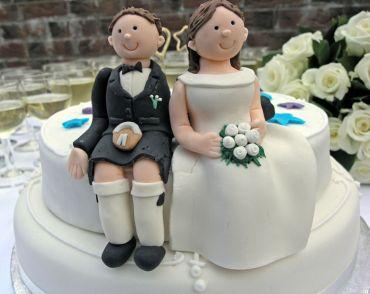 Delhi-based wedding planners Back to Culture organise 15 to 20 such weddings every year. "A wedding in Delhi is more expensive in terms of hotel rates and the cost of meals as compared to one in a Southeast Asian country. Room rates in a five-star hotel in Delhi would be Rs 15,000; the same in Thailand would cost around Rs 8,000. Food is also cheaper there," said Vineet Chauhan, director, Back to Culture.
What's more, the pundits, mehndiwalas, beautician and dholwalas are all part of the wedding contingent that flies abroad along with the bride and the groom. The wedding planners also take decorations from India, since the specific fabrics wanted may not be available in a foreign country.
The airfare covers a large chunk of the whole cost. In order to balance that, people cut down on the guest list and instead of having 500 relatives and friends coming in for a local reception, they invite about 200 close ones to a foreign wedding.
The cost: Anywhere upward of Rs 50 lakh
Last updated on: February 23, 2011 18:15 IST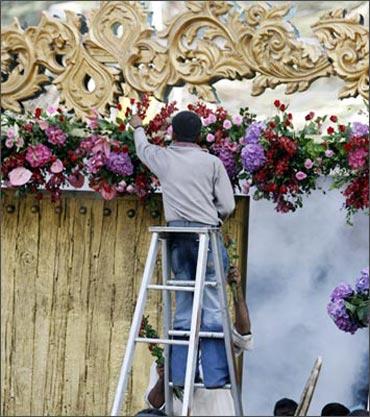 "The best part about a destination wedding is that it is a holiday for everyone, so one doesn't have to take leave separately for a vacation," adds Chauhan.
Weddings in a foreign location in any Southeast Asian country can cost at least Rs 50 lakh, though the more elaborate ones can go up to Rs 3 crore. If you want to opt for one, you have to register with the wedding planners three months in advance.
"This trend was started by movie stars of the Indian film industry and Hollywood, and is now catching up in the Indian market as well. We get enquiries for such wedding tour packages from NRIs, foreigners and a niche category of Indian customers," says Sanjay Bhasin, chief executive officer of Travelchacha.com
Most of these weddings have themes that reflect the culture of the country they are being organised in. So, instead of the Indian decor complete with marigold flowers and mango leaves, a marriage ceremony in Bali, for instance, would have a beach theme with waiters and waitresses dressed in traditional shifts. The cuisine served will also have a range of local delicacies alongside Indian dishes.
Source: