Daddy and me: 'Happy Father's Day, Abba'
Last updated on: June 14, 2013 13:41 IST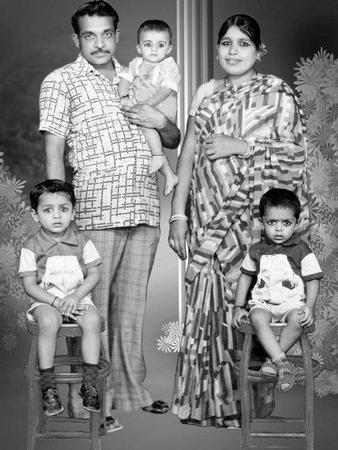 Readers share memorable pictures of their dads. Share yours too!
With Father's Day coming up on June 16, we invited readers to send in special 'Daddy and Me' pics. Here's the next set of responses!
First up we have Saifudeen Khan's family photograph. He writes:
"I hardly have any memories of my father because I lost him at a very young age. My mother raised the three of us. My father was an honest man who served the Government of Tamil Nadu.
I was the youngest in the family and was the most pampered. We lived in a house where privacy meant looking in a different direction. Yet we accommodated ourselves.
Now that we all are grown up and about 20 years have gone by and we are all settled, we miss him terribly and feel bad that we could not do anything for him.
The only way we can repay his debts is by being good human beings. May God bless his soul! Happy Father's Day, Abba!
Make your father feel special by buying exciting gifts on Father's Day only at Rediff Shopping!
Daddy and me: 'He taught me the importance of discipline'
Last updated on: June 14, 2013 13:41 IST
Next, Vishal Agnihotri shares these photographs of his father and writes:
It is very hard to describe and to understand the feelings or emotions of father. Sometimes your father may be very strict on you. Perhaps you may not able to understand his love for you. But fathers give you the confidence of security and safety.
Being a principal, my father taught me the importance of discipline, self-respect and being truthful.
The only time you can identify with you father is when you become a father yourself. My father is my idol and one of greatest fathers in the world.