Check out! Durga Puja 2011 special recipes
Last updated on: October 2, 2011 15:37 IST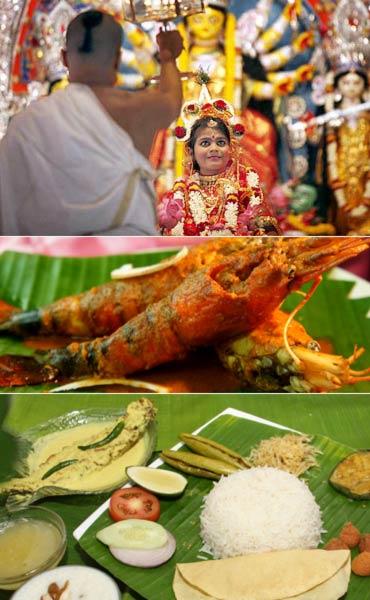 Supriyo Hazra tells us just what dishes you must try out during the nine days of Durga Puja revelry and shares with us some lip-smacking recipes
There is perhaps no better time than Durga Puja to try out the delicacies that the Bengali palate has to offer.
Lights, colours, decorations and the high spirits are all incomplete without good food, especially the lip-smacking delicacies prepared during these days.
So if one is planning for the exact menu s/he can choose this year to make the season really exciting one then here are few tips that on can follow.
Mahasasthi: The festival commences with Mahashashti as pandals get the last minute touches to welcome visitors. While the organisers decorate the pandals with the colours that they consider to be the most exclusive one, in your home you can cook something really special to herald the festive mood right from the lunchtime.
So to start the day one may prefer to prepare some fulko luchi (a special Bengali fluffy bread) and along with it you may choose alur dam (potato curry), begun bhaja (friend brinjal) or easy looking cholar dal with a topping of coconut to make it really irresistible.
You may prefer to have this menu either for your lunch or your morning heavy breakfast. Even you cannot negate the importance of a beautifully decorated plate of luchi-alur dam for dinner, as it is the true choice of any Bengali person.
Mahasaptami: Bengalis are known for their association with rice. And during Puja one cannot think the menu to be complete without a proper preparation of rice. A Bengali mother will always be seen cooking some delicious Bangali Polau with Dal Pancharatna (pulse), Pabda macher jhol (Butter Fish Curry) and a plate full of chingrir malai curry (prawns).
Mahaashtami: On the day of Ashtami, Bengalis visit the pandal to offer anjali (special prayer) to the goddess. Traditionally on this day every Bengali household prepares vegetarian dishes.
Khichuri, mixed vegetable curry and Koraisutir (peas) chop, and spicy cauliflour slowly and silently finds a place in the plate of a Bengali on Ashatami.
Mahanabami: Nabami or the ninth day of the festival arrives with a mood of melancholy, as it is the last day before Dashami or the final day of the festival.  Nabami is marked by delicious foods and some mouth-watering preparations to make the day really interesting.
If you are really tired of having Bengali dishes all these days, it will not be a big mistake if you choose to change your option and prefer to add some Moglai preparations on your menu.
Mutton Biriyani, Chingri (prawns), Khasir Kasha Mangsho (mutton curry) and Pineapple chutney may feature your dinner before you leave with your family for a whole night 'trip' in various corners and pandals of Kolkata and return back late on Dasami morning.
Mahadasami: Dasami or the tenth day of the festival arrives with a mood of gloom and sadness as it is time for the Mother Goddess to leave earth and return back to her house in Kailash mountains. So after you return from the bishorjon (immersion of Godess at Ganges) you may select Chicken Fried Rice, Narikel Mocha, Rui macher Ganga - Jomuna (fish curry) to finish the day.
Sweets play an important part in any Bengali festival and Durga Puja being the most important event. Rasogolla, Khirer Chop, Sandesh, Kheer kwamola (citrus kheer), payesh and Kheer are always there to make your festival days more sweet and spicy.
Kheer kwamola and Rui macher Ganga-Jomuna
Last updated on: October 2, 2011 15:37 IST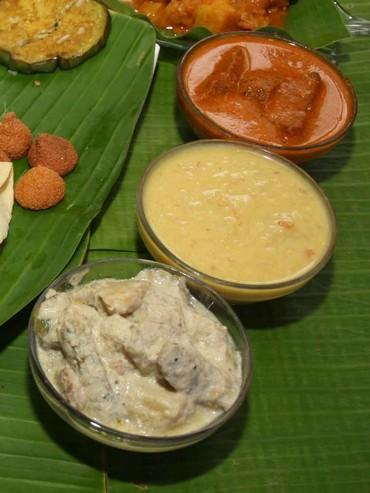 Kheer kwamola (citrus kheer)
Ingredients:
Milk: 1 litre
Sugar: 3 tbsps
Elaichi (cardamom) seeds: ½ tbsp, lightly crushed, preferably from large dark elaichi
Sweet Santra or kinoo (looseskinned citrus fruit): 3 in number (about 750gm), segments peeled and a little of the outer peel kept back.
Method:
Bring milk and sugar to boil.
Stir for about 8 minutes, until sugar dissolves.
Lower heat, put in elaichi and simmer for about 12 to15 minutes, stirring continuously to keep it smooth, until the milk is reduced to one third of its original volume.
Stir in santra or kinoo segments. Simmer and stir, for 5 minutes more, or till it is reduced to half of its original volume.
To cool slightly, keep to one side. Meanwhile, finely tear up 2 tablespoons of the outer peel for garnish.
Transfer pudding to individual dessert cups or serving bowl. Scatter shredded peel over and serve warm, with a dash of elaichi powder.
Rui macher Ganga-Jomuna (fish curry)
Ingredients:
750gm rohu pieces or a small whole fish
Salt and turmeric to taste
Imli (tamarind) dried: 2-inch lump OR
Sour imli paste: 1/2 cup
Mustard seeds: 2tbsp, soaked overnight; ground to a paste
Sharp mustard oil: ½ cup
Sugar: 1 tsp
Green chillies: 2 chopped
Method:
Rub the fish lightly with salt and haldi; Keep to one side.
If dried imli is used, soak in 1/2 cup water to loosen it first. Meanwhile, preheat oven to 180 degrees C (350 degree F).
Mix mustard paste with 1/4 tsp haldi, ½ tsp salt, 1 cup mustard oil and the Green chillies. Set aside.
If imli is soaked, rub to remove seeds, husk, and fibres.Strain. Add 1 tsp haldi, 1/2 tsp salt, sugar, 1 cup mustard oil and the green chilies. Set aside.
Lay the fish pieces in a shallow glass or ceramic dish. Carefully add the imli paste on one side and the mustard paste on the other. Gently shake the bowl so that both thick pastes come together along the centre line but do not combine.
Tent with foil and bake for 20-25 minutes (depending on size of pieces; a whole fish may need 30 minutes).
Serve with plain rice, but present the dish as it is to make an impression.
Sandesh and Chicken Fried Rice
Last updated on: October 2, 2011 15:37 IST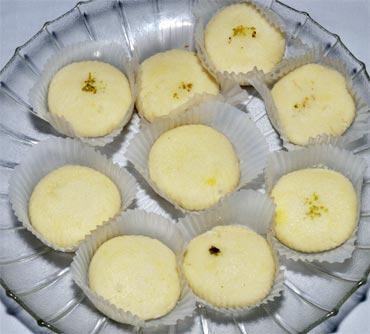 Sandesh
Ingredients:
Milk pre-boiled and top cream removed: 1 litre
Citric acid: 1/2 tsp OR
Juice of 1 lemon
Corn flour: 2 tsp
Sugar, ground fine: 1/2 cup
Essence of choice: 1/4 tsp
Few drops colour to match essence flavour
(eg. green with pista essence)
For topping:
Slivered pistas and almonds: 1 tsp
Cardamom powder: 1/4 tsp
Small moulds of choice
Method:
Dissolve acid or lemon juice in 1/2 cup warm water.
Put milk to boil. When it rises, pour acidic water all over it.
Reduce heat and stir till fully curdled.
When whey and water separate completely, remove from heat.
Strain in clean muslin cloth.
Hold under running water for a minute. Press out excess water and wait for 15 minutes (this is paneer).
Empty the paneer in a large plate.
Take 2 tbsp of paneer in a heavy pan and add corn flour.
Heat on medium flame stirring continuously for 3-4 minutes.
Cool, add to paneer in plate, add sugar, essence and colour.
Mix till very smooth.
Lightly grease and dust moulds with ghee and corn flour.
Mix topping ingredients.
Sprinkle little topping in each mould.
Press paneer mixture into it and level top. Chill for 3-4 hours. Unmould carefully.
Serve chilled in individual paper cups (optional).
Chicken Fried Rice
Ingredients :
Rice (Chamanmani): 200g
Carrot, beans, onion string: 100g (finely chopped)
Soya sauce (no.1): 1/2 teaspoon
Soya sauce (no.c): 1/4 teaspoon
Salt: 1 teaspoon
Testing powder: 1/2 teaspoon
Black pepper: 1/4 teaspoon
Egg: 1
Chicken: 100g
Oil: 30g
Method:
Boil rice and drain out all water. Deep fry chicken in pre-heated oil.
Heat oil in a deep-bottomed frying pan.
Pour in all vegetables but onion strings.
Stir it for a minute or so.
Add chicken, rice, salt, testing powder, black pepper to it. Keep stirring.
Mix soya sauce with it.
Stir for 5-6 minutes in moderate heat.
Sprinkle the onion strings over it. Stir for another couple of minutes.
Serve in a rice bowl.
Narikel Mocha
Last updated on: October 2, 2011 15:37 IST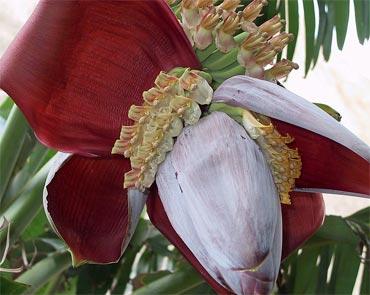 Narikel Mocha
Ingredients:
Banana Bud: 1 (ripe and encasing sweet tasting flowers)
Coconut milk: 1 cup
Oil: 1/2 cup
Poppy seeds: 1/2 teaspoon grounded and pasted
Cumin powder: 1-1/2 teaspoon
Salt to taste
Green pepper: 4
Onion: 1 cup (chopped)
Panch phoron: 1 teaspoon
Coriander seeds: 1 teaspoon grounded and pasted
Bay leaf: 1
Turmeric to taste
Method:
Free all flowers from the bud.
Chop them well after picking out the sticks and transparent petals from them.
Boil them in a pan with turmeric and drain out the water.
Heat oil in a deep-bottomed pan.
First fry onion until it turns brown.
Set aside the fried onion.
Pour in green pepper, poppy-seed paste, part of coconut milk and panch phoron.
Fry them dry with all spices.
Add the picked and chopped and boiled banana flowers.
Stir them thoroughly. Add salt to it.
Pour in the rest of the coconut milk.
Cover the pan. Cook it over low heat for 10 minutes.
Sprinkle onions before taking it off the oven. Serve hot.