9 life lessons to learn from Rajinikanth
Last updated on: December 12, 2012 19:00 IST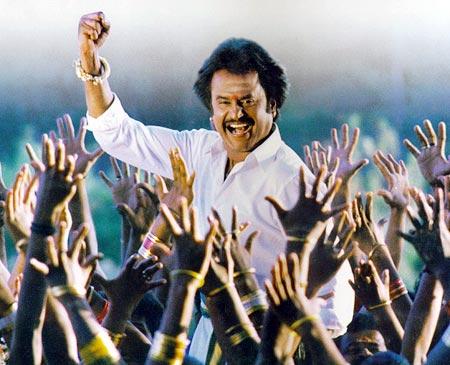 As Thalaivar celebrates his 62nd birthday today, we look back at his life and career and are left inspired.
Thinking of South Indian acting legend Rajinikanth, the only word that comes to mind is 'invincible.'
Mind you, we're not referring to those superlative jokes we read and laugh at every day.
Born Shivaji Rao Gaikwad on December 12, 1950, he's one of very few actors who had truly humble beginnings and has managed to stay on top of the game all through his career, reigning in the hearts of audiences across the globe.
It's inspiring to think of how a bus conductor from Bangalore went on to become the highest paid actor in Indian cinema.
So as Rajinikanth celebrates his birthday today, on December 12, we bring you lessons to learn from his success.
Please click NEXT to continue reading...
1. Struggle is a stepping stone
Last updated on: December 12, 2012 19:00 IST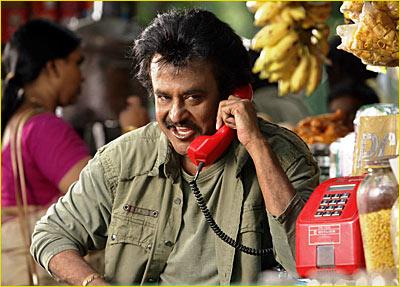 Rajinikanth's father Ramoji Rao Gaikwad was a police constable and had a meagre income.
After the death of his mother Jijabai, Rajinikanth, the youngest of four siblings, realised that their family's financial position was delicate and that they were suffering. Growing up, he worked as a coolie to support his family.
After completing his schooling from the Government Model Primary School at Gavipuram, Bangalore, he took up odd jobs at various places in Chennai and Bangalore.
He even worked as a carpenter and a bus conductor for the Bangalore Transport Service (BTS) before becoming an actor.
2. Be willing to learn
Last updated on: December 12, 2012 19:00 IST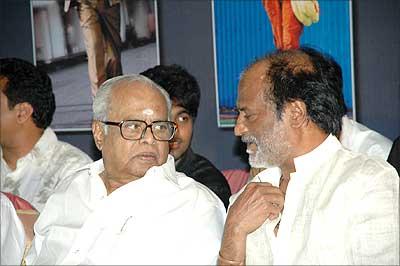 Since Rajini was keen on acting, he joined the Madras Film Institute to learn more about films.
During one of his stage plays, he met director K Balachander, who offered him a role in his forthcoming Tamil film.
When the noted director suggested that he learn to speak Tamil, he quickly followed through and took lessons that helped him master the language.
He often refers to Balachander as one of his first mentors in the film industry.
3. Success has humble beginnings
Last updated on: December 12, 2012 19:00 IST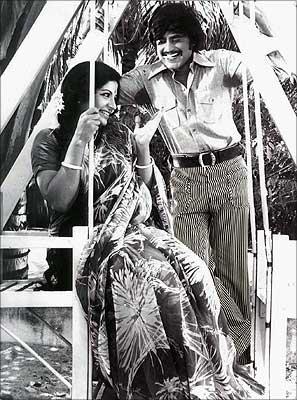 In 1975, when Rajini made his big-screen debut in Apoorva Raagangal, he had a very small role to play. With Kamal Hassan playing the lead role of hero, his performance as a villain was noticed by few.
Still, it helped him bag several negative roles over the next two years, until he was finally cast in a lead role in the Telugu film Chilakamma Cheppindi, directed by S P Muthuraman in the year 1975.
And there's been no looking back.
4. Take failure in your stride
Last updated on: December 12, 2012 19:00 IST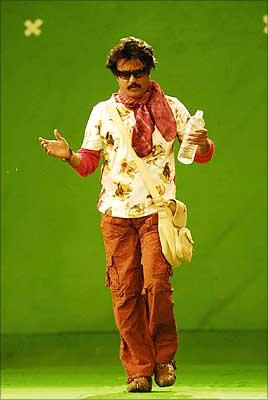 After delivering super-successful hits like Baasha (1995), Muthu (1995) and Padayappa (1999), the actor's much-hyped movie Baba, co-starring actress Manisha Koirala, bombed at the box office in 2002.
Critics who otherwise lauded his performance remarked that "the bloom was off the rose" and that "gold does not glitter anymore."
Following Baba's failure, he repaid the losses incurred by the distributors of the movie and three years later, he silenced the same critics with P Vasu's Chandramukhi, which up until 2007 was the longest-running Tamil film of all time.
In 2008, when another movie he starred in -- Kuselan -- bombed, he stated that he would work for the same movie banner once again to compensate for their losses.
5. Let your work speak for you
Last updated on: December 12, 2012 19:00 IST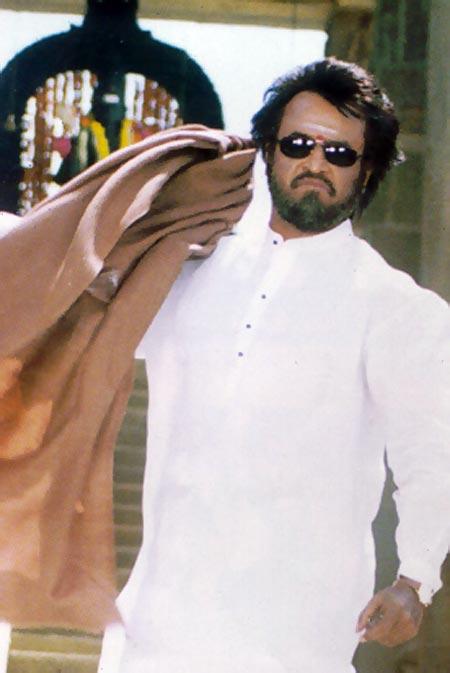 When was the last time you read a Rajinikanth interview? Chances are it was a long time ago, as they're extremely rare -- the superstar is famously reticent when it comes to speaking about himself to the press.
Even though the media follows him everywhere he goes, he's one of very few celebrities who prefer to let their work do the talking.
6. Learn to laugh at yourself
Last updated on: December 12, 2012 19:00 IST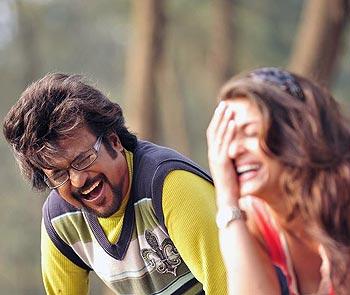 It's not just you and I who laugh at his jokes; Rajinikanth finds the larger-than-life one-liners about him hilarious.
He was quoted as saying in an interview, "I laugh at their imagination. How can they imagine all this? The youngsters (who make up these jokes) are brilliant, very sharp."
At a movie launch abroad, the actor openly joked about how people thought he was too old to be cast opposite a much younger Aishwarya Rai Bachchan in Enthiran. When one of his friends visited him on set, he apparently asked Rajinikanth, much to the latter's amusement, "Great to know that Aishwarya is playing the heroine in the film, but who is the hero?"
7. A balanced life is of the utmost importance
Last updated on: December 12, 2012 19:00 IST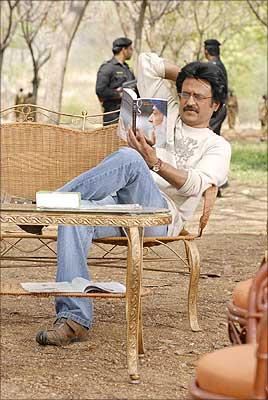 Even if he does just one movie every two or three years, the actor believes it is important to find time to meditate and unwind.
"I go to the Himalayas after every film. I go alone, without anybody. I go into the interiors, to the Himalayan villages. Being there itself is like meditation. I've been going there for 15 years, I started going to the Himalayas in 1995," Rajinikanth stated in an interview with Mumbai tabloid Mid-Day.
He also confessed that he doesn't meet people after 9 pm.
8. Contribute to society
Last updated on: December 12, 2012 19:00 IST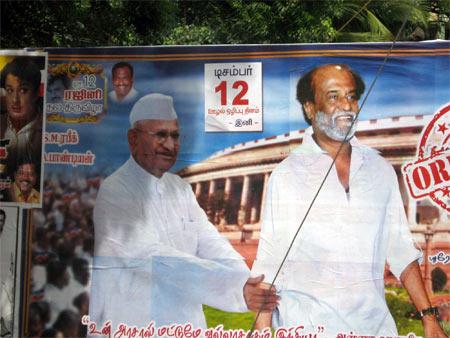 Rajinikanth may not contest elections, but whenever he has the opportunity, he makes sure to contribute to social causes.
In 2002, he undertook a day-long fast to protest the Karnataka Government's decision not to release water from the river Kaveri into Tamil Nadu.
Not only did he announce that he would contribute Rs 10 lakh towards interlinking Indian rivers, but also met with then-Prime Minister Atal Bihari Vajpayee to ask for support.
In 2008, he took part in a day-long hunger strike with other Tamil film personalities, demanding that the Sri Lankan government put an end to the civil war and give Sri Lankan Tamils the land they deserve.
In 2011, Rajinikanth supported social activist Anna Hazare's anti-corruption movement and offered the use of his marriage hall, Raghavendra Kalyana Mandapam in Chennai, free of cost, so that Hazare and his followers could continue their fast in the city.
9. Be yourself and don't give in to vanity
Last updated on: December 12, 2012 19:00 IST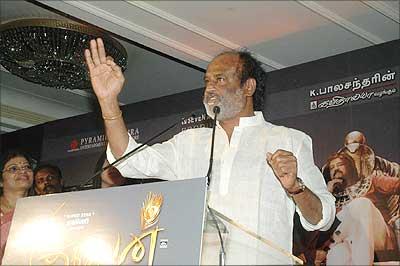 If you've ever met the superstar in real life or seen photos of him off-screen, you will realise that he has no qualms about aging, nor about balding and grey hair.
When asked about this stance in an interview, he explained, "It is important to them how you look on celluloid, they're paying for that. There they feel, my hero should look like a hero. Outside it doesn't matter. People are intelligent, they know everything. Why unnecessarily give yourself discomfort?"
In 2007, he was paid Rs 26 crore for his role in Sivaji, which made him the highest-paid actor in Asia after Jackie Chan. Yet Rajinikanth has no airs of stardom and remains humble. Co-actors and crew members have shared stories of how he prefers to sleep on the sets, without a pillow, covering his eyes with a wet cloth. He also prefers driving his own car and refuses to be attended to by a retinue during shoots and outdoor events.
The current generation of actors will perhaps never imbibe some of his traits, but his simple ways of life and mantras for success are definitely worth aspiring to.
We wish you a very happy birthday Rajinikanth!