SPECIAL: An AIDS orphan in love
Last updated on: November 30, 2012 23:08 IST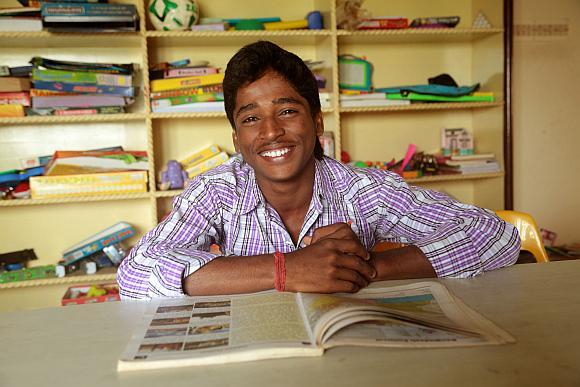 Everybody falls in love in his or her teens. So has Ravi, a 19-year-old AIDS patient. On the eve of World AIDS Day on December 1, Ravi shares his feelings with rediff.com's Shobha Warrier.
The first time I saw Ravi at Dr Manorama's CHES Ashram, was in 1997, when he was just four. A sad, reclusive and unsmiling kid he was, and was always behind Krishnaveni, who he thought was his sister.
There were compelling reasons for the 4 year old to be so withdrawn. His poor single mother died of AIDS when he was just 2, and he was sent to an orphanage by someone. The orphanage later abandoned him at the government hospital when he was later diagnosed HIV+. Another HIV+ girl who was also abandoned by the orphanage was Krishnaveni.
Stability came to his life only after Dr Manorama took both of them with her and started CHES Ashram for AIDS orphans like them.
Slowly, Krishnaveni started talking, smiling and laughing, but Ravi remained a quiet, detached boy. Except for a few monosyllables, I never could elicit much from Ravi.
Ravi is now 19, has a stylish haircut and has started going to college. He couldn't remember me now, despite our having met several times.
"I don't remember you," he said. "What I remember of my childhood is only staying first in Doctor Amma's house. After that, we were shifted to another house and there were many small kids like me. I don't remember anything else. I don't even remember Krishnaveni's face or her voice. I remember only her name."
SPECIAL: An AIDS orphan in love
Last updated on: November 30, 2012 23:08 IST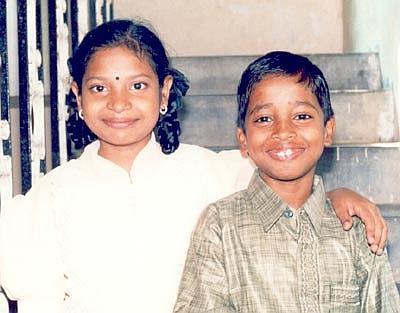 I couldn't understand whether Ravi was feigning memory loss or he really forgot the girl behind whom he always walked around. Or, was it a defensive mechanism on his part to forget all the unpleasant episodes in his life?
"Do you know that CHES Ashram was started with you two?" I was quite taken aback by his memory loss.
"Yes, I do, but why should I think of Krishnaveni now?"
"Don't you miss her?" I asked
"No, why should I miss her? I don't think of her at all."
"Didn't you feel sad when she passed away?"
"I didn't even know till recently that she had passed away. I thought somebody adopted her and she went away. I thought she might have gone to a rich home and was living happily there, forgetting all of us."
"Why did you feel she went away without telling you?"
"I was told she had gone abroad. Never ever imagined that she had gone that far, from where she could not come back at all. Yes, I felt bad initially but after that, I forgot about her completely."
SPECIAL: An AIDS orphan in love
Last updated on: November 30, 2012 23:08 IST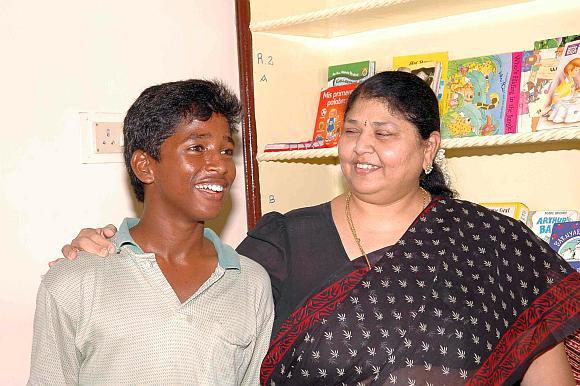 There was a kind of indifference and apathy in Ravi's behaviour and expression. Perhaps death by disease is so commonplace around him that he no longer gives any importance to people appearing and disappearing from his life.
"Have you ever thought about your parents?" I asked hesitantly.
"Yes, I have wondered who my mother was, who my father was, how they looked like, where I was born... These thoughts do come to my mind sometimes but then, they remain within me. I don't ask anybody any questions. These are my private thoughts and private feelings... I don't want any answers from anyone. I never felt the need to ask too. For me, today, I have only one mother, one God and one saviour, that is my Doctor Amma. If she had not taken care of me when I was abandoned, I would not have been alive..." he said all this with such a straight face that I was left speechless for a moment.
"I don't know why I told you all this. I have never spoken about me, my mother or doctor or my dreams or the questions that I have in my mind to anyone..." said Ravi, probably as an afterthought.
The day he hasn't forgotten even today is the one when he was told he was HIV+. "That was five years ago. I used to enjoy swallowing the ART (anti-retroviral) tablets as a boy but when I was told it was for HIV+, I felt bad initially. But then I soon reconciled to the fact. Now, I don't care. Why should I care as I lead a normal life? I play volleyball, cricket and enjoy my life. I have no complaints."
SPECIAL: An AIDS orphan in love
Last updated on: November 30, 2012 23:08 IST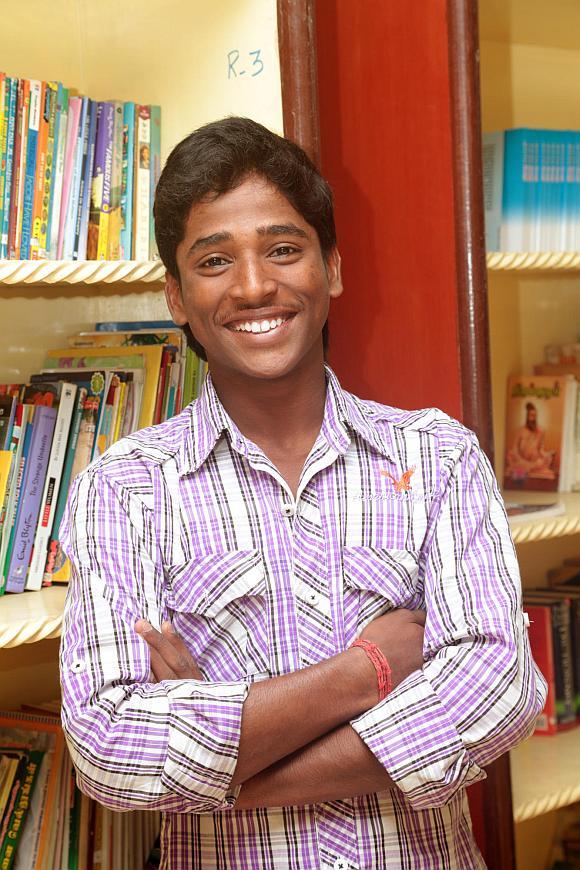 On one of the earlier occasions, he had told me that he wanted to be a police officer. That was the only time he spoke of a dream, that too in very few words. It was after listening to an IPS officer give an inspirational talk that he dreamt of being a police officer. "I felt so disappointed when I came to know that I could never be one as I am too short," he told me sadly.
After a minute, he added, "I know they will not recruit an HIV+ person as a police officer."
"Now that I cannot be what I want to, I just study. I failed in 10th standard and I was not sure whether I would pass 12th but I did. Now, I go to college," it was quite apparent from the tone that he was quite disinterested in studies.
He said he chose computer applications not because he was interested in it but only because he was told by someone that he would get a job only if he studied computer science.
"So, you are eager to start working? I asked.
It was then that he suddenly said, "Do you know I am in love with a girl?"
For a second, I was too surprised to react. That was the last thing that I expected from Ravi. "Your classmate?" I asked.
"No, a girl who lives here. She is still in school. 11th standard. I got a lot of scolding from the Doctor for loving a girl who stays here. She said we were all like brothers and sisters. But what can I do? I love her. I tried to forget her but I can't. I cannot help thinking about her all the time. I love her that much. I am going to college only for her. I want a job so that I can take her with me." For the first time, Ravi didn't have to search for words.
As I was about to leave, Ravi said, "I have only one dream in my life: marry the girl I love, and have a home."
 Perhaps he longs for a home which he never had.