Stocks Corner: 4 BIG BETS in the IT sector
Last updated on: April 8, 2013 12:45 IST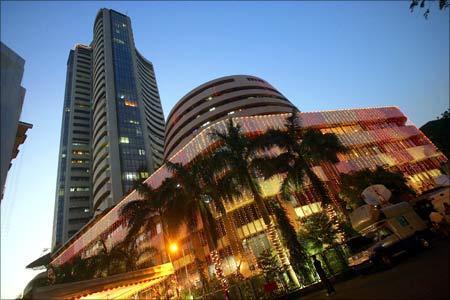 We asked readers to mail their queries about stocks they want to buy, sell or hold. Here's the response to their queries.
Narendar Lokwani of StockFundoo advises about good, bad and ugly stocks.
You can mail your queries to stockfundoo@rediffmail.com.
Can you please cover some large-cap IT stocks which will make good profits over the next 3 to 6 months?
IT Industry in India has grown by leaps and bounds, from the proverbial small start it had when Indian government imported some mainframe computers from Soviet Union. Another significant event occurred in 1981 when a small group of seven engineers led by N R Narayan Murthy co-founded Infosys with a small corpus of Rs 10,000, which went on to change the face of modern Indian IT.
The IT industry today has both IT and BPO components as an integrated aspect of its service offerings. IT sector has increased its contribution to India's GDP from 1.2 per cent in FY1998 to a whopping 7.5 per cent in FY2012. The sector achieved another landmark when it aggregated annual revenue base of over US$100 billion in FY2012, which had an export share of US$69.1 billion and domestic share at US$31.7 billion respectively. Exports thus truly dominate the IT industry, and constitute about 77 per cent of the total industry revenue. Top four listed Indian IT services providers are Tata Consultancy Services, Infosys, Wipro and HCL Technologies.
The top four companies stack as below, in terms of revenues and manpower:

Disclaimer: This article is for information purpose only. This article and information do not constitute a distribution, an endorsement, an investment advice, an offer to buy or sell or the solicitation of an offer to buy or sell any securities/schemes or any other financial products /investment products mentioned in this article or an attempt to influence the opinion or behavior of the investors /recipients.
Any use of the information /any investment and investment related decisions of the investors/recipients are at their sole discretion and risk. Any advice herein is made on a general basis and does not take into account the specific investment objectives of the specific person or group of persons. Opinions expressed herein are subject to change without notice.

www.StockFundooLiveCalls.com provides insightful and in-depth intra-day trading support to traders.Our trading calls are backed by robust technical analysis to help you learn the ways of the capital markets. 
Stocks Corner: 4 BIG BETS in the IT sector
Last updated on: April 8, 2013 12:45 IST

Tata Consultancy Services
Tata Consultancy Services or TCS, as it is popularly know, is the oldest and largest Indian IT firm. Known for its largest manpower base and aggressive pricing skills, TCS is a large global and domestic player. TCS is a crown jewel in the Tata Group, and its success, growth and cash flows enable the Tata Group to take large bets in other businesses as well.
TCS was founded as early as 1968 and were in pioneer in many ways, however in terms of timing of market listing, they were the last of the top four to approach capital markets in 2004. In 2011, the firm was the first IT firm to achieve annual revenues north of USD 10 billion. 
Fundamentally speaking, TCS has grown exponentially in the last five years, with topline growing from Rs 18,533 crore in 2008 to Rs 38,858 crore in 2012. Net profits have grown from Rs 4,508 crore in same duration to Rs 10,975 crore.
If one looks at promoter shareholding, promoters own about 73.96 per cent of TCS stock, which is one of the highest ownership for any top IT company. General public owns less than 5 per cent and FIIs own about 15 per cent of TCS stock. Less general public holding and high promoter is sign of a robust firm with good demand-supply equation in stock markets.
Firm has been consistent dividend payer and has paid dividend on each quarterly basis. Total dividend in year 2012 was 2500 per cent, which included the special one-time dividend of 1600 per cent declared in April 2012. Like any other top IT firm, TCS is debt-free and unlike other Tata companies, it has a strong balance sheet with great cash flows, which often support other Tata firms to take aggressive global bets.
Stocks Corner: 4 BIG BETS in the IT sector
Last updated on: April 8, 2013 12:45 IST

Wipro
Wipro is known as the soap to software giant and was incorporated by Azim Premji's father in 1945 to manufacture ghee, vanaspati oil and refined oils. Azim Premji diversified Wipro to several new sectors such as PC hardware and software services in 1980s.
Wipro adopts a string of pearls strategy for acquisitions, where it buys several small companies with niche skills and customers and integrate them with parent firm. The firm has several business units such as Wipro IT, which is the global IT services arm of Wipro, Wipro consumer and lighting, which is the FMCG segment of Wipro, Wipro Infrastructure Engineering, which is hydraulics business division and Wipro GE medical systems, which is the joint venture with GE healthcare. 
Fundamentally speaking, Wipro's revenues have grown from Rs 17,461 crore in 2008 to Rs 32,053 crore in 2012. Net profits have grown less aggressively from Rs 3,063 crore to Rs 4,685 crore in the same timeframe.
Promoter shareholding in Wipro is the highest among all top IT firms with promoters holding about 78.29 per cent share in the firm and general public holding as low as 5.35 per cent and FIIs holding a small share of 7 per cent respectively.
Firm has been regular dividend payer with dividend payout at 300 per cent of face value in year 2012. Book value of the firm stands at Rs 99 per share in year 2012 and PE ratio is at 23.86 currently. On charts, Wipro had a double bottom around Rs 330-340 in mid-year 2012, which was a good entry point to take a position in the stock. Wait for dips and accumulate can be a good strategy in this stock currently.
Stocks Corner: 4 BIG BETS in the IT sector
Last updated on: April 8, 2013 12:45 IST

Infosys Technologies
Infosys is the original rock-star of Indian IT industry and has many firsts to its credit. It is the first firm which placed transparency and honesty ahead of profits and revenue share. It is the first firm which offered stock options to its employees to share wealth with them and created millionaires out of several employees. Infosys is also an example of professionally run organisation with promoters holding a relatively small share of stock, and most of the ownership now resides with FIIs, thus the firm truly belongs to investors in that sense.
Fundamentally speaking, Infosys is another well performing firm with revenues almost doubling from 2008 topline of Rs 15,648 crore to 2012 topline of Rs 31,254 crore. Net profits have also improved from Rs 4,470 crore in 2008 to Rs 8,470 crore in 2012.
Infosys has the cleanest balance sheet with no debt or loans whatsoever. Promoter shareholding is low at 16.04 per cent and FIIs are the top business owners at 40.55 per cent. General public has good stake in the firm at 12.51 per cent as well.
Firm is regular dividend paying and paid a total of 940 per cent dividend in year 2012. Book value of the stock is at Rs 518 per share in 2012 and PE ratio is reasonable at 19.41. It's a good stock to buy on dips and accumulate for medium to long term investing.
Stocks Corner: 4 BIG BETS in the IT sector
Last updated on: April 8, 2013 12:45 IST

HCL Technologies
HCL Technologies is one of the India's own garage start-up IT company which went on to become one of the top four IT services firm in India. HCL Enterprises was found in 1976 and HCL Technologies was spun off in 1991 to focus on the growing IT services segment. HCL has good presence in IT applications, IT infrastructure management, business process outsourcing, and product engineering businesses.
Fundamentally speaking, topline for HCL has grown from Rs 4,615 crore in 2008 to Rs 8,907 crore in 2012 with profits growing from Rs 780 crore in 2008 to Rs 1,950 crore in 2012. EPS has more than doubled in same duration from Rs 11.72 per share in 2008 to Rs 28.13 per share in 2012.
Indian promoters have shareholding of 44.92 per cent in HCL Tech, with foreign promoters holding about 17.21 per cent and FIIs holding about 21.8 per cent. Firm has paid total dividend of 500 per cent on face value in year 2012. Book Value per share is Rs 95 per share and PE ratio is on the higher side at 26.92 for the firm.
The stock has seen steady growth in past one year and is a good momentum trading stock to buy on dips and sell on rallies. Stock can be accumulated on dips considering decent performance of firm in recent years.
Do send in your stock investing and trading related queries at stockfundoo@rediffmail.com