Position trading vs day trading: What WINS?
May 31, 2014 11:21 IST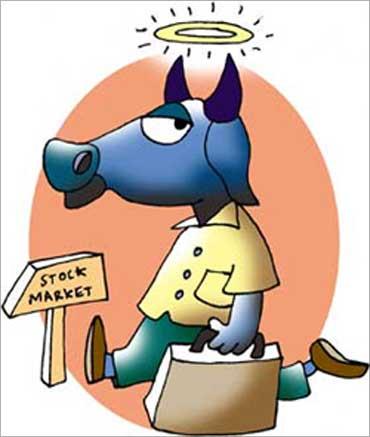 If you are a stock market trader then investing for the long term can always be combined with position trading. However it has no connection with day trading. Here's why...
Let me explain.
Again let me take examples of companies that I know / deal with / and take examples that I remember.
Most regular readers would know that I have EiD parry shares in my portfolio – and I have gone from 0 to peak holding to zero a few times. In 2012 and for parts of 2013 the share was at 200-240 price range. Strictly speaking it looked like a good buy at that price. However it was a time when it had high interest costs, and the sugar crop was a big bumper one – putting pressure on the price. Now if you had BOUGHT for say 210, the market would have made you LOOK LIKE AN IDIOT when it took the share price to Rs. 109.
Now this going down was caused by the company increasing its interest costs AND THE SUGAR CROP being in excess – and the prices of sugar being soft. However if you had sold at 203, you could have bought it on the way down – say at 150 – and still look wrong.
However if you had stuck around with the stock, you would have received dividends, and recovered your price. Assuming you did not buy on the way DOWN OR UP, you still do not look too wrong.
Ditto for Reliance, just that the numbers are slightly different, and the dates slightly different. I bought a lot of Reliance at 750 – and happily exited all my trading positions at 900-920.
Such trading is called 'Position based trading' -- where you take a position for a few days to a few months. Here you could have some principles of trading and some principles of investing. For e.g. if you had liked EiD parry, you may have bought more shares at 150, 120 and 110. Or you may have sold at 203, and bought at 109 (best case) or at 159 (still making money).
Position trading -- too can be very dangerous and risky- remember I started investing / trading in 1979, may be many of you were not even born then.