Get hot for Valentine's Day, tone up with yoga
Last updated on: January 24, 2012 18:03 IST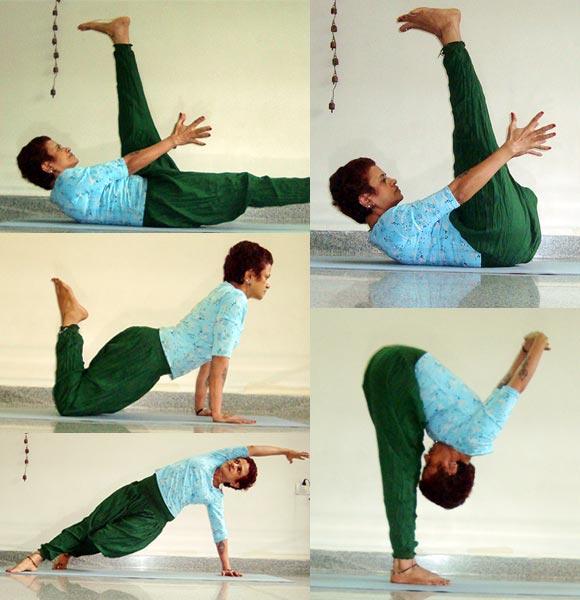 Shameem Akthar presents five deceptively simple looking poses for toning up for the V-Day.
Often, having an excuse and deadline to tone-up is a great way to fix one's discipline and enthuse oneself. The ideal situation, of course, is for you to not a need an excuse to remain toned-up. Ideally you should tone-up for your own sake, as part of who you are and how good you feel about yourself. But of course, that is an ideal.
Most of us like some solid reason and an external trigger to help us prod us towards a goal. In that case, choosing the V-Day celebration  and to have someone special who will appreciate your efforts as you present yourself in your chosen attire, could be as good as any.
 
Using the following poses for shaping up will work, within the next few weeks, if you manage to practice them regularly, keep increasing the duration as your improve in practice and the number of repetitions simultaneously. Managing your food so you eat well, regularly and include a lot of fibers and proteins will also trim and remove stubborn fat.
Remember to use some dynamic poses (from our earlier columns), or surya namaskar (sun salute) as a warm-up. Include pranayama (breathing) to encourage detox and meditation to help keep you disciplined.
For more of Shameem's yoga writings visit http://jaisivananda.blogspot.com. Shameem's second book Yoga in the Workplace, with photographs by ace photographer Fawzan Husain, is now available at online shops and bookshops across the country. It is also available as e-book, with Kindle, Amazon.
Disclaimer: This column just shares the columnist's passion for yoga which is ideally learned under the guidance of an expert.
Get hot for Valentine's Day, tone up with yoga
Last updated on: January 24, 2012 18:03 IST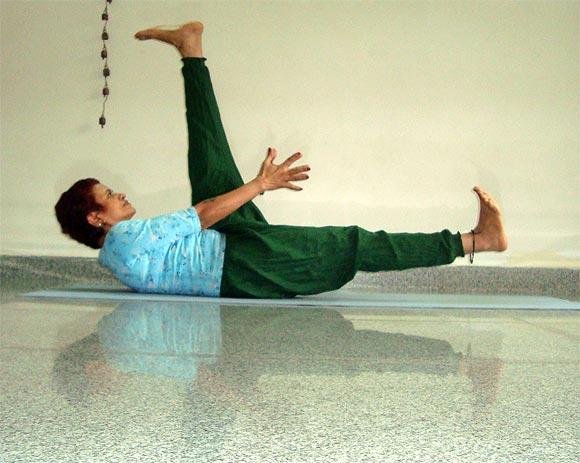 1. Ekapadasana (Oneleg raise)
Lie on your back. Lift right leg up to right angle, as shown. Lift the left leg a little off the ground. Hold both hands on either side of the right thigh. Inhale. Exhaling, lift head up to look at the right thigh.
Hold for 15 seconds initially. Slowly increase stamina over the next few days to increase stamina in final pose for half a minute to one minute. Repeat for the other leg.
 
Avoid: If having neck pain or lower back issues.
 
Benefits: Tones the stomach, legs and arms superbly. Has therapeutic value and may be used to control most chronic ailments.
Get hot for Valentine's Day, tone up with yoga
Last updated on: January 24, 2012 18:03 IST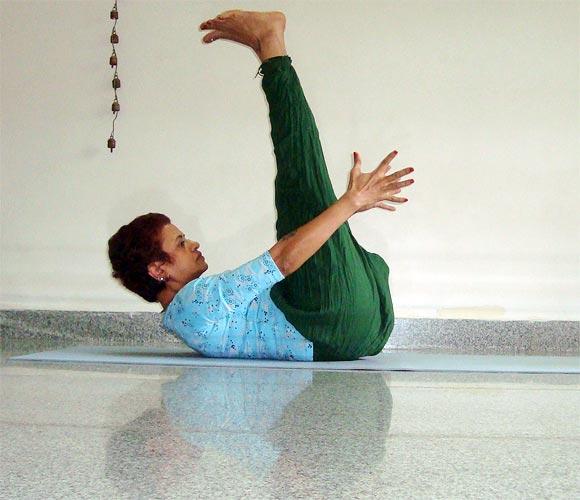 2. Dwipadahastasana (Double leg lift pose)
Lift both legs as shown. Inhale. Exhaling lift head to look at thighs, simultaneously placing hands alongside thighs as shown. Hold for 15 seconds. Breathe normally.
Exhale, relaxing legs back to ground. Do thrice. Increase stamina slowly in final pose, so time can go up to half minute or more.
 
Avoid: If having neck or lower back pain.
Benefits: Tones abdomen superbly. Boosts stamina. Tones legs and arms.


Get hot for Valentine's Day, tone up with yoga
Last updated on: January 24, 2012 18:03 IST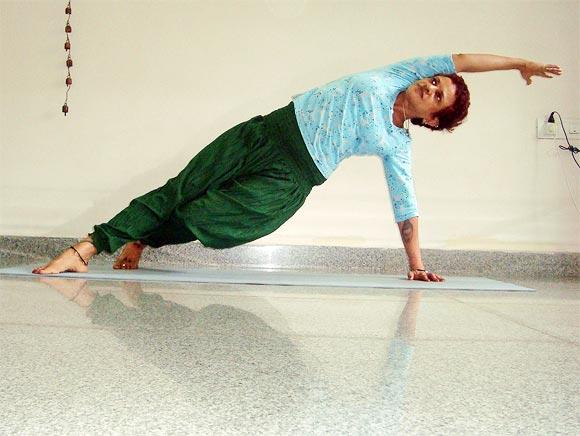 3. Setu asana (Plank pose, side lift)
Sit on your left side, with left leg straight. Place left palm under left shoulder, as shown. Bend right leg at the knee, taking right foot back, as shown. Breathe normally. Lift hip high. Push from the left hand. Raise and drop right hand over right ear, handing it loose.
Stay in final pose for 15 seconds. Release to repeat to other side.
Avoid: If having weak wrists.
Benefits: Tones sides of your waist. Makes arms and legs shapely.
Get hot for Valentine's Day, tone up with yoga
Last updated on: January 24, 2012 18:03 IST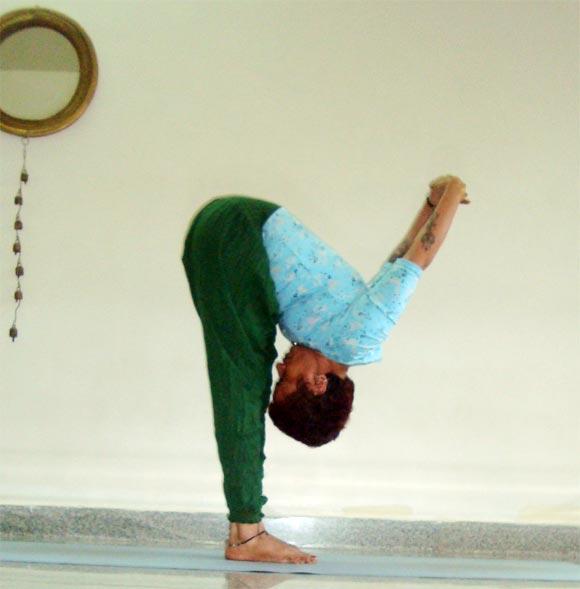 4. Uttanasana (Full stretch, standing pose, advanced variation)
Stand with feet together. Breathe normally throughout. Interlock fingers behind your back, inhale. Exhaling, draw your forehead down, as low as you can. Hold for 10 to 15 minutes, Do thrice. Later extend duration in final position.
Avoid: If having lower back problem.
Benefits: A fat-busting complete pose. Gives hands, legs, back and waist the perfect tone.
Get hot for Valentine's Day, tone up with yoga
Last updated on: January 24, 2012 18:03 IST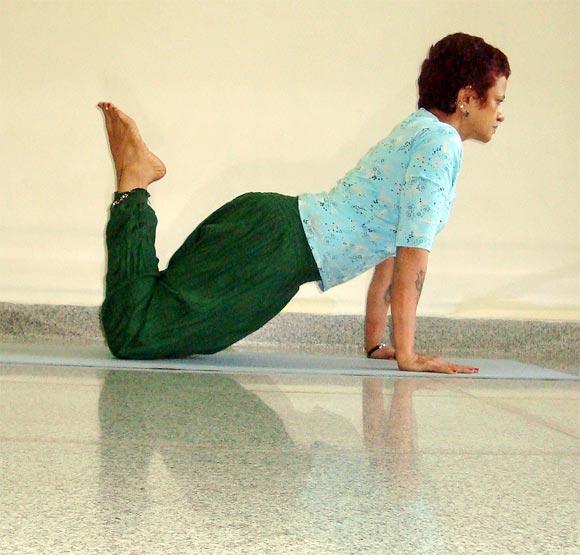 5. Marjariasana (Cat stretch)
Sit on your fours. Lock legs lightly at ankles. Push from the palms, walking them a bit ahead and not directly under the shoulders. Turn the feet towards your back. Hold for a few seconds. Release the pose. Do a few times, focusing on the breath.
Benefits: Tones stomach, hands, legs and hips.