Ashley's steamy mag cover and more fashion news!
Last updated on: April 13, 2013 14:53 IST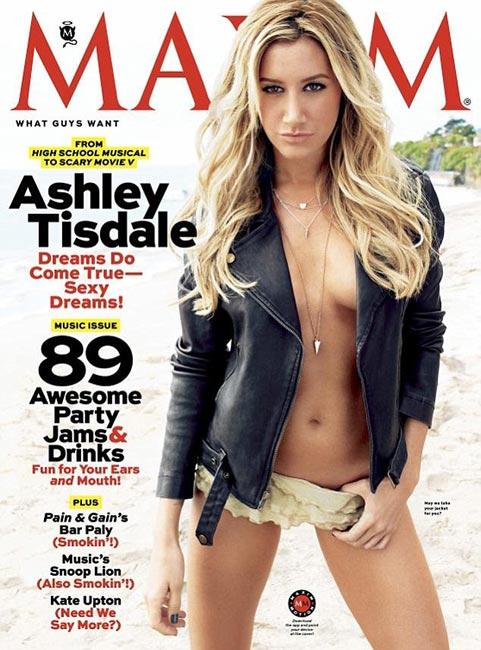 Welcome to the weekly fashion round-up, where we bring you the latest on supermodels, style, designers and everything in-between!
Which Victoria's Secret Angel is quitting the lingerie brand? Which voluptuous actress hates working out?
Here's the lowdown on the latest fashion news!
Ashley Tisdale flashes cleavage on latest Maxim cover
Ashley Tisdale flashed a jaw-dropping amount of sideboob in a low-cut white shirt with no bottoms as she posed for the May issue of Maxim Magazine.
The former High School Musical star went nearly topless -- barely covered up by a black leather jacket and wearing frilly panties -- on the cover, Us Magazine reported.
In an accompanying interview, Tisdale talks about her taste in men, saying that she doesn't like mysterious bad boys.
The blonde, who is currently dating Christopher French, said that she loves surfer and blonde frat guys.
Miranda Kerr set to step down as Victoria's Secret Angel
Last updated on: April 13, 2013 14:53 IST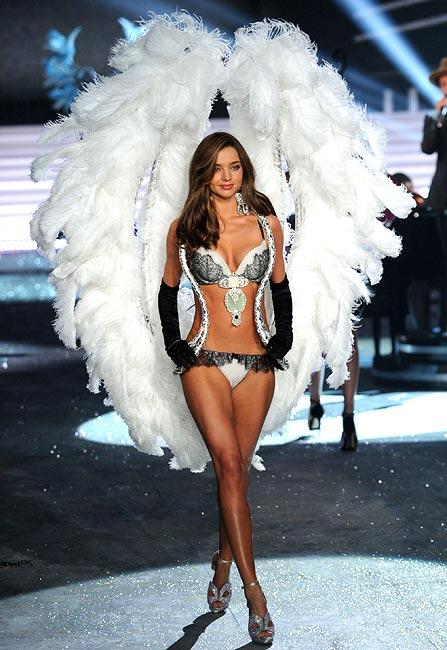 Miranda Kerr was not fired as a Victoria's Secret Angel for "being difficult" but is stepping down, as she could not devote enough time to the brand, according to reports.
Talks between the lingerie line and the 29-year-old model fell apart last week, after the company asked her to devote three months a year to promotions.
A source told the New York Post that the problem was the time commitment, as VS usually asks Angels to commit three months in a particular year to the brand.
The source said that Kerr has become a big star, recently signing a deal with airline Qantas and replacing Kate Moss as the face of Spanish fashion line Mango.
The insider said that while Kerr loves the brand, the time commitment they needed from her as an Angel became too much for her to fulfill.
"Exactly the same thing happened with Gisele Bundchen and Heidi Klum -- their careers became huge, and there were other opportunities which made being an Angel full-time impossible," the source said.
The insider said that she is going to walk in the show this year, and is still committed to the brand, but her relationship with them is evolving.
According to other sources, Kerr, who has a two-year-old son, Flynn, with husband Orlando Bloom, also needs the freedom to travel to be with Bloom when he's filming on location.
Media insiders have said that the story of Kerr "being difficult" was planted by those with an axe to grind.
Going to the gym is torture, says Sofia Vergara
Last updated on: April 13, 2013 14:53 IST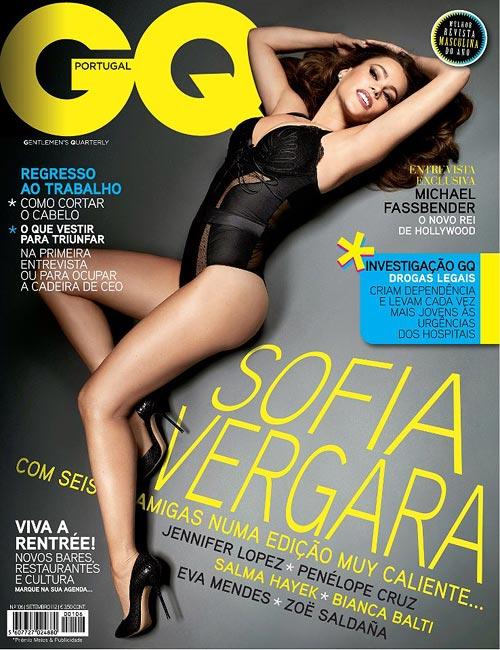 Sofia Vergara has admitted that she hates going to the gym and struggles a bit to maintain her voluptuous and sexy figure.
The Modern Family star said that when she moved to LA and decided to act, she understood that working out and eating healthier was part of ageing well, so she accepted it but hated it, Contactmusic reported.
The 40-year-old actress added that for her it is absolute torture to go to the gym and insisted that she's in a constant bad mood before going to the place and while she's working out.
She further added that she has finally accepted the reality, that it is a part of her job and trying to be healthy.
I want to be a hot wife, says Carrie Underwood
Last updated on: April 13, 2013 14:53 IST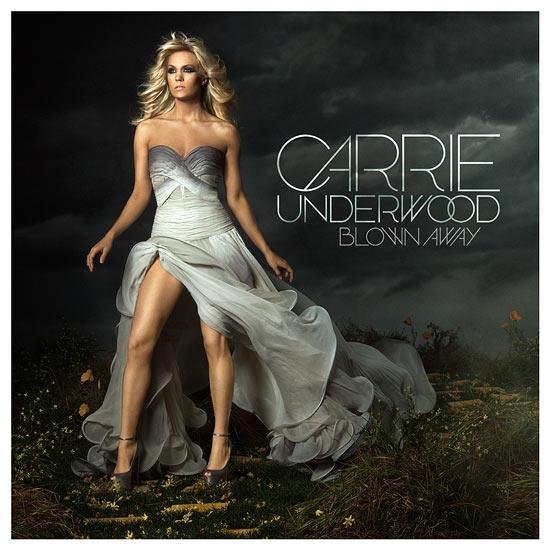 Carrie Underwood has opened up about her married life with her hockey player hubby Mike Fisher, and how she stays in shape.
The country singer seems to have it all -- a successful career, gorgeous husband and positive outlook towards life.
The Season 4 American Idol winner gives People Magazine the inside scoop on her marriage and how she makes it work with NHL star Fisher.
Underwood has been on the road the last eight months doing her popular Blown Away tour, while Fisher has been in the midst of his hockey season for the Nashville Predators.
She admits the long-distance relationship is difficult, but they do their best to keep the marital spark lit.
Some of their favourite ways to stay connected include "frequent texts, hosting wine-and-grill nights at home with friends and meeting up for casual dates -- at Subway."
Since she's married to an athlete, staying in shape is also a priority for Underwood, even when she's travelling.
"Even when he's like, 'I'm so out of shape,' he still has a six-pack. Having Mike there -- I want to be a hot wife!" she said.
Scarlett Johansson reveals secret to glowing face
Last updated on: April 13, 2013 14:53 IST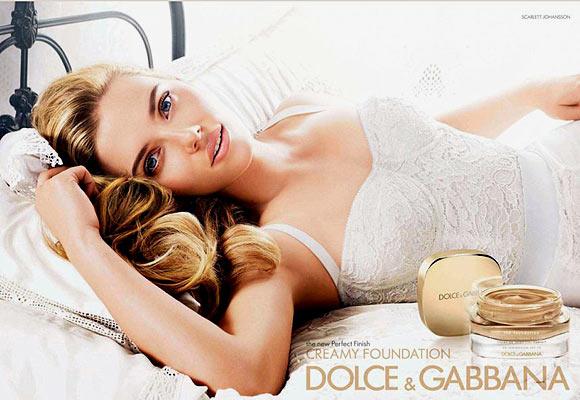 Scarlett Johansson has opened up about her skincare obsession in the February issue of Elle UK, confessing that she washes her face with apple cider vinegar.
The common household product is what she uses to keep her porcelain complexion in check and camera-ready, the Huffington Post reported.
"A while back, I started researching natural skincare. It's a nice way to treat your skin if you don't want to use all those harsh chemicals that a dermatologist would recommend," she told the publication.
Turns out the acidity of apple cider vinegar balances your skin's natural pH levels and restores your luminous glow much like toner.
"If your skin is problematic or you're having a lot of breakouts, it's really healing. It's a little bit stinky, but if you're not sleeping over at your boyfriend's, it's really effective!" she said.
Apple cider vinegar actually has endless beauty benefits. You can use it as a DIY hair rinse to remove dirt and add shine, or use it to treat warts and nail fungus, soothe sunburns, and soften calloused skin.
Diane Kruger named new face of Chanel beauty campaign
Last updated on: April 13, 2013 14:53 IST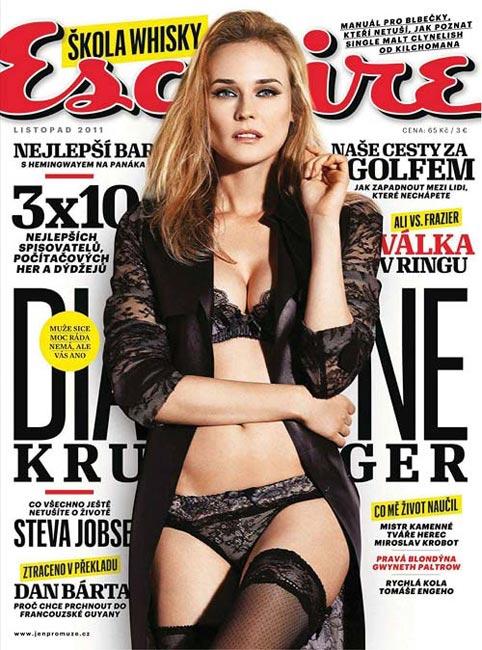 Diane Kruger has been unveiled as the new face of French fashion house Chanel's new beauty campaign.
Chanel praised the 36-year-old actress' "natural elegance and beauty" and her "cosmopolitan spirit" and said that it will be releasing the images later this year, the New York Daily News reported.
Previously, Kruger appeared in ads for the Chanel's Paris-Biarritz bag line in 2007, having made her Chanel debut back in the 1990s with a print campaign for the Allure fragrance.
I have the butt of a 22-year-old stripper, says Gwyneth Paltrow
Last updated on: April 13, 2013 14:53 IST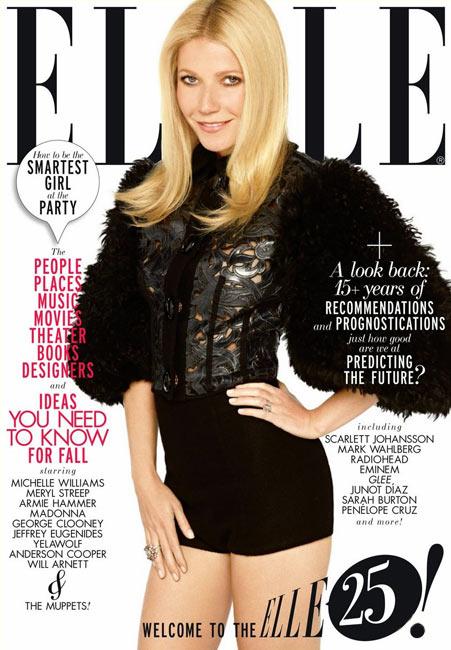 Gwyneth Paltrow has said that adopting the Tracy Anderson Method has given her a completely different outlook on life and a very shapely bum.
Speaking at the opening of Tracy Anderson's flagship studio in Los Angeles on Thursday, the 40-year-old actress recalled one incident in particular, when she was trying on bathing suits with a friend and received a rather unusual compliment about her figure.
She told her friend that the shape of her butt was not so bad for a 40-year-old woman, to which her pal replied it's not so bad for a 22-year-old stripper, Us Magazine reported.
Paltrow added that she always pushes herself to do the workouts every day, no matter what happens.
Kim Kardashian shows off bare baby bump on Instagram
Last updated on: April 13, 2013 14:53 IST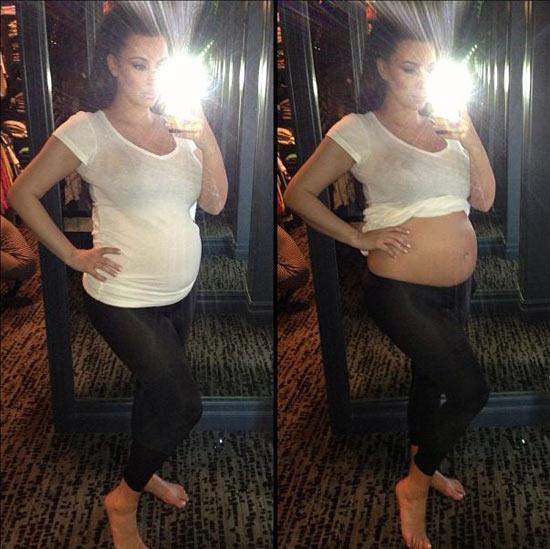 Kim Kardashian has posted a photo on Instagram exposing her growing belly for all to see.
The TV reality star, who is nearly six months pregnant with her first child with rapper boyfriend Kanye West, posted the picture just a day after an elaborate basket decked in pink wrapping paper and bows was delivered to her home -- hinting that her unborn child is a baby girl, the New York Daily News reported.
"Baby love," Kardashian captioned the self-taken snap.
The 32-yer-old actress could be seen with her shirt rolled up exposing her ever-growing belly.
Source: ANI