Pamela's 'sexist' ad controversy and more fashion news!
June 09, 2013 15:10 IST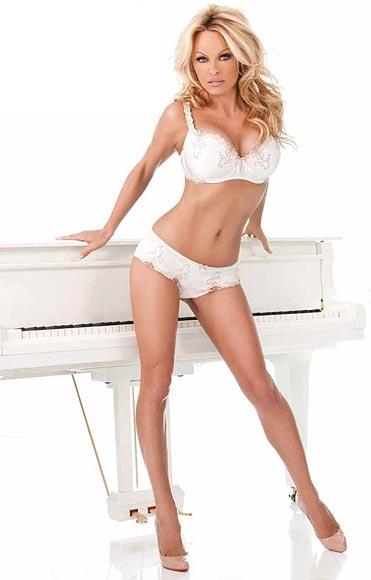 Want to know what's happening in the world of glitz and glamour? In our weekly fashion round-up, we bring you the latest on supermodels, style, designers and everything in-between!
Which supermodel celebrated her 40th birthday with a blowout bash? Which star has revealed that she wears earrings to draw attention away from her ample cleavage?
Here's the lowdown on the latest fashion news!
Pamela Anderson's 'sexist and degrading' ad banned
A TV advertisement starring Pamela Anderson has been banned for being sexist and degrading to women.
In the commercial for web-hosting firm Dreamscape Networks, the actress is seen chairing a meeting of men before her assistant pours cream into a cup of coffee while showing her cleavage, the Mirror reported.
One of the men then fantasises about Anderson and her assistant dancing together in bikinis.
But the company has argued that the motive of the ad was to portray the Baywatch star and her assistant as "attractive, dynamic and confident business people".
The Advertising Standards Authority said it understood that the ad was designed to be a humorous and light-hearted spoof of a mundane business meeting.
But it argued that the female characters were portrayed sexually throughout the ad, and not just during the fantasy sequence; their shirts were open to expose their bras and cleavages.
The regulatory authority also said that the fantasy scene gave the impression that the man viewed his female colleagues as sexual objects.
The organisation explained that because of these reasons, they considered the ad likely to cause serious offence to some viewers on the basis that it was sexist and degrading to women.
It ruled that the ad must not be broadcast again in its current form.
Beyonce auctions off stylist job for $25k
June 09, 2013 15:10 IST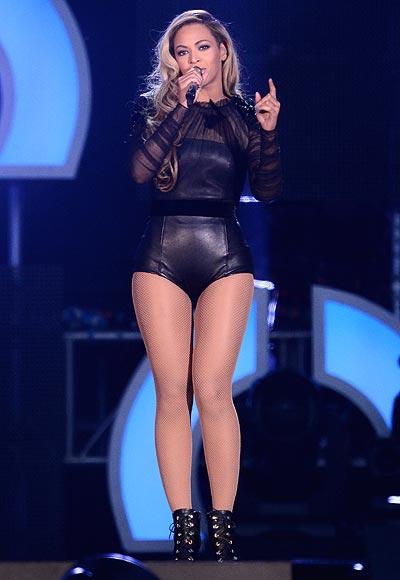 Beyonce is auctioning the opportunity to be part of her stylist team for the day on her Mrs. Carter Show tour through website Charity Buzz.
The highest bidder will work with the creative director of Bey's wardrobe, spending the day behind the scenes at her LA show on July and receiving a 'personal meet and greet with Beyonce, plus a photo op backstage with the singer and also a gift bag'.
The auction is in aid of Miss A Meal, a charity helping to feed the homeless.
With current bids priced at 11,500 dollars, the winning bidder will also get the chance to have lunch with Knowles and enjoy a personal tour of the wardrobe rooms, the New York Daily News reported.
The charity auction ends on June 11.
Sofia Vergara wears jewellery to draw attention away from her cleavage
June 09, 2013 15:10 IST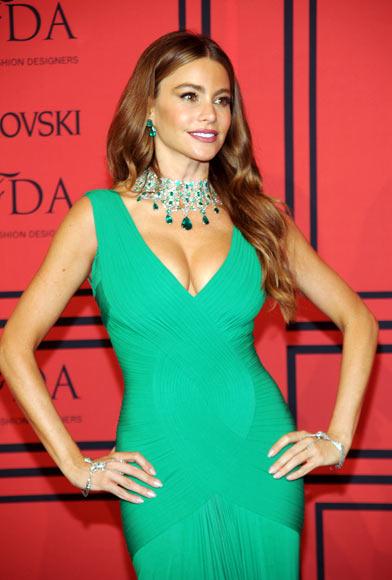 Sofia Vergara has said that she usually wears earrings to draw attention away from her cleavage.
The Modern Family star showed up at the CFDAs wearing five-million-dollar of jewellery by Lorraine Schwartz, including an emerald necklace to match her Herve L Leroux body-hugging green gown, the New York Post reported.
She said the choice of a cleavage-enhancing necklace is to draw attention up.
Heidi Klum throws 'big hat' bash for 40th birthday
June 09, 2013 15:10 IST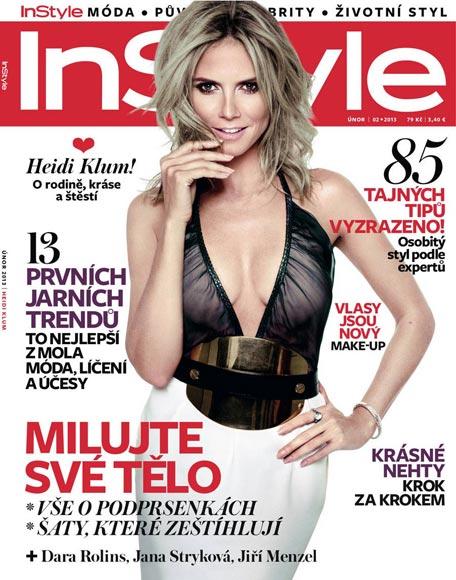 Heidi Klum, who turned 40 on June 1, threw a 'Big Hats' themed party for her birthday last weekend in Los Angeles.
The former Victoria Secrets Angel started her 40th birthday celebrations a few days early in Berlin as she was presented with a chocolate cake by aspiring models from the hit reality show Germany's Next Top Model.
The former Sports Illustrated swimsuit model then hosted an amazing fancy dress party, with one of her closest pals, and asked those invited to attend in accordance with the theme 'Big Hats', the Mirror reported.
Klum stated that she was really excited for the birthday party, where burgers, ice cream, fries and chocolate were served.
Previously, Klum told Ellen DeGeneres that 40 is the new 30 and she didn't care about aging, adding that when she gets one year older it means that she is still here, having a good time.
Angelina Jolie flaunts sexy strapless dress at Brad Pitt's movie premiere on her birthday
June 09, 2013 15:10 IST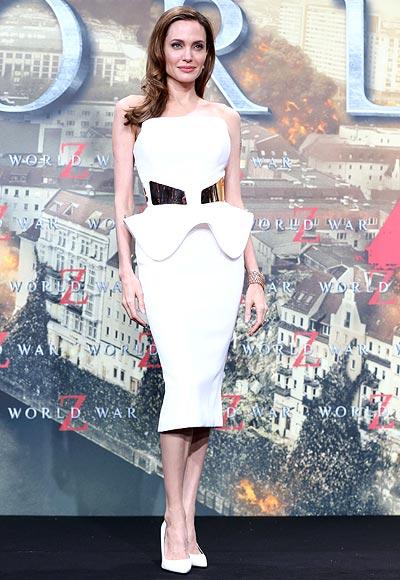 Angelina Jolie looked stunning and sexy in a white strapless dress at the Berlin premiere of her fiance Brad Pitt's World War Z on June 4, 2013, her 38th birthday.
In the silk crepe dress, custom made by European design house Ralph N. Russo, the star made sure that all eyes were on her and her longtime love, whose all-black ensemble offered a nice contrast to her bright look, Us Magazine reported.
The Original Sin star's costume featured a peplum waist, rose-gold detailing, and tiny round buttons down the back.
Her long, brunette hair was curled into soft waves, and she beamed as she posed next to Pitt, 49, on the red carpet.
The Berlin premiere was Jolie's third official appearance after her double mastectomy and breast reconstruction surgery.
Kim Kardashian wants to eat own placenta to 'look younger'
June 09, 2013 15:10 IST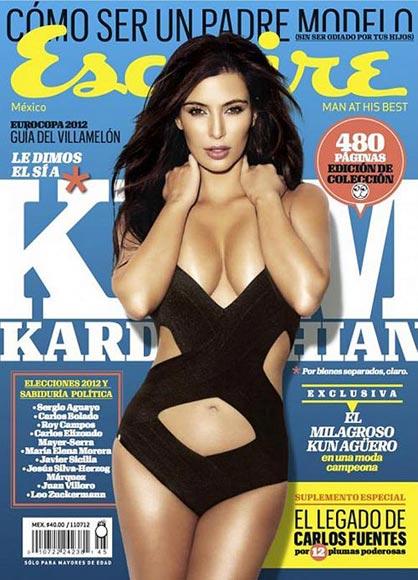 Kim Kardashian has revealed that she is interested in eating her own placenta after giving birth to her baby, because she thinks it will make her look younger.
Talking to a doctor on Keeping Up With the Kardashians, the 32-year-old star asked, "Don't you think it makes you look younger?" and said that she really wants to do it, the New York Daily News reported.
Following stars like January Jones and Holly Madison, who also ate their placenta, Kardashian wants in on the after-birth practice.
It is believed that it helps in fighting postpartum depression and increasing milk production.
How supermodel Miranda Kerr ticks
June 09, 2013 15:10 IST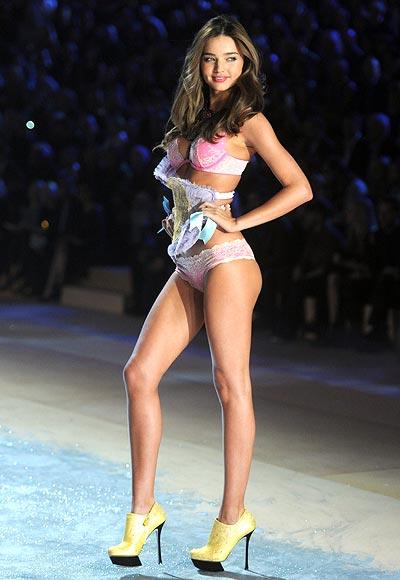 Miranda Kerr, who is busy taking care of her skincare company Kora Organics, has given insight into her health and beauty philosophy.
The former Victoria's Secret Angel told The Daily Telegraph that since she became a mother, she felt like she had to re-evaluate where she is in her life and reschedule her time more efficiently.
She said that she wants to give her son, the company and clients the best so she has become more strategic with her time and energy.
The 30-year-old model added that she likes to drink cold-pressed organic green juice because it's a great way for her to re-energise.
Portia de Rossi credits vegan diet for youthful appearance
June 09, 2013 15:10 IST
Portia de Rossi, who has been accused of undergoing surgery to attain youthful looks, has said that it's all thanks to her vegan diet.
A number of US media outlets cited doctors saying that de Rossi seemed to have had a nose job in the new episodes of cult comedy Arrested Development.
The 40-year-old actress told People that it has been seven years since the show was last seen on the screen, News.com.au reported.
De Rossi said that she didn't think that it is fair for people to think that women are vain, as they are worried about getting older.
I still struggle with eating disorder, says Demi Lovato
June 09, 2013 15:10 IST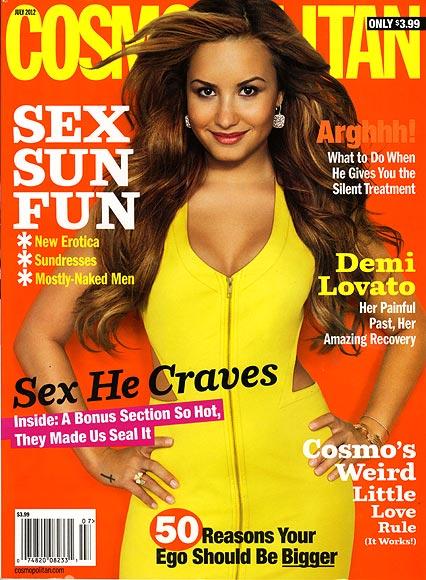 Demi Lovato, who left rehab in 2011 after checking in to beat an eating disorder, has claimed that her fans helped with her recovery.
In an interview on BBC Radio 1, the 20-year-old singer admitted that she has struggled to stay healthy since leaving rehab, the Mirror reported.
Lovato said that whenever she has struggled and thought about going back to bad habits like anyone that struggles with an eating disorder, there's been times when she has contemplated what she is really doing.
"Do I really have a problem and then I think to myself, 'Yeah, my fans are holding me accountable and I have to stay strong for them,'" she said.
Lovato, who looked healthy and happy when she took to the stage to perform on Britain's Got Talent on Thursday night, said that she believes her honesty has enabled her to get on in her career and get closer to her fans.
The X Factor USA host also gave advice to her fans, who may be going through similar problems, by saying that the first step in getting help is just admitting that you have a problem and then telling them about it.
She said that one should reach out to someone, whether it's a friend or a family member or anybody who can help you get better.
Lovato added that if you feel like you're in danger then you have to tell someone immediately.
Source: ANI