Nothing wrong in going nude to cheer Team India: Poonam Pandey
Last updated on: March 31, 2011 19:11 IST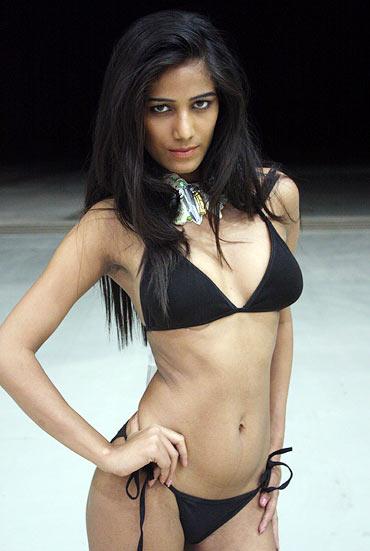 The nation of one billion plus now has one more reason to root for India when they meet Sri Lanka in the World Cup final at the Wankhede Stadium.
Poonam Pandey, a 19-year-old model from Mumbai, has promised to go nude if India wins the World Cup. She tells Rediff.com what her plans are.
Poonam Pandey emerged out of nowhere and has become part of this nation's collective consciousness.
Till a few days ago, the 19-year-old model was just another pretty face with a track record in pageants (Gladrags Megamodel and Manhunt) and a calendar hunt (Kingfisher).
Media managers who handled the event had no clue about who Poonam was and were scratching their heads as e-mails, telephone calls and texts poured in from the media requesting her phone number.
The reason why Poonam Pandey has been in the news, the reason she is currently one of the hottest trending topics on Twitter and one of the most searched for models on Google is quite simply because the girl has promised to strip if India wins the World Cup.
We spoke with Poonam who told us she would keep her word and she isn't doing anything unlawful by going naked if India won.
Please click on NEXT to read more...
Nothing wrong in going nude to cheer Team India: Poonam Pandey
Last updated on: March 31, 2011 19:11 IST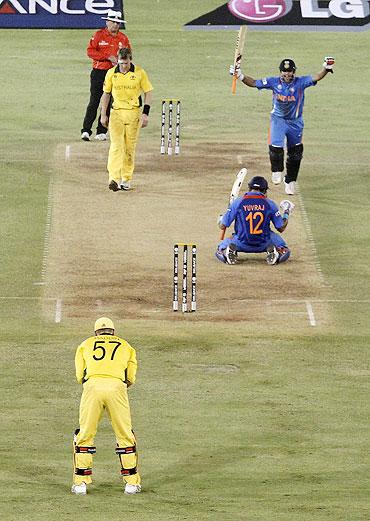 How did your interest in cricket begin?
Since my childhood I used to play cricket with my family and friends. I was a good batter.
Who is your favourite Indian cricketer?
No one in particular. I like all Indian cricketers.
Who do you think is the most handsome and stylish Indian cricketer?
I think they all are smart, handsome and stylish.
How do you feel now that your popularity matches Katrina Kaif on the Internet?
Good and happy.
Nothing wrong in going nude to cheer Team India: Poonam Pandey
Last updated on: March 31, 2011 19:11 IST
If India wins the final on Saturday will you really bare it all?
On Saturday if Team India wins the World Cup I will go nude.
Where will you do this?
I will go nude in the (Indian) dressing room.
How do you plan to do that? How will you get access to the Indian dressing room?
I have applied (for permission) to the BCCI (Board for Control of Cricket in India) and as soon as I get the permission I'll do it.
What about Indian laws that consider nudity as unlawful?
No. Let me tell you that I am not breaking any law I am not doing any crime (by going nude). I am not going against or breaking any law. I am just offering (to go nude if India wins).
My offer is for my India. I am just cheering my India, that's all.
Nothing wrong in going nude to cheer Team India: Poonam Pandey
Last updated on: March 31, 2011 19:11 IST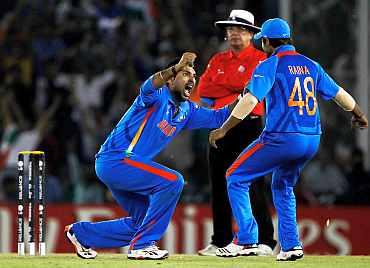 What if the BCCI refuses permission?
Then I will go (laughs)... it's my commitment. I will do it in the stadium and also in the dressing room.
What about threats from the moral police? Are you not scared?
I am not scared at all, but my mind doesn't understand the politics of this at all. I don't understand political people.
Do you have a ticket to enter the Wankhede Stadium?
Of course. As soon as Team India wins the World Cup then I'll do it.
What makes you think that India will feel proud of you if you go nude in the stadium?
See, everybody is cheering India in their way. Even you must be cheering India in your heart. Everybody wants India to win the World Cup. And this (going nude) is my way of cheering Team India.
I don't think anybody will take this act in the wrong way. A lot of people are supporting me for this.
How did the Kingfisher modelling assignment happen to you?
From childhood I wanted to be a model. The day when I thought that I wanted to modelling the very next day I got selected to model for Gladrags from amongst 3,000 other models in 2010.
Which part of India do you come from?
I am a Mumbaikar. I was born and brought up in Mumbai. I am studying in the first year after Class XII and I am so much into my work.