Model speak: Everyone was giving me wolf-whistles
Last updated on: August 19, 2011 10:33 IST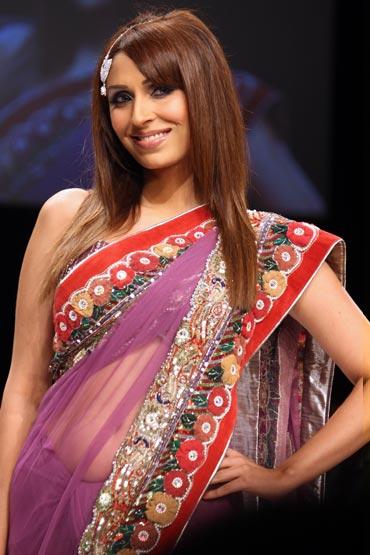 Model and aspiring actress offers her take on love at first sight.
Pooja Misra was the show-starter for designer-duo Pravesh and Jai on Day Two of the Lakme Fashion Week. The aspiring actress who has three Bollywood films in her kitty talks about walking the ramp and more.
You've mentioned earlier that you were working on three films. So tell us about them
Well, one of them that I am shooting for is called Neil and is being directed by Chandra Barot who directed Amitabh Bachchan in Don.
This is supposed to be his comeback vehicle and I have a very interesting song in the movie. The other two projects are yet to be announced so I don't want to talk about it.
Ok. So since you were walking the ramp and you had to look all fabulous, we're sure you were watching what you ate. But what was that one dish that you saw and just gave into your temptations?
My parents returned into town yesterday and they got me this awesome mutton rice and I simply couldn't resist. I knew I had to hit the ramp today but I had it nonetheless.
I don't starve myself because I think it's unhealthy. And if you have to look beautiful you have you be content and sated. So if you don't have food, where will you get the energy from?
Your take on plus-size models
They are as beautiful as anyone else. You just have to have the eyes to appreciate their beauty. After all beauty lies in the eyes of the beholder.
When a designer picks something you don't want to wear, what do you tell him/her?
I graciously gesticulate at another better dress! (Laughs)
Your reaction to celebs who size you up sitting in the front row?
(I don't mind it.) In this show everyone was giving me wolf-whistles and claps so I assume I went down really well with the audience!
Lady Gaga: Fashion designer or icon?
Lady Gaga is equal to great attitude. Sure there are times when she is a fashion disaster. At other times, she is a trendsetter. But all in all she has great attitude and that is what you need to survive!
According to a recent study, men are more likely to fall in love at first sight than women. Would you agree?
Yes because men like to think from below their belt. Women like to take their time.
Lust is temporary but love is something that warms your heart and takes a long, long time!