Diary of a fashion week virgin: Day Three
Last updated on: August 21, 2011 18:00 IST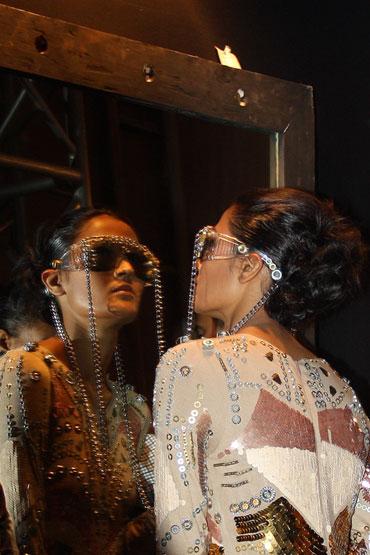 Fashion Week first-timer Divya Nair recounts her third day attending Lakme (read all about her experiences from Day One and Day Two).
Day Three. I reach earlier than ever and have a long conversation with a leading Indian model over breakfast. He hails from a small town and spills the beans about his struggling days, the bias in the industry, the ill treatment towards newcomers and the off-ramp stories.
With so many movies and documentaries being made on the lives of catwalkers, I feel like I can identify with his experiences. Two days ago he was a stranger to me; today, I can connect with him. He has a family -- an ageing father and mother -- who want him to settle down. A few years ago, he was one of us, playing cricket on the streets. Today he is on television, in newspapers, on the Internet.
So what if he chose modelling as a profession instead of engineering? Why is it that we are so limited about our perceptions and definitions of a dignified career choice? He was only 23 years old and he is most likely earning more than you and me did at that age. Or maybe not. But he is available on Google search. Doesn't that speak volumes about his success?
I know it's too early to generalise opinions here. But then, my brief interaction with some of these models, both Indian and international, who are young graduates or perhaps pursuing distance education made me realise that these people have a better knowledge of what they want from life. And come to think of it, most of them hail from small towns and have equally touching stories of dreams, aspirations, failures.
Besides all that, they are determined to struggle through and so have an informed world view of their profession. Most of them have travelled the globe, despite the fact that they did not know any language besides their mother tongue when they started off in the industry.
Rejection and failure are a common thread that binds designers and models together
Last updated on: August 21, 2011 18:00 IST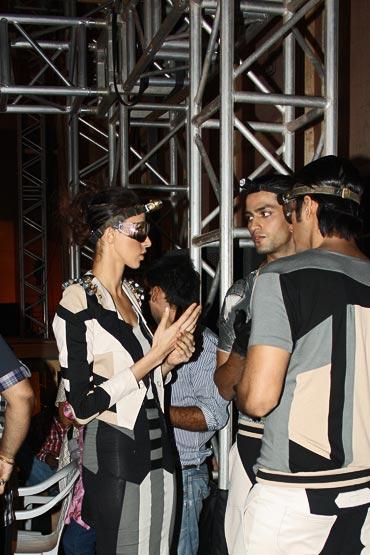 While these models care so much for their bodies and diet to maintain their figures, they have good reason for developing the attitude they have today. The message is clear enough -- they do not want to be taken for granted by anyone. They know the importance of a sound education and the pitfalls of the profession. In a way, that's learning by experience. In many ways, this model I interviewed could be inspirational to youngsters who often tend to choose the wrong path, out of sheer desperation to end the struggle and find an easier way to the top.
For a few moments at least, my opinion about modelling as a profession and the limelight it enjoys is torn in two different directions. One of the designers called them 'hangers' to hang their clothes on. Do they really deserve that tag? Designers have a different story of struggle. They choose the business of making clothes in a country where the fashion industry is only an emerging one. When they start off, even they struggle for money, run errands themselves and suffer criticism and failure. Models go through the same ordeal. Rejection and failure are a common thread that binds them together.
Success always comes at a price. And just because we come across a few snooty fashion industry folk, it is unfair to comment on their struggle and journey. The borrowed perceptions about people from the fashion industry need to be treated with a pinch of salt.
And sometimes I fail to figure out who elevates an individual to celebrity status -- is it the media or the fans? Tough call there, but frankly, how many of us can truthfully say that we don't turn our heads when an actress like Kajol is sitting in the same room? I mean, c'mon guys, a celebrity is a celebrity even if they have the same two eyes, ears and legs that we have. It's the inspirational value attached to them that makes them what they are -- and makes us what we are.