Meet Vipasha Verma: Hot model, dutiful wife
Last updated on: March 22, 2011 16:41 IST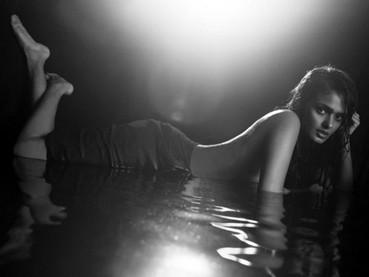 In a tete-a-tete with rediff.com, Vipasha Verma (nee Agarwal) discusses her journey from small-town girl to fashionable femme fatale.
Soft-spoken, demure and stunningly beautiful.
That's our first impression of dusky, doe-eyed Vipasha Verma, 26, one of the best-known names on the modelling circuit and one of Lakme's four 'Faces' -- an iconic title, with predecessors like Rekha, Aishwarya Rai Bachchan and Katrina Kaif having borne the mantle in the past.
Maybe it's that she's a newlywed and basking in domestic bliss, or maybe it's a natural radiance that she exudes, but Vipasha is positively glowing. She lights up a room when she enters, but it seems like she'd rather have fewer eyes on her.
When she starts talking, you realise that you can take the girl out of the small town, but you can't take the small town out of the girl. There is a certain grounding, a certain set of values that shines through as she speaks and you begin to wonder how this pretty young thing metamorphoses into a topless tigress oozing seduction for the cameras, her withering glances enough to have you melt into a warm puddle of wax. It is this duality that sets Vipasha apart from the smart-talking, attitude-copping models of Mumbai.
In an interview with rediff.com, we try to unravel the magic that seems to surround this maiden. Presenting edited excerpts in the following pages.
'I'd never thought of modelling'
Last updated on: March 22, 2011 16:41 IST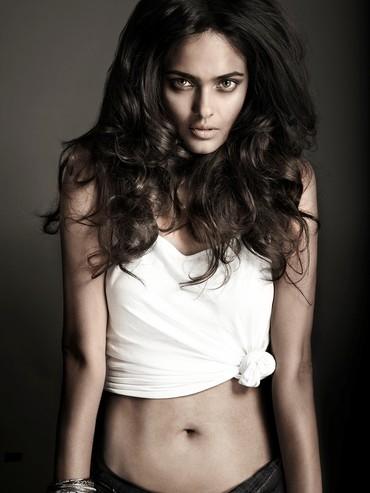 Tell us a little about yourself and your family background. How did you get into modelling?
I'm basically from Benares (Varanasi). I'm Marwari and my parents are into business. I went to Delhi to study, where I was spotted by (modelling agency) Elite. I initially joined Elite for a grooming course and they asked me to give modelling a try. And that's how it happened.
So you always wanted to get into modelling, is that why you signed up for the grooming course?
Not at all, I'd never thought of modelling before. I just signed up because, you know, I was a small-town girl, I came to this big city for business studies and I happened to find out about this grooming course. So I thought why not, let's try it.
Then when I signed up, they asked me about modelling and I told my parents about it. So they met the people at the agency.
'My parents are extremely proud of me'
Last updated on: March 22, 2011 16:41 IST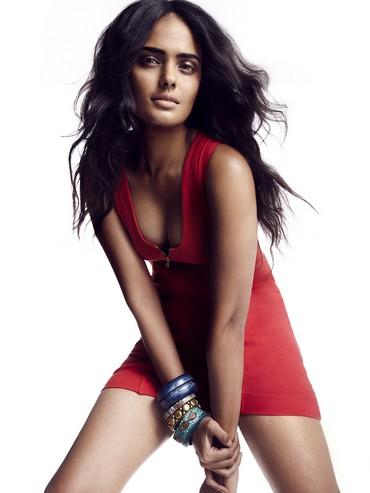 How did your parents react to your choice of career?
At the start they were a little apprehensive about what I was doing. They were like, we should know where you're going and the people you're meeting, come back on time, there should be someone to escort you that kind of thing.
After seeing the kind of work I do, however, they're extremely proud of me.
So they don't have any inhibitions about the kind of clothes you have to wear or the assignments you have to do?
Not at all.
How did Lakme happen for you?
When I just started modelling, I met (Lakme-Lever head honcho) Anil Chopra. Back then he thought I was too new and too young to be the face of Lakme, to be carrying the weight of the brand on my shoulders, talking to the media...So yeah, that was my first meeting with him.
Then I did a movie (I See You with Arjun Rampal) and after that he said, 'Okay, now I think you're grown up enough to handle it.' He thought I was ready to be a brand ambassador.
'I want to let all the girls out there know that the Indian fashion industry is safe for you'
Last updated on: March 22, 2011 16:41 IST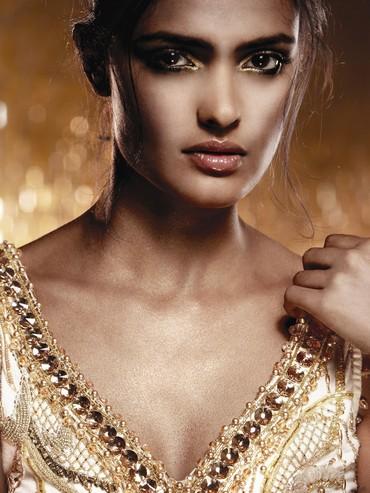 You were on the ramp this Fashion Week, was it your first time walking as the face of Lakme?
Well, actually I became the face of Lakme in 2007. What happened, though, is that I didn't walk the ramp for the last two seasons because I wasn't well. Somehow, I fell ill only on those days! But yeah, this time I did.
What opinion do you have of the Indian fashion industry, based on your own experiences?
I definitely think it's a very safe industry; I want to let all the girls out there know that it's safe for you. I have never, ever faced any problem.
And the Indian fashion industry is growing by the day, it's going global.
Is it very competitive for models?
There's a lot of competition, but it depends what your priorities are, what you want to do. So it never hit me, you know, that oh my God, there's this new girl or that one, or that there are so many new faces around. That never happened, it never bothered me.
'I think Padma Lakshmi is gorgeous!'
Last updated on: March 22, 2011 16:41 IST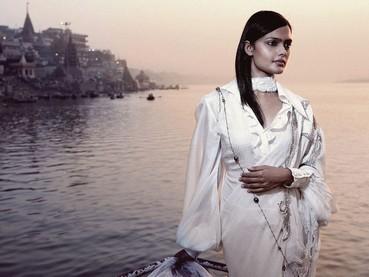 You're obviously in fantastic shape! Care to share some fitness tips with us?
Drink a lot of water, so you don't get very hungry! Hmmm, what else -- I go to the gym four times in a week. I don't really do much to keep fit.
So you're saying your good looks are the result of good genes?
Yeah, you can say that. My mother's influence, really.
You don't diet at all?
Not at all. In fact I love sweets and I have to have something sweet after dinner every night.
Who would you say is your role model in the world of fashion?
Padma Lakshmi. I really, really admire her, I think she's gorgeous!
Coming from a small town and standing before me today as a well-known, established model -- what has that been like for you? Tell us about your journey.
It's been very smooth, actually. It didn't hit me in the sense that something happened to me, it was a smooth and a very slow process. And I really had a good time getting to where I am.
'Even if he wears just a shirt and jeans, Hrithik looks fabulous'
Last updated on: March 22, 2011 16:41 IST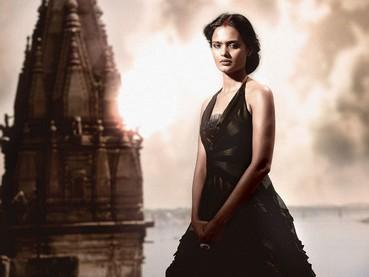 Quick take:
The best-looking, most stylish male celebrities according to you: In India, definitely Hrithik Roshan. Even if he wears just a shirt and jeans, he looks fabulous! In Hollywood, I love Johnny Depp -- I think he's the best-looking guy.
The best-looking, most stylish female celebrities according to you: I love Angelina Jolie. And in Bollywood...hmmmm. Katrina Kaif? And Chitrangada (Singh).
Favourite movie: I'm a movie buff. I like to watch all kinds, especially foreign and psychotic, disturbing movies! My recent favourite is The King's Speech and in Bollywood I love an old-time one -- Yeh Vaada Raha.
Favourite music: I like old-time music and my husband has got me into French music and operas. I still don't know the names, but I listen when he's playing it. I really like it.
Favourite book: You know, I was never, ever into reading, I've never read any book! The first book I started reading, which I'm still reading and just about to finish -- I can proudly say it's the fattest book ever(!) -- is A Suitable Boy by Vikram Seth. So yay, I'm on the last ten pages!
'I love to cook and do things around the house for my husband'
Last updated on: March 22, 2011 16:41 IST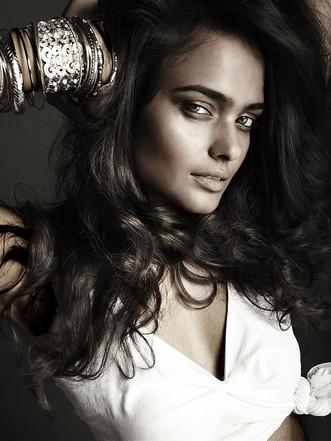 Favourite travel destination: London
Favourite cuisine: Chinese
You never leave home without: My phone
Turn-ons in a man: Good smell
Turn-offs in a man: Bad smell!
Your hobbies: I cook. I love to cook. I also like to sing and I don't know, a lot of other things, but we don't get time for all of them. But yeah, these two things I keep doing.
In your spare time: I run back to my hometown, Benares! That's like a relaxing holiday for me. Otherwise my husband and I just go out for a weekend to Goa or something.
If you were not a model you would be: Into business, definitely. I'm from a business family.
Your passion: I'm a homemaker, I like to be doing stuff at home, doing stuff for my husband.
Your future plans: I don't plan my future, I just take it as it comes. No long-term planning!