Priyanka Chopra on what turns her on in a man
Last updated on: February 22, 2011 12:09 IST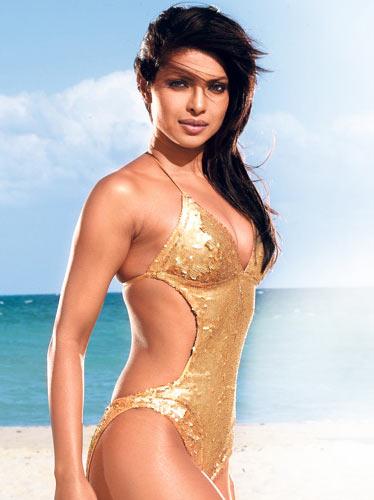 The Saat Khoon Maaf actress spills the beans on how she deals with failure, the men that turn her on and more!
On February 17, Priyanka Chopra invited us into her home, which seems designed along the lines of a palace. The living room is a royal shade of maroon, complete with a twinkling chandelier and a chair that faintly resembles a throne.
The National Award-winning actress, though, never sat on it. Instead, she chose to occupy a small but cosy corner of the house that she hardly spends time in, what with her career going great guns.
After spending a little over 30 minutes in a live chat with our readers, the B-Town beauty settled down for a round of rapid-fire questions. Here, she tells us about her first love, how bad a loser she can be and other little-known facts about her life.
Okay, we'd like to know a little about Priyanka the person. Tell us a little about your likes and dislikes. What is your favourite cuisine?
Indian (pauses). Actually, I love all kinds of cuisine; but Indian tops them all.
And your favourite drink?
Nimbu paani.
Which is your favourite hangout?
My house, because I never hang out here!
What kind of music do you enjoy?
All kinds actually: ghazals, Hindi movie music, R&B, rap...
Which is your favourite movie of all time?
Dilwale Dulhaniya Le Jaayenge.
'I like to come home so tired I don't have time to think'
Last updated on: February 22, 2011 12:09 IST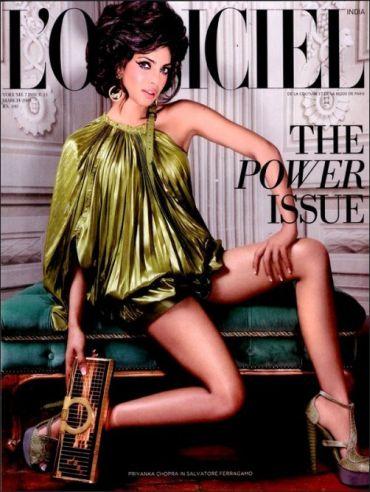 Your favourite book is...
Letters From a Father to His Daughter by Jawaharlal Nehru.
Makeup you can't live without?
Mascara.
Which was the defining moment when you realised you were famous?
When I became Miss World (2000).
Given a choice, Twitter goddess or Bollywood star?
(Pauses to think) A bit of both.
What's your idea of a perfect day?
Going to the sets and returning so tired that I don't have time to think.
'If I weren't an actress, I'd be an engineer'
Last updated on: February 22, 2011 12:09 IST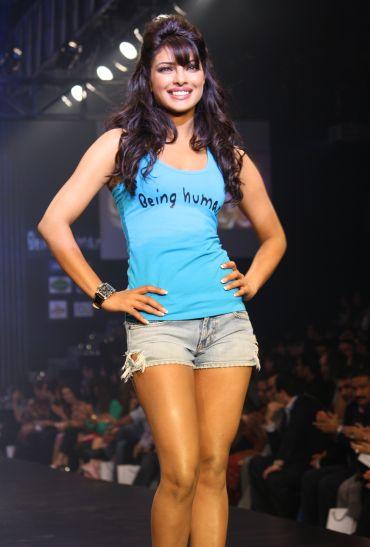 What's your idea of a perfect date?
Being with someone where I don't have to do anything -- just talking should be enough.
Your passion is...
I am passionate about everything I do.
If you weren't an actress you'd be?
Studying to be an engineer.
The one thing you can't leave home without is...
My bag -- it has everything!
Do you cook?
(Laughs) No, but I love eating!
What is your biggest fear?
Failure.
So how do you deal with failure?
I am a very bad loser. I sulk and throw tantrums with my loved ones, shut myself inside my room, get under my blanket and go to sleep for 24 hours!
Do you travel a lot?
Yes, I practically live on a jet plane!
The first thing you do when you check into a hotel?
Make the room my own -- I take out my books, pictures, make the hotel room look like my own.
'I fell in love with Shah Rukh when I was nine'
Last updated on: February 22, 2011 12:09 IST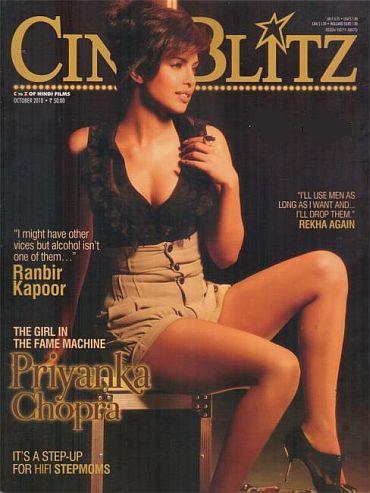 Tell us about your most memorable vacation.
I don't have too many memories of vacations, but if I had to pick, it would be of the times when my dad used to take us to Kashmir -- for summer vacations in Pehlgam, Gulmarg and Srinagar.
The one place that took you completely by surprise?
Suriname -- it's a small island near the Caribbean that has a lot of people who love Indians and a lot of people of Indian descent. I'd gone there to do a show and I fell in love with it. It's beautiful!
The one weirdest travel experience EVER!
I was supposed to be on a six-hour flight from Singapore to Mumbai. The flight got delayed -- we were not allowed to land in Mumbai so we went back to Delhi and from Delhi to Ahmedabad and finally landed in Mumbai after 19 hours!
The one incident that you absolutely cringe to think about...
Thankfully, I haven't had too many of those.
Your first love?
Shah Rukh Khan, when I was nine. The film was Chamatkar.
Facebook or Twitter?
Twitter -- it's easier, more accessible and it's just 140 characters!
'A gentle smile that reaches his eyes'
Last updated on: February 22, 2011 12:09 IST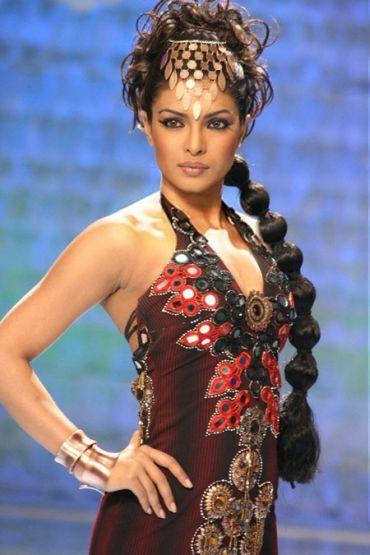 The one gadget that you'd absolutely kill for?
I usually have all of them.
Okay, so what is your favourite gadget among them?
My new phone, which not a lot of people have -- the Nokia E-7! It is a touch screen phone and a communicator and a great amalgamation of both.
The corniest thing anyone has ever said to you EVER!
(Laughs) Oh, a lot of them. There was one where a guy brushed past me. When I turned around he said, 'Oh God! You're so hot!'
What turns you off in a man?
Bad smell, conceit and when someone cannot stop talking about himself.
Turn-ons?
Intelligence and a gentle smile that reaches his eyes.
The one piece of advice you'd give young girls and boys who want to be part of showbiz?
Nothing is do or die; nothing is more important than living your life with dignity.