Model, mother and Mrs Globe runner-up: Meet Kavita Sachdev
Last updated on: September 27, 2011 18:33 IST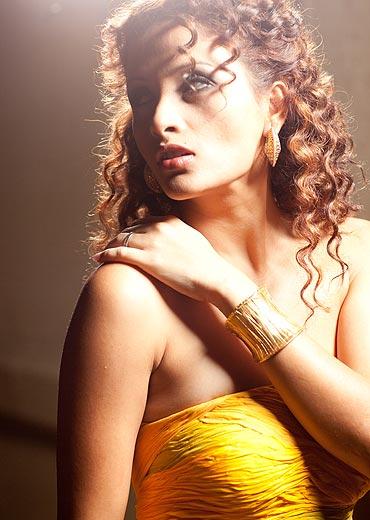 She learnt to be independent at the age of 18, was married at 24, a mother at 25 and today, at the age of 29, she is a reigning international model, all set to bag a Bollywood project. In a candid chat with rediff.com, Mrs Globe 2011's first runner-up Kavita Sachdev tells us of her remarkable journey from chirpy smalltown girl to a successful woman.
In a country where women are expected to take care of kids and family post marriage (despite their educational/professional background), to even think of wearing a body-hugging dress that ends above the knee for an evening is considered disgraceful. To add to that, if the woman comes from a small town in Assam, you will agree that it means going against the grain -- opting for glam takes guts, a lot more effort and when it boils down to it, hard work.
But Kavita Sachdev -- who was crowned Mrs Gladrags 2010 and first runner-up of the Mrs Globe 2011 pageant on August 27 in California, beating 39 other international contestants -- considers herself lucky, not only to have parents who stood by her decisions, but also a mother-in-law who coaxed her to participate in the contest and a doting husband who helped her fulfill the dream.
In the following pages, she recounts her remarkable experiences and discusses beauty, modelling, motherhood and more.
'It was my mother-in-law who suggested I participate in the Mrs India contest'
Last updated on: September 27, 2011 18:33 IST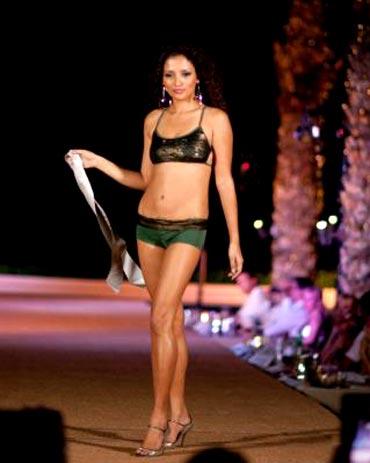 Who suggested you participate in the Mrs Gladrags 2010 and Mrs Globe 2011 pageants?
It was my mother-in-law who suggested I participate in the Mrs India contest. When my husband Nicholai heard about it, he jumped at the idea. I was not sure if I should, but he egged me on.
You won't believe it, but I haven't ever gotten my portfolio shot professionally. My husband chose from among my best pictures, filled up the form himself and mailed it. I was lucky I got a call from them saying they liked my pictures and that I should contest in the pageant. I had no clue what was in store for me.
What were you doing before the pageant happened? Were you always a model?
I was working as an airhostess with an airline company for three years, till I found my Prince Charming and decided to quit. I was never really a model, but I have done a few modelling assignments when I was studying in Sophia's College in Mumbai.
Tell us a little about your college days.
I used to stay in a hostel, so I had a lot of free time and I don't like sitting idle. I would either explore the city or attend an acting class, or get involved in some social activity. So one day a friend said, 'Hey, you got a great figure, you are tall; why don't you try modelling?'
That was how it all started. Plus, my pocket money was taken care of. So I was always on my toes. I loved the feeling of being independent.
'All my friends went to Delhi, but my dad didn't think it a safe city'
Last updated on: September 27, 2011 18:33 IST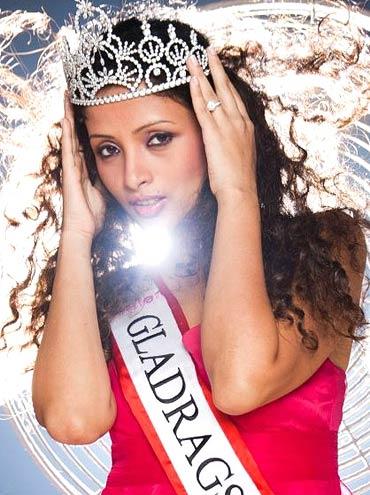 What brought you to Mumbai?
I belong to a small town in Assam. I did my schooling and studied there till Class 12. But my dad wanted me to move out of Assam to pursue graduation. All my friends were going to Delhi, but he wasn't sure of how safe it would be for me.
So a friend and I proposed that we come to Mumbai. Until then, I had no clue about what Mumbai was, I had never been here before. So, I came along with my dad; he took a trip around the city and said he liked the place. Within five days, he enrolled me at Sophia's College, arranged for my hostel stay and left for Assam. I was just 18 then. I had no experience of living in a city before.
To add to it, the only relatives I knew stayed in Andheri, which demanded that I travel quite far after college. So it was difficult for me to depend upon them for my basic needs. I was worried how I would manage by myself. But I must say that Mumbai has been an awesome place to live in.
I came to the city in 1999. It's been 12 years today and I still feel so warm and welcome, like I felt 12 years ago. I think most of what I am today comes from what I learned from this city in my struggling days.
How did your parents react when you first told them about your modelling assignments?
Fortunately for me, my parents have been super-supportive in everything I do. I would talk to them over the phone and keep them informed about everything.
According to me, modelling was not a full time thing or a conscious career decision. It was one of the many things I did during my college days that kept me happy. They never questioned my decisions or advised me otherwise. They trusted me and believed in my decisions. I think that motivated me so far.
'Back home in Assam, people do not value the modelling profession'
Last updated on: September 27, 2011 18:33 IST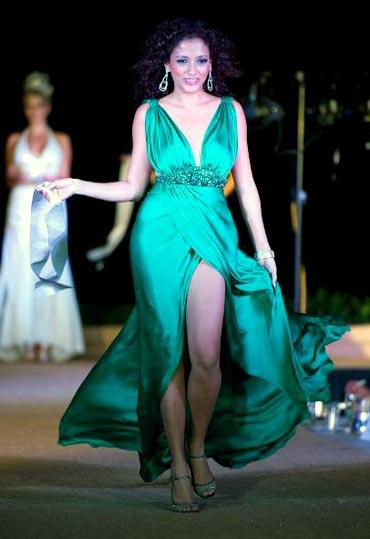 What was growing up in Assam like?
It was very calm and de-stressing, devoid of competition like we have today. We used to stay in a joint family for 5-6 years, so, we were used to living together. The fact that my father was a research scientist put a lot of pressure on me as everyone expected us to score well. But I was pretty average at academics. I was more interested in playing games, extra-curricular activities etc. My brother was more studious, so were my two younger sisters.
People there are a little reserved and value academics over extra-curricular activities. I am glad I had a different exposure and could pursue my interests. Some time back when I visited my parents in Assam, I realised that things have not changed much today. They still do not value the modelling profession; neither did they value me being an airhostess. According to me, it's not a healthy thing.
People need to understand and look beyond their conventions. Just because a woman gives up her job to look after her kids doesn't make her any less beautiful.
I think each profession has its hardships and struggle so it is not right to judge a person based on looks, perception or convention alone. But I have realised that no matter how intelligent and dedicated you are, unless you are a 'someone', people do not value what you say.
Why did you choose to be an air hostess then?
After completing my graduation, I was confused like every other 21-year-old. I wasn't sure if I should consider higher studies nor did I have a definite subject in mind to do my masters.
One day, I went to my friend's place and I saw her dressing up in a sari. I asked her where she was going and she told me it was for an interview. I asked her if I could also come along. I went there and got selected. Since I had no plan B, I grabbed the offer.
So did you like the job?
Of course. It was so much fun. I love to travel and this job was exactly what I wanted. The fact that I could be in a new city every day/week made it all the more enjoyable for me.
I could meet so many different people, understand different cultures, learn new languages, all while I was working and getting paid for it. I was always attracted to the service industry. 
'I did not want to be labelled a mere homemaker'
Last updated on: September 27, 2011 18:33 IST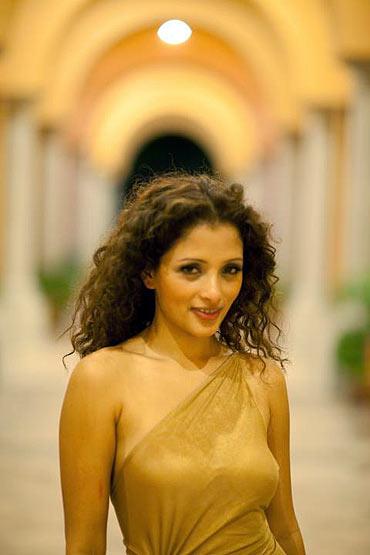 When and where did you meet your 'Prince Charming'?
This is a really interesting story. It may seem very ordinary to you, but I met him on a flight. His family runs an art gallery, so he used to fly so often that I would bump into him every other flight. It was quite unusual to bump into the same person on almost every second or third journey. Frankly, I wasn't attracted to him then.
But once, during the deluge of July 26, we were caught up in the same flight that was stuck at Hyderabad. He was concerned about my safety and so we exchanged numbers. I repeatedly told him that my airline would take care of me and that he need not worry. But the gentleman that he was, he repeatedly sent me text messages to enquire about my safety. As usual, I ignored him and did not bother to reply.
However, it so happened that when I was at a restaurant having dinner with a friend's family, I saw him walk into the restaurant. I realised that I felt so guilty about facing him, since I had not replied to his text messages.
So, I politely walked up to him and said, 'Hello Mr err...Sam...' and he corrected me, saying 'No, I am not Sam, I am Nicholai and you are Kavita, I know you'. I realised that he remembered my name and I felt even more awkward. I told him how sorry I felt about my behaviour and he told me not to worry about it. Since that day, we started talking more often and we realised that we loved each other's company.
Why did you quit your job after marriage?
I was in love, rather we were in love and I realised that after marriage, I could not afford to stay away from him for my work. So, I decided to quit and stay with him and help him in his family business.
Soon, I got pregnant, we had a baby -- a very beautiful one. She kept me busy all the while. But there were times when I thought to myself, 'Is this all I am going to do in my life? Look after my kid and have no life of my own?' I was blank.
I considered going back to work. But I had already put on a lot of weight after marriage, so I had to first lose those extra kilos I had gained, before I could even think of anything. It was not easy. It's a natural way of life.
Most women tend to ignore their likes and dislikes for the sake of their families. Most importantly, they don't take care of their bodies. I am sure every woman wants to dress well, look beautiful, be appreciated. I felt the same.
I did not want to be labelled a mere homemaker. I knew I deserved more than that. And I was determined to take the effort. I was just 25.
'While I am away, it is my husband's duty to take care of our daughter'
Last updated on: September 27, 2011 18:33 IST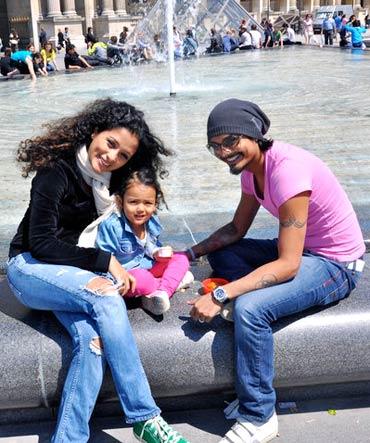 How long did it take for you to be back in shape?
It wasn't easy at all. It took me close to a year and a half to come back to my normal shape.
What diet did you follow? What exercises did you do?
Ever since I became an adult, I was conscious about eating healthy food. I do not believe in dieting or cutting down on food intake to achieve a certain size; I believe in eating proportionate, eating healthy and having a balanced diet. I say that to my daughter also. She is barely four, but she attends a yoga class.
Post pregnancy, a lot of people suggested that I try the so-called-famous General Motors Diet and similar-sounding popular diet regimes. I refused, for I fail to understand how people expect you to be fit when they are surviving on food that they don't like or enjoy eating.
So I chose to eat healthy and eat less, do exercises regularly. I would go to the gym and work out. In the end, it all paid off. Now, I am back in shape. (smiles confidently)
Who takes care of your daughter when you are away at work?
Initially, I thought it was difficult. But between my husband and me, we have a mutual pact. While we are together, we will jointly take responsibility of our daughter. While I am away it is his duty to take care of her.
Although we have a 24-hour nanny, a driver and cook at home, plus my in-laws stay in the same building as ours, before I leave, I write down a whole list of things to do throughout the day.
When I am at home, I ensure that I spend the whole day with her, from the minute she wakes up, to dropping her to school, to picking her up, helping her in studies, reading her a book, playing with her in the park and feeding her. She is so used to being with me that when I am around, she needs no one else. I try to spend as much time as I can with her.
'As a mother, I am very principled and believe in discipline'
Last updated on: September 27, 2011 18:33 IST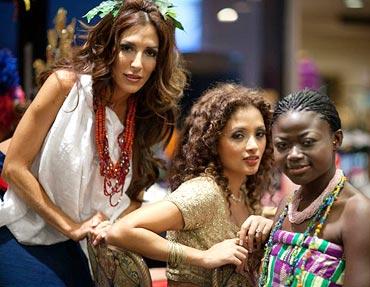 How does your daughter react when she sees your picture in a magazine or on TV?
Oh, she absolutely loves it. She calls me Mrs India at home. She's just four and she has a fetish for dresses. She says she will only wear frocks to school. She tells me how wearing pants is boyish and that girls should only wear frocks. So I have to tell her that she cannot wear them all the time, especially when they have their activity classes.
How do you react to her tantrums?
Sometimes their demands are unreasonable, so we have to explain and reason why so that they understand. Similarly, I believe that my daughter should have the best of resources but at the same time, she should be grounded and should know what her values are. So, when it comes to being a mother, I am very principled and believe in discipline.
Also, I believe it is important to give them freedom to think and make decisions. Just like my parents did. If we go to a restaurant, I always ask her first what she wants before ordering. It is important to consider their choices and value them for once.
Coming back to your modelling career, have you ever faced any embarrassing situation on the ramp -- a wardrobe malfunction, or a technical error? How do you deal with such situations?
(Thinks) Well, not really a wardrobe malfunction, but this happened to me at the finale of Mrs Globe. I was wearing this pretty green dress for the finale and just minutes prior to the show, one of my earrings fell off.
I was selected among the top 15 and I did not have a earring to match. I obviously could not go on stage without earrings, so I was upset about it. I wanted to cry.
Suddenly one of the contestants who got eliminated for the last round walked up to me and gave me her earrings. I wondered to myself, 'Why did she do that?' In the end we are competitors, she had nothing to gain out of it, but she chose to help me. I was so full of gratitude; I hugged her, and thanked her for helping me. I think I was just plain lucky. I was the first runner-up.
'People thought I was snobbish and arrogant'
Last updated on: September 27, 2011 18:33 IST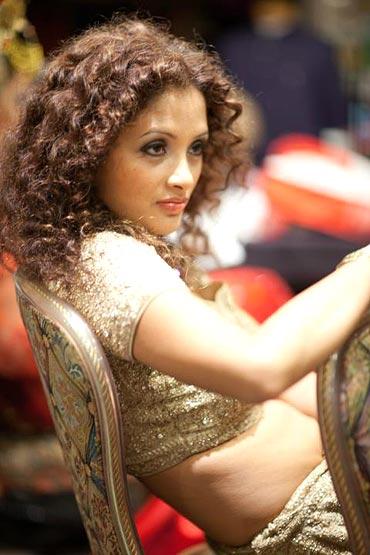 How has life changed after winning the pageant?
I don't think life has changed much. I am very much the same. It's just that I believe that a lot of people in the industry, especially some model friends thought that I was very snobbish or arrogant. Well, that's just because of who I am. I do not enjoy gossip.
So, during the Mrs India pageant, after the shoot was over, while everyone else was at the pool or indulged in some gossip, I would walk out politely. They really thought that I was arrogant and was way too confident that I would win the contest.
When I read it in the papers, I called one of them and asked her why she felt so. Some of them also thought that I was buttering up the organisers and had no talent whatsoever to win the contest. Others even commented about the fact that I was an airhostess and not a model. So I did not deserve to be there.
I was hurt when I heard that; but when I won Mrs Globe, I think all those who said these things against me got their answers.
What was it like working with Maureen Wadia?
Oh my God, I call her a superwoman. She can do so many things at the same time. Multitasker is an understatement. She is omnipresent.
You will see her at the shoot, at the makeup room, backstage, fervently giving away instructions to models, organisers, designers. She never looks tired or stressed and handles everything so perfectly. She is a powerhouse of energy. With her around, you will never have a dull moment.
In fact to give you an example, on the day of my shoot, my daughter fell and broke her arm. She fell in my presence and that made me feel even more responsible for it. So, I was sitting in a corner worrying about it, how bad a mother I was. Maureen, who saw me worried, came and sat next to me.
She held my hand in hers and told me how it was not my fault and that I should not worry so much. 'You did not do it intentionally,' she said. After all, every mother thinks and does the best for her child.' She told me how I must deal with things better in such situations. Her words meant a lot to me.
That day I saw another side to her. I felt relieved and I look up to her as an inspiration. She can teach you a lot about confidence and management.
Now that you have won the pageant, what are your plans for the next few years?
Well, now that I have a title, I shall consider it my responsibility to dedicate time to a social cause. I believe that there are a lot of women who are housewives who are not privileged to work and be independent. I would like to approach these women and provide them with basic education so that I can help provide them with some employment.
I would certainly like to get involved in social causes that are aimed at women and children empowerment. Meanwhile, I would like to continue my interest in acting. I have been approached by a director, but I haven't finalised the project. If I really like the project, I may sign on the dotted line.  
'When I see a man who respects women, I am impressed'
Last updated on: September 27, 2011 18:33 IST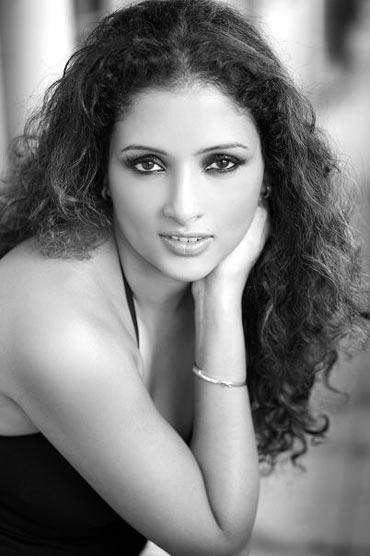 After all that serious talk, we quizzed the international beauty queen on her likes and dislikes. She goes on to share her dating experiences and more:
Your favourite cuisine: Japanese and Italian
Your favourite drink: Coconut water
Food that you avoid: Processed food, white bread, burgers etc
Your favourite hangout: Ideally, I prefer to chill out at a friend's home or terrace; but occasionally, I don't mind indulging at China House, or Trilogy in Mumbai.
Music you enjoy: I love listening to country music, Nusrat Fateh Ali Khan, Sufi music, jazz. But when it comes to dance, I love hip-hop.
Favourite movie of all time: Life is Beautiful
Your favourite book: To Kill A Mocking Bird
Preferred travel destination: Paris. I just loved the architecture of the place. Everything about the place is so beautiful. Beautiful people, beautiful buildings...everyone looks so beautiful. I would love to go there again.
Make up you can't live without: Sun block and Kaajal.
Your biggest indulgence: Spas
Your idea of a perfect date: Somewhere by the beach or an island -- a champagne is a must!
Things that turn you on in a man: How a man smells is definitely a turn-on. Besides, when I see a man who has respect for women, I am definitely impressed.
Things that turn you off in a man: Bad body odour; If a man talks too much without letting the other speak or if he displays arrogance and appears boastful, I am turned off.
Cheesiest pick-up line you've ever encountered: Well, there are loads, but the most common one would be: 'I am new to the city. Will you show me around?' What do I look like, a tour guide? I wonder! (giggles)
'You have every right to look beautiful and be appreciated for it'
Last updated on: September 27, 2011 18:33 IST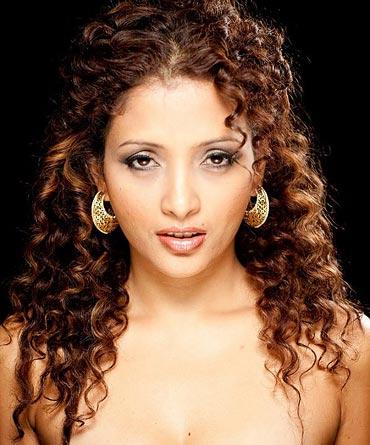 What would you do if a date went wrong?
Well, as girls, we have this instinctive feeling that the guy we are going out with may not be as interesting as he seems. So, I would either keep my friends informed or drop in a message in between the conversation asking one of my friends to call me. Then, I quickly make an excuse and cut short the date. While doing so, I 'd also ensure that I politely refuse his offer the next time.
Would you like to share any dating tips for young girls?
In this age of the Internet revolution, where you make quick friends and exchange numbers and e-mails at the click of a button, I think it is very important to know all about the person you are going out with.
Even though it's a blind date, you must do a check and find out who your mutual friends are and what his friends have to say about him.
Similarly, when you go out on a blind date, do take special care of the drinks that you order. Do not leave your drinks unattended and ideally avoid getting drunk on your first date.
One important fitness tip that you would like to share with our readers would be...
Take up a physical activity; but let it be a part of your life, rather than an enforced activity. Only then will you be able to enjoy and stick to it regularly.
One fashion tip that you would like to share with our readers?
Be simple, be classy. Do not follow trends for the heck of it. Being fit is more fashionable. Try it.
One suggestion you would like to make to married women?
Do not ignore yourself. You have every right to look beautiful and be appreciated for it. Do not sacrifice your personal interests and happiness for the sake of your kids and husband Try to find time to follow your hobbies and passion as well.
One suggestion that you would make to husbands?
Love your wife and respect her, the way she is. After all, she is the one who has left the world to live with you. You mean a lot to her. So, find time to make her feel special in your own way.