'Mom did not want me to be an actress like her'
Last updated on: April 28, 2010 15:35 IST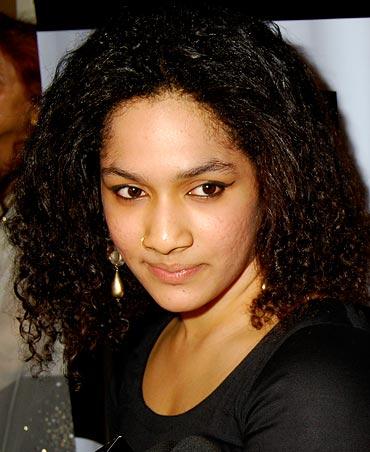 Fashion designer Masaba Gupta tells Abhishek Mande what it takes to be the daughter of two legends and how as a young entrepreneur she deals with the big bad world of fashion.
It is a bright summer morning in Mumbai. The city is in its usual state of perennial chaos. Traffic jams and the never-ending 'work in progress' signs along the roads add to the disorder. We are to meet Masaba Gupta, the Mumbai-based fashion designer who has been making heads turn at the recently concluded fashion weeks in Delhi and Mumbai.
The 21-year-old designer lives with her mother, actress Neena Gupta in the upscale suburb of Juhu -- a stone's throw away from Bollywood superstar Amitabh Bachchan's landmark bungalow.
Gupta's apartment is a picture of solitude. The walls are pristine white and so is much of the upholstery. Bright sunshine filtering in from the French windows and the minimalist decor make it a haven from the utter madness reigning outside.
The Sr Ms Gupta is dressed in white too. After a very brief introduction, the actress lets her daughter take charge. She does not drop by during the interview to prompt her young one or censor questions from the press, a trait many Indian star mothers are known for. And Masaba is surely a star, if only one on the horizon. Her designs, a far cry from the room we are sitting in, are bight and colourful. They are bold; they celebrate life; and are (as she would agree) somewhat unconventional.
Then again the young designer isn't exactly a conventional 21-year-old. She was born to an unmarried mother -- a blasphemy in most parts of India even to this day and does not like speaking about her father -- cricket legend Vivian Richards. She does tell you, though, that 'he was around' when she grew up.
Masaba Gupta is fully aware of her lineage and the choices her mother made. They are the choices that made her who she is and she will never refuse to acknowledge them.
In an interview to rediff.com, Masaba Gupta shares her journey from the girl in a pair of Nikes to a budding entrepreneur and a fashion designer who has the front row nodding at her collection:
You were an athlete back in school. How did you land up in the fashion business?
For the longest time, I used to be a tomboy having nothing to do with glamour or fashion. I would rarely be seen in anything other than my tenniswear and sneakers.
When I appeared for my board examinations in the tenth grade, things changed. I took a break for two months from all kinds of sport -- I used to play soccer and hand ball and was a state-level tennis player -- and never went back. Turned out that I was quite good at my studies. So I thought I would pursue that instead.
I guess I simply grew off the sports scene. For a brief while I was in Delhi, came back to Mumbai and thought I wanted to do theatre. I also dabbled in music, even went to London to study it and when I returned, I enrolled in the fashion designing graduation programme at SNDT. As late as two years into my course, I had no serious intention of taking up designing as a career.
Then during the Christmas fashion show, (reputed designer) Wendell Rodricks happened to see my collection (he was choreographing the show and mentoring the designers). He liked the designs a lot and strongly recommended me to take the collection forward. A little apprehensive, I applied to the GenNext category at the Lakme Fashion Week. The next thing I knew, I was showing at the spring-summer show in September 2009.
Did you never, ever think of taking up acting?
(Laughs) Well I did consider acting very seriously at one point. But my mother was dead against it. I also realised I was not a conventional-looking girl. So I would not get an opportunity to work in commercial cinema. As an actor I wanted to do all kinds of roles -- not just the 'parallel films'.
'I had no idea how to run a workshop'
Last updated on: April 28, 2010 15:35 IST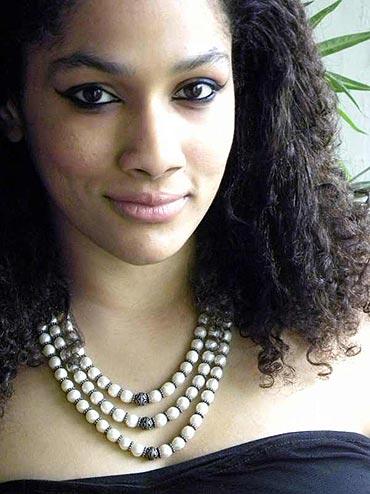 Why was your mother against you acting?
She suggested that I should take up something that will sustain and have a long shelf life. Bollywood was, therefore, not really an option. That was how fashion designing as a career choice came about.
And she was fine with that?
Yes she was. In fact, she helped me with the finances initially. Now I am on my own. Whatever money I make from the sales, I put back in my business.
What was the first show at Lakme Fashion Week like?
For starters, I did not have a workshop, so the house was turned into a godown. The only tailor I knew was somewhere in Juhu, away from my place. And all of this was soon after my university examinations got over. It was all a blur. But on the flipside, I had just eight outfits to design so that really wasn't much of a hassle. The show itself was fine. I am a very calm person that way so there weren't really any backstage jitters.
It's probably too early to ask you this, but have you found your signature style?
Actually, I have! It is very fearless and dominant. And gladly, I have also found the clientele that wears it.
What is your clientele?
College-going girls who walk into a store only to find 'blinged out' outfits. I discovered that it was one of the reasons why they don't end up wearing Indian dresses most of the time.
On the other hand I also wanted to make sure that my collection would be age-versatile, so the mothers could wear them too. That's how dhotis and saris with pockets came about.
My buyers are people who are willing to experiment with colours and are trendy but prefer comfort over style. Thankfully, people have understood how to wear my clothes. But it is also important that I do more shows because the ramp really makes my clothes come alive. You can never really make out how good a dress is when it's on a shelf.
Does it mean regular trips to stores to ensure you collection is displayed properly?
Yes! Every Monday I visit the stores in Mumbai that stock my clothes (Masaba currently stocks at Aza, Sattva, Zoya, Studio Re Evoluzione in Chennai, Fuel and Kheya in Hyderabad). It isn't possible to do it in other cities. But it is important that I see where and how my designs are displayed. For instance, my plain Ikkat sari cannot be displayed with the ornate designs of Anamika Khanna or Tarun Tahiliani. It does not belong there.
As an entrepreneur, what were your initial challenges?
Once, I purchased some 300 metres of fabric and didn't know what to do with it! I had no idea how to run a workshop. Since I was only in my second year of college when I made my debut, I hadn't learnt about merchandising and production. The technicalities of the business were lost to me -- I didn't even know how to make a chalan.
Thankfully, a friend's mothers runs (the fashion retail store) Zoya. She taught me all about pricing, mark-ups, mark-downs etc. Since I hadn't ever worked under a designer, all these things were new to me. I have had to train myself from scratch.
What happened to the 300 metres of fabric?
(Laughs) Thankfully it was used up!
'Despite what critics say, Sabyasachi sells!'
Last updated on: April 28, 2010 15:35 IST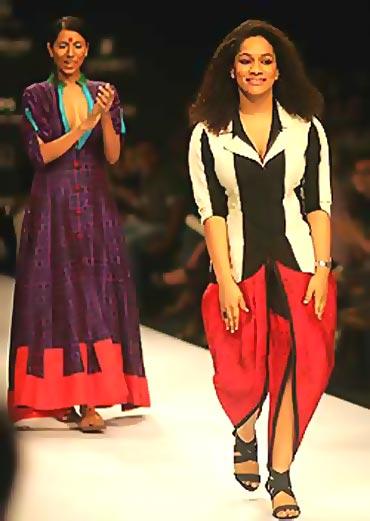 You say your clothes look best on the ramp, which has a restricted audience. How do you plan to reach out to the rest?
I am hoping to start a website and sell my designs there. That way, it keeps the exclusivity, as well as is out there.
How do you plan to take your business to the next level?
I hope to tie up with brands like Nike and Reebok so I can design my own line of shows. Hopefully I should design a line of swimwear. Eventually I would like to come up with a home linen line and grow into someone who goes much beyond stocking and showing at fashion shows.
Who are your favourite designers?
There's no one in particular, actually. But I really admire Ritu Kumar. She has been designing for 25 years and is showing no signs of stopping. I saw her at Wills (Lifestyle India Fashion Week) and it was humbling to see someone so senior interacting with the buyers personally.
I also admire Sabyasachi. A lot of people say he has been doing the same thing for years now, but he never ceases to surprise me. Besides, the truth is that despite what critics say, he sells!
Among my contemporaries, I quite like Kallol Dutta -- he has (motifs of) cockroaches and all kinds of insects and people still buy his clothes. I also quite like Anuj Sharma. He had an amazing collection where a dress had 50 odd buttons and the hem had button roots so you could wear it 50 different ways.
How do you evolve as a designer?
The only way to do that is to keep one's creativity alive and not compromise on certain things. I am also now trying to innovate and experiment with my designs. For the first time I brought out a semi-festive line (at the Wills Lifestyle India Fashion Week). It was called Fitoor. In it I have done nothing but use golden thread work, sequins and some velvet. I wanted to see if I could sell a festive line without moving to bling. And people bought it!
What has your biggest learning been so far?
In the fashion industry, the moment people perceive you as a threat they are willing to pull you down. So you have to be in the safe zone with everyone and not get into anyone's business. I also learnt it is important to be consistent. When I first showed, not a lot of people took me seriously. Most wrote me off as a celebrity kid who had the money to spend and get into LFW. It was only after a couple of seasons when people saw I was being consistent that they took notice of me. No one knew how seriously determined I was.
'I had the most normal childhood ever'
Last updated on: April 28, 2010 15:35 IST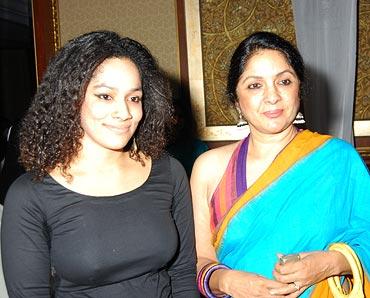 Given your age, do people tend to take you for a ride?
Oh yes! It happens a lot. Many people want to do business with me because they think that can benefit more from it. They wonder what a 21-year-old girl would know about pricing
How do you deal with such people?
I stick to my gut feeling. Often I act like I don't know anything, nod my head and then say no. But most of all, I am cautious and don't let my guard down.
What is your personal sense of style?
I don't wear a lot of colours and prefer white and black. I cannot bear tight clothes. So my sense of style would be relaxed, loose and something that does not take much effort in putting together.
What are the hottest trends this season?
Jumpsuits are in. So are maxis. Leggings are back -- especially with the sequined floral geometric prints. People are warming up to colour. And the bridal scene is toned down with antique gold embroidery, plain anarkalis with gota border etc. Sensible style is in.
What do you do in your free time?
It's usually coffee with friends or a walk on the beach. I used to dance a lot. I still do dance once in a while. I also write quite a bit.
What do you write about?
It's about all kinds of things -- about fashion, my experiences in life and racism.
What about racism?
As a child I heard a lot of stories of racism from my father. Throughout my childhood, he prepared me to be comfortable in my own skin. I don't understand much about racism so I write about it for myself.
Did you ever get treated differently? What was your childhood like?
I had the most normal childhood ever. I was never under pressure, either in school or in college or amongst my friends. No one pointed fingers at me. I guess a lot had to do with the fact that people liked my mother as a person.
What about your father? Did you miss him while growing up?
I didn't really. He was around when I was growing up. I don't really think about people once they are not around. Make do with whatever I have.
Has he seen any of your work?
Yes, loves it. He says there is an African beat to it! (Smiles)
Does your pedigree overwhelm you, ever?
No -- because I am aware that I can never match up to them. People see streaks (of the two) in me in the kind of work I do and the decisions I make. I was always a normal girl who wanted to do something with her life.
Has it sunk in -- being a daughter of a legend and a great actor?
(Smiles) No, I must confess, it hasn't.