PICS: Bikini model Angela Jonsson speaks out!
Last updated on: May 26, 2011 18:20 IST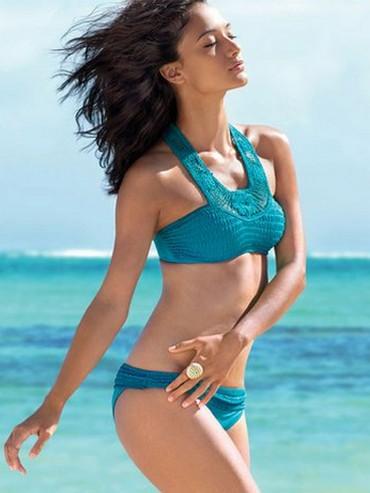 One controversy and about half a dozen magazine covers old, Angela Jonsson is the hot new face in the modelling circuit. The Kingfisher Calendar girl tells us about how she made it, what turns her on in a man and just how she dealt with her name being splashed in the tabloids.
As she walks into the cafe , spot on time for our meeting on a Monday afternoon, you wonder if she's the same person who as an article suggested was an opportunist and was likened to Mallika Sherawat.
Sporting a simple white top and a pair of blue jeans, Angela Jonsson has an air of professionalism around her.
Her media manager introduces us and barely seconds after we've settled down at the table Jonsson looks at me as if asking 'Can we get on with the interview?'
And even though she does come across as being a pleasant young lady, Jonsson seems like someone who prefers to keep things professional.
One wonders if it might have something to do with the stories of her link-ups with Bollywood stars Ranbir Kapoor and Shahid Kapoor but I am told categorically that this aspect of her life is out of bounds during the interview.
Before we even meet, I have received a statement from her media manager that is seems like it's been drawn out by one of her agents.
The statement, among other things, says that that none of 'my successes can be frankly attributed to anyone or anything other than to my hard work and that of my agents'.
It also says that Ranbir and she had dated briefly.
One may never be able to tell if she's used Ranbir or Shahid but the fact remains that Angela Jonsson is one of the hottest young faces in the fashion business today.
Within months of having started off as a model Jonsson has been featured in at least half a dozen magazines, including on the cover of Cosmopolitan magazine.
She's the ambassador for a hair care brand and has walked the ramp for some of the top designers including Manish Malhotra and Anita Dongre among others.
In an interview with Rediff.com, Angela Jonsson tells us about the unconventional life she's led, what her parents had to say when she told them she'd be modelling a swimsuit, her (hold your breath) nine siblings and just why on earth she wants to act in Hindi movies, a language she doesn't speak!
'South Indian industry more professional than Bollywood'
Last updated on: May 26, 2011 18:20 IST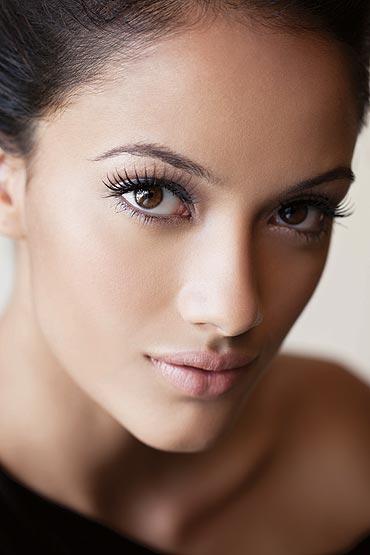 You want to be an actress in Bollywood. Could you tell us how you are preparing for it?
While I do plan to get into movies eventually, I don't think I am ready right now. After all, I've only just started modelling a few months ago.
I don't speak Hindi a lot so I am working on my language. I'm also taking dance lessons and I plan to get into South Indian movies before I try my luck in Bollywood.
You don't speak any Indian language and are just learning Hindi. How do you plan to work in a South Indian language movie?
Well mostly in the South, voices (of actors who cannot speak the language) are dubbed. Also we're given cue cards which tell us what we are speaking means in English.
I am told that South Indian movies are a good training experience for newcomers. Their cameramen are excellent I've heard and the people there are more professional than the ones in Bollywood.
Besides, most of the top heroines like Aishwarya Rai, or Sridevi or even Deepika Padukone have either started off or have worked in South Indian films at some point in their career.
Tell us something more about how you're training to become an actor in Bollywood?
Well, as I said I am learning Hindi from a private tutor for an hour every day. I've begun to speak a little but it's largely been basics for now.
I'm also learning Bollywood dance from Shakoor (Shaikh) sir's dance academy. Although I have learnt dance formally after school and know a few dance forms, the challenge in Bollywood dance is to mouth the words as you dance to the music.
'I have nine siblings!'
Last updated on: May 26, 2011 18:20 IST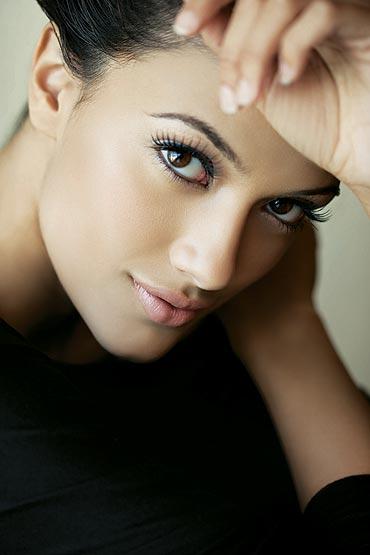 When did you decide you wanted to be a model?
Well, I always knew I wanted to be a performer -- perhaps a dancer if not an actress or a model.
After 18 when I left my parents' home (in Kodaikanal) to travel a bit. I went to Iceland and spent some time with my family there. I came back to India and spent some years in Bangalore where I took up dancing lessons among other courses in performing arts etc.
While I was in Bangalore, I did a little modelling -- walked for a fashion show and did some commercial shoots for Lenovo (laptops) and some other products.
I can't say this was serious work and it wasn't until a friend suggested that I should apply to the Hunt for the Kingfisher Calendar Girl that I began to take things seriously.
When I won the reality show and shot the calendar, things changed forever.
Correct me if I am wrong, you gave up education after you turned 18 and left for Bangalore. What did your parents have to say?
They were okay with it.
Tell us something about your family and your childhood.
I come from a very, very big family. I have nine siblings -- six sisters and three brothers.
My father is Icelandic and my mother is a Mangaloreian. He was travelling to India when he met her, fell in love, married her and the two settled down in Kodaikanal.
I grew up in a huge house on a plantation and we had all kinds of pets -- from rabbits and monkeys to squirrels and dogs!
The thing about huge families is that you don't have to go looking out for friends. There's always someone to talk to, share your secrets with and to turn to.
I was closest to the sister who was immediately before me -- we had a gap of a year and 10 months and we got along famously. She's now in Iceland studying.
My oldest sister is 30 and my youngest brother is 12. Most of my siblings are in Iceland. In fact I am the oldest one in India.
'I hadn't even known that Kingfisher had a TV show'
Last updated on: May 26, 2011 18:20 IST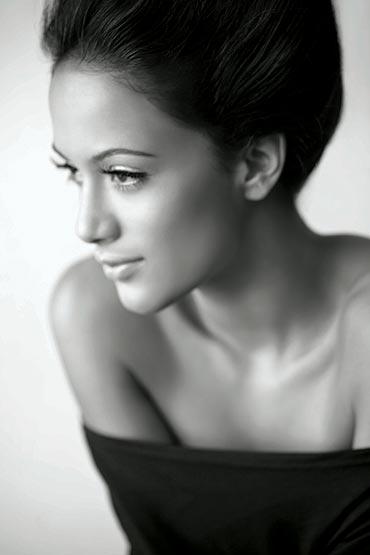 Ok. So tell us the names of all your siblings!
Starting from the oldest: Alithia, Tabitha, Natasha, Andre, Tara, myself Eric, Karishma, Tanya and Kevin!
Oh boy!
A lot of people have that reaction (laughs)
What do your parents do in Kodaikanal?
Well they've pretty much retired but they've always run a coffee business. They cultivate and export coffee.
How do you like your coffee?
I usually like cappuccino with milk; I never liked espresso a lot. Until very recently I've always liked coffee without sugar.
Ok so tell me something about coffee I probably don't know.
Alright! What colour are coffee beans?
Erm dark brown?
Nope! They're originally green, then they turn red, almost cherry red, when we pluck them off and dry them in the sun. That is when they turn light brown.
You de-husk them, roast them to dark brown and grind them into a powder.
Some people add chicory (root) to it to make it a little bitterer than its original taste but coffee in its purest form is the best.
Where did you complete your education?
I completed by middle and high school in Kodaikanal itself. Once I was done, I travelled to Iceland and stayed with my family there. I came back and stayed with some of my friends in Bangalore.
I spent a few years there so a lot of people think I am from Banagalore. Since I wasn't sure if I wanted to go to college, I took time off to study dance and did a few long distance college courses from the US.
And that was where your friend suggested that you participate in the Kingfisher calendar hunt?
Yes. Well, actually till the time he mentioned it, I hadn't even known that they had a show. So anyway, I applied and got through and managed to make it to the show.
'Some of the girls on the show weren't very nice'
Last updated on: May 26, 2011 18:20 IST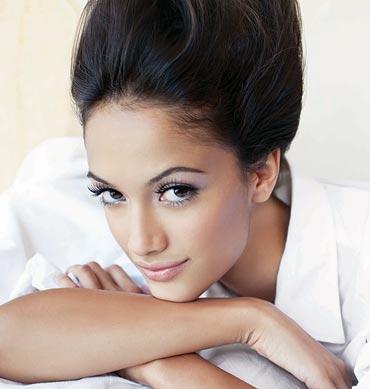 What was the experience like being part of a reality show? Having a camera following you all the time?
 
It was mentally and physically exhausting. The hours were long -- there were days when we would shoot for 20 hours a day. We'd be wearing pancake make-up constantly, would have run indoors when it would suddenly rain without any warning (the show was shot in Kerala) and of course some of the girls weren't very nice.
These girls were usually there for the drama and reality and they wouldn't make anyone's life easier. I usually just chose not to get involved.
I am glad I went through it. The experience taught me a lot of things -- it made me more confident and realise how much hard work modelling can be.
Did you expect to win?
To be honest, I didn't! Of course I was hoping to win, like everyone else. There were so many far more experienced girls there I never thought I stood a chance. It was only when I started clearing one round after another that I actually began to think that I might be able to pull this off!
What did your parents have to say about you modelling bikinis?
I won't say my parents aren't conservative, because they are. But they are also very happy (with the fact that) I want to be a model, that I can pull off a swimsuit and that it's not at all cheap but very classy.
I have done a lot of good work (since the calendar came out) -- I've done four covers, walked the ram during the Lakme Fashion Week.
Things are going well and they're happy with it.
'It was tough reading things in the papers'
Last updated on: May 26, 2011 18:20 IST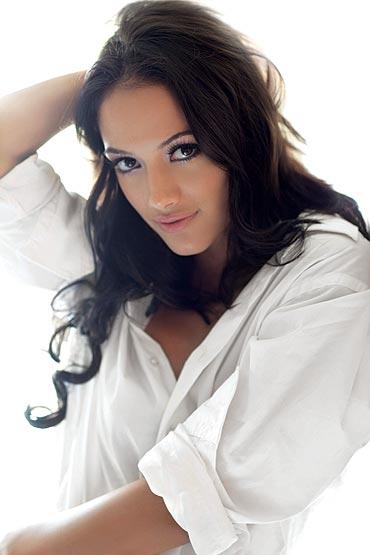 Did they voice their concerns to you initially?
Oh my mother does that even today. Whenever I call up she tells me that I should to make sure that I make right choices and take up work that that's good but never once has she told me 'Don't do this!' or 'How could you ?'.
They have (a copy of) the calendar and every time I have a cover or a photo shoot in a magazine, I send it across to them.
How did you react to the stories that about you (and Ranbir and Shahid)?
Well, I think everything happens for a reason if not for anything, to teach you something.
Of course it was tough reading things (about me) in the papers. There was a time I used to dread opening the newspaper and rather have someone call me and tell me if (something written about me) was good or bad.
(But eventually I figured that) it doesn't matter what other people thinking of you and that one needs to be strong.
How did you deal with that phase in your life?
Well I stayed away from thinking about it, not think negative thoughts and tried to think of good things regardless (of what was happening around me). And of course I had to remind myself what is news today will be garbage tomorrow.
I read that your parents were upset too
Who wouldn't be? (Stops abruptly) I don't think I want to talk about it.
What do your siblings have to say about your choice of career?
Well, since most of them are in Iceland they're disconnected from what is happening here but whenever they see my pictures or read my interviews, they're happy.
Who are you closest to?
That would have to be Tara, who's just a year and eight months older than me. She's just the opposite of me! She is doing her university in Iceland.
'There are times you feel lonely'
Last updated on: May 26, 2011 18:20 IST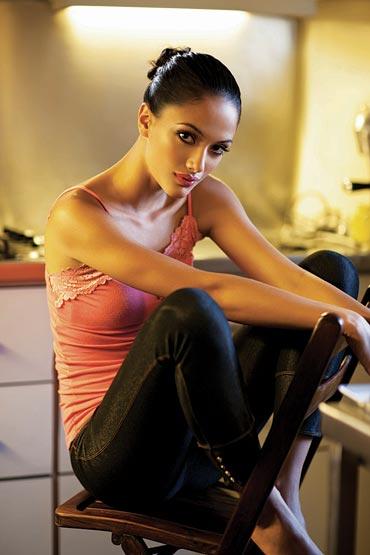 When did you move to Mumbai?
Around November 2010, when the calendar was being launched.
Had you been to Mumbai before? Can you describe your Mumbai experience?
Well, I had been to Mumbai a couple of times because my mum's sisters live here. But I'd never thought I'd end up living here.
The first few weeks that I was here, I didn't want to step out of the house because it's so dusty and crowded!
Eventually of course I made friends, met some great people and I've enjoyed myself. The vibe of the city is amazing. It doesn't matter where you are from and what you do it's always welcoming.
And you live here by yourself?
Yes.
What is that experience like?
Well, although I've lived with friends earlier (in Bangalore) it's the first time I am living by myself and it's very different.
There are times you feel lonely and there's no one to take care of you other than yourself. Also, as a single girl you have to be more aware of your surroundings.
On the flipside, it's your place so you can do what you like and be independent!
Can you offer tips for single women living in big cities?
Make sure you don't venture out alone and have friends drop you if you're returning home late
Absolutely don't drink when you're out alone
Be careful with money. Keep a track of where you're spending your cash.
Make wise decisions, career-wise and on a personal level.
Be aware of the image you portray to outsiders and also be aware about whom you're seen with.
What was your first pay like and how old were you when you got it?
It was about Rs 20,000 for a shoot I did for a South American catalogue of Lenovo when I was 19.
'Always have a backup plan'
Last updated on: May 26, 2011 18:20 IST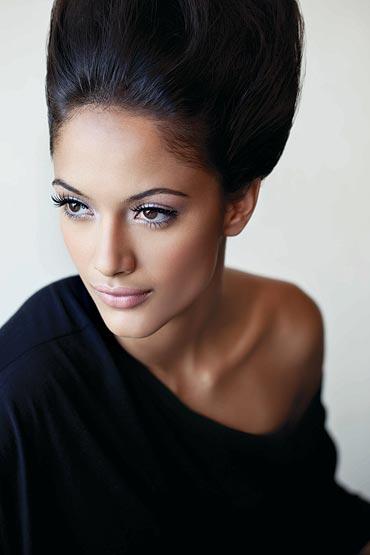 What is your personal sense of style?
Classic and understated. I don't like a lot of make-up or jewellery and I prefer plain colours like black or white or beige.
How do you stay fit?
My day usually begins with an hour of non-stop energetic dance class. I usually step out feeling toned and exhausted. Sometime in the day I also do yoga. I don't like going to the gym but do love walking a lot.
I am not a breakfast person so its usually just a cup of coffee or a bagel but after the dance class I am starving so I have a heavy lunch like a rot-subzi or a big bowl of salad or a hug sandwich. Dinner is usually dependant on where I am having it -- either with friends or at home. If it's at home I prefer having dal and roti or some subzi. I love Indian food.
Do you cook?
(Laughs) No I cannot cook to save my life!
Can you offer tips to people on how to stay fit?
Be regular with your exercise -- if you do something for a day and don't for the next three, it isn't going to help.
Take up a workout that you really so you will end up doing it regularly.
Know your body can and cannot eat. If breads make you put on weight avoid them etc.
Drink lots of water
What are the things young aspiring models should keep in mind?
Remember the more work you do, the more experience you get, the better model you become.
Work with a range of photographers.
 
Be professional; show up on time and do work properly. That is what will get you more work
Find your niche -- if you think you're better at ramp modelling take up more assignments there or if you think you're a better commercial model, focus on that.
Always have a backup plan.
'I didn't have a particular back-up plan'
Last updated on: May 26, 2011 18:20 IST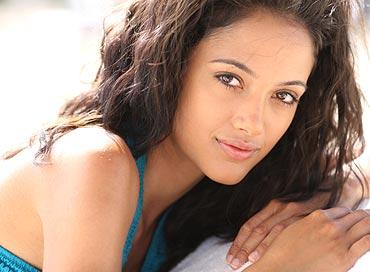 What was your backup plan?
Well, I must confess I didn't have a particular back-up plan but yes I did have a few options I could choose from.
I could've become a yoga instructor or a fitness instructor or a dance teacher, fashion or interior designing.
I am still young so I hadn't really thought of these as backup plans but rather as things I'd have done if I hadn't become a model.
What are you passionate about?
I love dancing and that'll always be part of my life. I also love travelling, exercising and being fit. I do love fashion and clothes. I am not an academic person but I do love to read a lot. I like to write but it's largely for myself.
You mentioned you love travelling. What was the one place you travelled to that took you by surprise?
That would have to be Iceland during my first trip there when I was eight. It was also my first trip overseas and I was surprised by how different a country it was as compared to India. It was clean; there were far fewer people. Interestingly it wasn't as green as India is.
First thing you do when you check into a hotel?
(Pauses) Take a bath perhaps or order room service!
What would you say was your most memorable vacation?
That would have to be my trip to Iceland with my entire family for my sister's wedding. We were there for over a month and a half and it was fun!
You also mentioned that you love to read. What kind of books do you read? Which ones would you say have been your most favourite?
My favourite books keep changing but I loved reading Shantaram -- I've read it thrice already!
I also love reading biographies -- the latest one I read was Angelina Jolie's biography, which was fascinating.
Then there's Paulo Coelho -- I've read all his works. There's always something new I discover when I read him.
Besides, I like reading murder mysteries, self-help books and once in a while a romantic novel, perhaps.
'I suffer from a phobia of having chapped lips!'
Last updated on: May 26, 2011 18:20 IST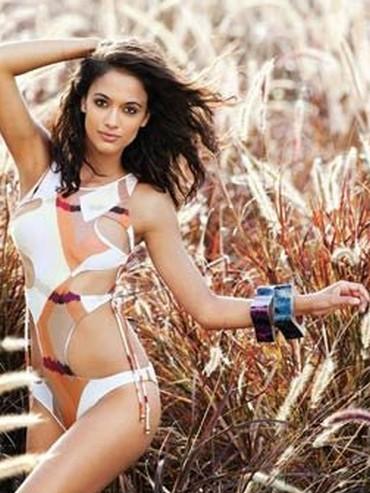 What is your favourite drink?
Champagne or wine.
Do you have a phobia?
It's silly but I have a phobia of having chapped lips so I use chapstick a little too often. (Laughs).
What kind of music do you enjoy?
Well basically everything from Rolling Stones to Justin Bieber except rock. And although I don't understand a lot of what is being sung, I also love Bollywood film music -- among the recent movies, I loved the music of Band Baaja Baraat a lot.
What is your favourite movie of all time?
Breakfast at Tiffany's! I can watch it over and over again.
The one make-up accessory you cannot live without?
MAC Strawberry lip balm!
What is your idea of a perfect day?
Well it's one of the two things -- when I have had a shoot or a ramp show that has gone really well and I come back feeling contented and happy or the other is when there's absolutely no work and I spend time drinking wine, having pizza and chilling out with people I love.
What is your idea of a perfect date?
It doesn't matter where we go or what we do but more about having a great conversation and feeling comfortable.
What kind of men turn you off?
Men who lack confidence.
What kind of men turn you on?
Of course I like the guy to be good looking and tall. He should have a good sense of humour and be sure of himself.
Do you ego surf?
Yes I do! Just to see what's out there -- if it's good or bad!
What is the best thing someone has said to you online?
Well, there's nothing in particular but I am on twitter and people have been respectful towards me and have told me that I'm talented and that I stand out (from the crowd).