Britney's new bikini body and more fashion news!
Last updated on: May 12, 2013 15:04 IST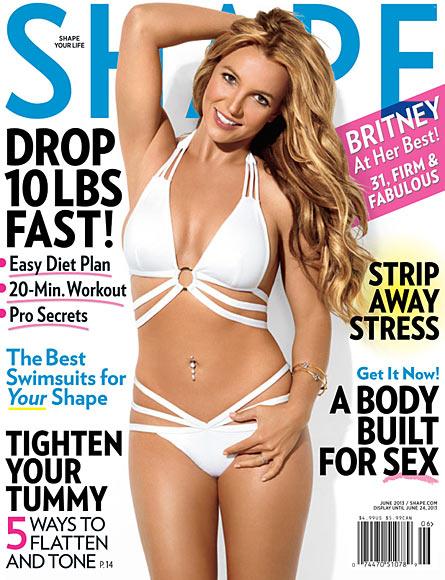 Welcome to the weekly fashion round-up, where we bring you the latest on supermodels, style, designers and everything in-between!
Which supermodel is posing in the buff for a hot new advertising campaign? Which actress has slammed diet pressure in the entertainment industry?
Here's the lowdown on the latest fashion news!
Britney Spears flaunts new bikini body, admits 'dieting is tough'
Britney Spears has graced the cover of Shape Magazine, showing off her banging new body.

The mum-of-two wore a very revealing white bikini and sported a retro '90s belly piercing, the Mirror reported.
The 31-year-old pop star also shared a pic of the mag cover with her Twitter fans.
In the interview inside, Spears also talks about her love-hate relationship with her famous bum. "I like it, then again, I hate it. I'm in my 30s now, so I have to work harder to keep it 'up'," she said.
The Toxic hitmaker gave credit to yoga for keeping her body firm and admitted that she struggles to always eat healthily.
She said that dieting is tough because her specialties are spaghetti, brownies and chocolate chip cookies.
Model Selita Ebanks reveals tough childhood
Last updated on: May 12, 2013 15:04 IST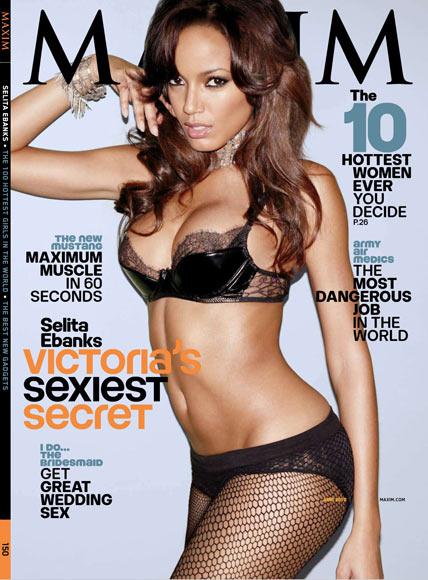 Selita Ebanks has revealed that her mother relied on food stamps and The Food Pantry so that her kids never went hungry.
The 30-year-old told the New York Post at Food Bank's Can Do Awards this week that she thinks that there is no shame when you have children and you want to provide for them.
"It says something about a woman that has no ego when it comes to her children. She did anything possible," Ebanks said.
The former Victoria's Secret model, who grew up on Staten Island and the Cayman Islands and has seven brothers, said that her mother would extend the charity to others.
She asserted that her mum was working the system to make sure they had everything.
She said that sometimes they had two or three turkeys at Thanksgiving, and her mum would give them to their neighbours who weren't qualified for the programme.
Ebanks added that her mom, who now lives in Georgia and is retired, is living with her feet up on the couch, living every day.
Gemma Arterton lashes out at diet pressure in showbiz
Last updated on: May 12, 2013 15:04 IST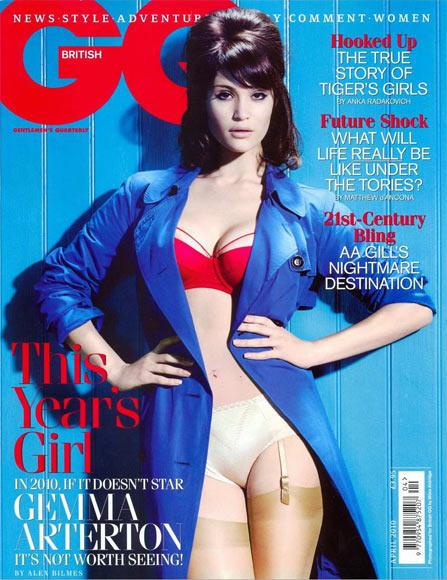 Gemma Arterton has slammed the relentless pressure being put on young actresses to lose weight.
The Clash Of The Titans beauty revealed an instance of one unnamed pal, who has dramatically shrunk by several dress sizes in a matter of weeks, the Daily Express reported.
The Bond girl said that she saw an actress she knows and she's lost so much weight.
Arterton, 27, told the publication that her friend had gone from a size 12 to a size 4 within two months and there are so many good, intelligent actresses doing this.
The British star asserted that her fellow female stars should not succumb to the physical demands expected of them by sections of the industry.
"Why does that go hand in hand with the acting profession?" she adds. "It shouldn't. It lets the side down. It lets down team woman."
Kate Moss gets naked for St Tropez suntan lotion advert
Last updated on: May 12, 2013 15:04 IST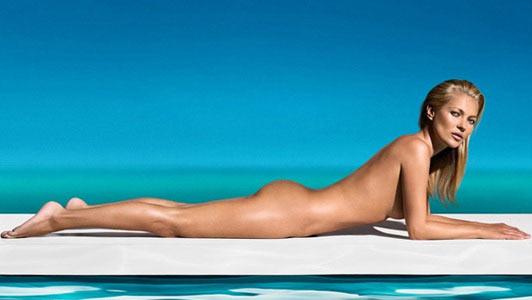 Kate Moss, who has been named the new face and body of St Tropez, has bared it all for a new advert for the fake tan company.
In the corporation's first ever global advertising campaign, the supermodel can been seen wearing nothing but a St Tropez tan as she lounges on a white board above an aquamarine sea, the Mirror reported.
The English beauty said that she is excited to be working with the brand name.
Moss asserted that she has been using the products since the company started and they are a trustworthy, cool brand.
She insisted that she always feels more confident with their fake tan.
The CEO of the business that owns of the brand, Michelle Feeney, told the publication that Moss epitomises the original St Tropez's naturally glamorous approach to self-tanning and is a long-time advocate of the brand.
"Not only is she beautiful but she has this amazing attitude. St Tropez is about confidence," Feeney added.
Why Alice Eve ate only spinach for five months
Last updated on: May 12, 2013 15:04 IST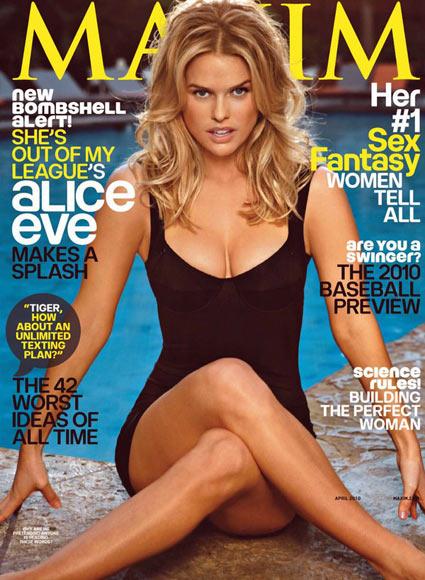 Alice Eve, who stars in the upcoming Star Trek Into Darkness, has revealed that she started on a diet consisting of pretty much only spinach a week after she learned that she nabbed the role.
The English actress recently admitted in an interview with The Telegraph that she maintained the diet for five months to slip into her spacesuit, RadarOnline.com reported.
"You've got to look as if you can hold your own on the Enterprise, and that means you've got to be in proper fighting shape," the 31-year-old asserted.
Anne Hathaway goes bra-less to Met Ball
Last updated on: May 12, 2013 15:04 IST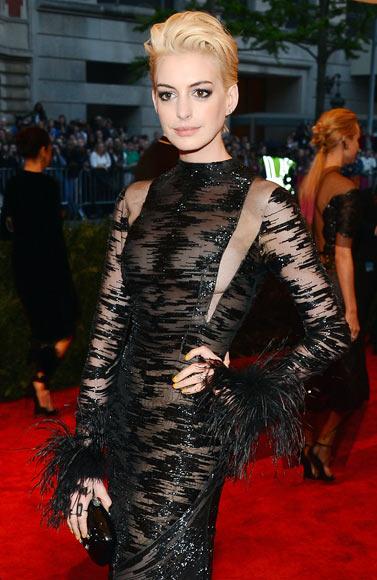 Anne Hathaway seems to be following in the footsteps of Gwyneth Paltrow, who recently wore a sheer dress with no underwear to the premiere of he new film Iron Man 3.
The 30-year-old actress looked a lot different from her usual self as she posed on the red carpet with her peroxide hairdo and no bra at the the Metropolitan Museum of Art's Costume Institute Gala 2013 in New York on May 6, the Daily Express reported.
The Hollywood star kept up with the event's punk theme by choosing to wear a black sheer dress, which showed off her bust.
She teamed the Valentino number with bright coloured nails and heavy eyeliner as she posed with her hand on her hip.
Gwyneth Paltrow names Miranda Kerr 'best-dressed celebrity' at Met Gala
Last updated on: May 12, 2013 15:04 IST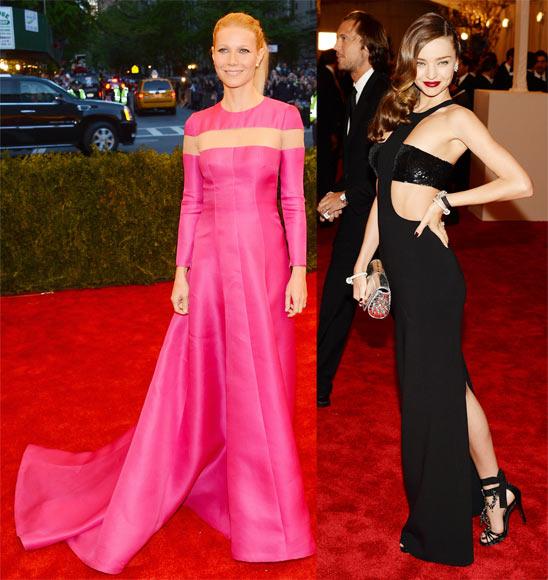 Gwyneth Paltrow thinks Miranda Kerr was the best-dressed celebrity to walk the red carpet at this year's Met Gala.
The Iron Man 3 star told Entertainment Weekly that she finds Kerr really beautiful; the supermodel wore a black Michael Kors dress that was sort of like a sparkling bandeau, which revealed her whole stomach, to the event.
"It was a little punk-y. She's just so pretty, it's abnormal," Us Magazine quoted the 40-year-old Oscar winner as saying.
Paltrow also revealed that she complimented the former Victoria's Secret Angel during the annual event.
"I was like, 'Is it weird to be that pretty?' the actress said, "and she was like, 'No.'"
I wasn't pretty enough to act, says Winona Ryder
Last updated on: May 12, 2013 15:04 IST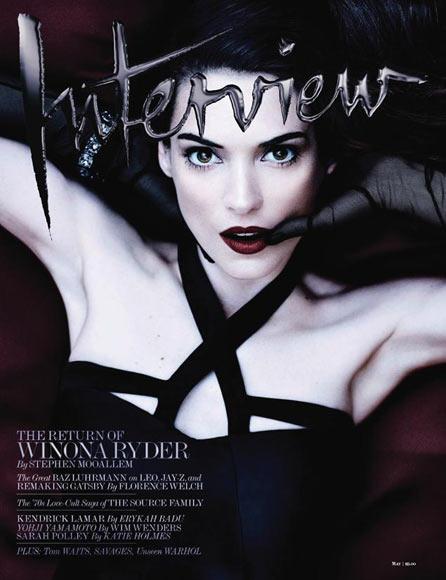 Winona Ryder has revealed that she was once told to give up on acting because she wasn't attractive enough.
The 41-year-old told Interview Magazine that in the middle of auditioning and mid-sentence, the casting director said, "Listen kid, you shouldn't be an actress," the Daily Express reported.
The director, according to the Black Swan star, said that she was not pretty enough and told her to go back to wherever she came from, and go to school.
"I honestly think she thought she was doing me a favour," Ryder insisted.
The actress admitted that if it were not for landing roles in 1988 films Beetlejuice and Heathers, she would have given it up.
She added that she had an unusual look and wasn't really considered a beauty.
Cheryl Cole's hairstyle most copied in UK
Last updated on: May 12, 2013 15:04 IST
Former Girls Aloud singer Cheryl Cole's brunette hairstyle is the most copied hairdo in Britain, reveals a new poll.
The Fight For This Love hitmaker topped the survey, followed by ITV's This Morning presenter Holly Willoughby and her blonde wavy locks, the Daily Star reported.
English actress Kelly Brook stood third with her brunette waves in the study conducted by hairstylists Toni & Guy.
Source: ANI