From commoners to queens: Duchess Catherine vs Queen of Bhutan!
Last updated on: October 17, 2011 18:23 IST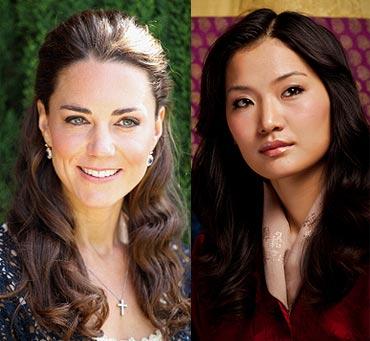 They may be half a world away from each other, but former commoners Catherine, Duchess of Cambridge and Queen of Bhutan Jetsun Pema have a lot more in common than one would imagine!
Marrying into royalty and becoming a princess is a dream for most. But two young women two continents apart have realised this dream this year -- from commoners, they have found themselves catapulted into the public eye as members of royal households and join the ranks of an elite club that includes the likes of Queen Rania of Jordan, Mary, Crown Princess of Denmark and Letizia, Princess of Asturias.
While Catherine, Duchess of Cambridge is the darling of the West, Queen Jetsun Pema of Bhutan has quickly won over the East with her exotic looks and gracious demeanour.
They may not have descended from aristocracy, but both Kate and Jetsun are hardly from simple, middle-class homes -- it's not like you can run into a prince on your way to the grocery store!
And while the perceived cultural divide seems wide between the UK and Bhutan, these two 'commoners' have a lot more in common that you would think! We tell you just what in the following pages.
Family background
Last updated on: October 17, 2011 18:23 IST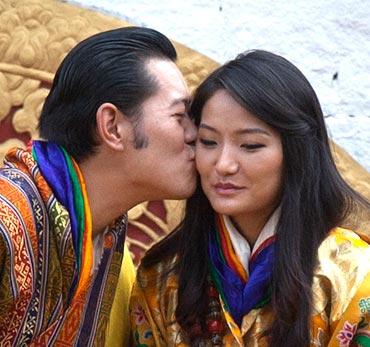 Both Kate and Jetsun come from large, well-to-do families -- the Duchess has two siblings and the Queen four.
Curiously, there is also another connect -- the aviation industry. Middleton parents Carole and Michael were both flight attendants with British Airways before they married and set up a family business selling party supplies and decorations. Jetsun's father Dhondup Gyaltshen, on the other hand, is a commercial pilot who is at present employed by Bahrain Air.
While Jetsun's grandfather was Governor of Trashigang, Kate's great-grandmother was a member of the Lupton family, who were active for generations in Leeds in commercial and municipal work.
Education
Last updated on: October 17, 2011 18:23 IST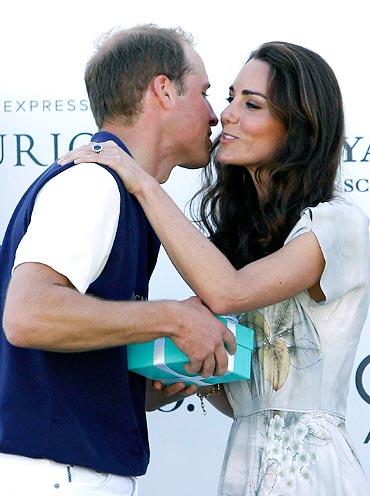 Both royals attended several schools over the course of their academic careers, including prestigious private institutions.
Kate first went to an English nursery school in Amman, Jordan, when her parents were posted there between 1984 and 1886. Upon the Middleton family's return to the UK, the future Duchess was enrolled at St Andrew's School and then briefly at Downe House, both in Berkshire.
Jetsun also attended several schools, most notably St. Joseph's Convent in Kalimpong, West Bengal and the exclusive Lawrence School in Sanawar, Himachal Pradesh.
Obtaining college degrees from world-class European colleges is another common factor.
Kate attended Marlborough College in Wiltshire, followed by the University of St Andrews in Fife, Scotland, from where she graduated with an MA in the History of Art. Jetsun went to Regent's College in London. where she majored in International Relations; her minor subjects included Psychology and Art History (another shared interest with the Duchess) as minor subjects.
Childhood sweethearts
Last updated on: October 17, 2011 18:23 IST
Both young ladies met their partners, Prince William and King Jigme Khesar Namgyel Wangchuck respectively, while still fairly young.
Kate and Wills both attended the University of St Andrews, where it is believed she first caught his eye walking down the ramp in a bikini at a college fashion show.
While they were both in their teens and Kate is actually six months older, it was a little different with Jetsun and King Jigme -- there is a large age gap between the 21-year-old Queen and her 31-year-old husband. Jigme was 17 when he first set eyes on his future wife and has gone on record to mention that she was just seven at the time!
While addressing a graduation orientation programme in Thimphu in August, the King of Bhutan fondly recalled meeting Jetsun as a child at a picnic and of how she wanted to spend time with him, only to have him shoo her off to play with friends closer to her age. Years later, they would reconnect as adults and both being single, fell in love.
While Prince William was undoubtedly one of the most eligible bachelors of the West, King Jigme is no less of a catch -- in fact, he's often compared by the press to King of Rock 'n' Roll Elvis Presley for his dashing looks!
Traditional weddings and trousseaus
Last updated on: October 17, 2011 18:23 IST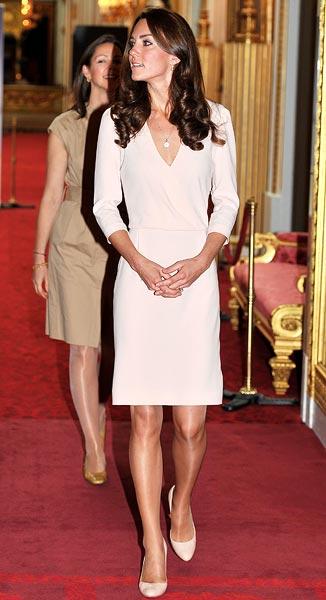 With a respect for longstanding cultural tradition, both Kate and Jetsun married their beaus in the manner that royal protocol demands. And there was a lot of planning when it came to their trousseaus!
Kate married William on April 29, 2011 at Westminster Abbey, which has played host to royal weddings since 1100 AD, while Jetsun and King Jigme's ceremony at the 374-year-old Punakha Dzong (Palace of Bliss) on October 13, 2011.
Neither bride chose to defy convention when it came to the bridal ensemble. Kate opted for a beautiful white gown by designer Sarah Burton of Alexander McQueen, with modest neckline and full sleeves of lace; it is believed that she balked at the idea of wearing a tiara, but in keeping with royal tradition, relented and wore one borrowed from the Queen nevertheless!
Jetsun's wedding outfit was an elaborate 'kira', the national dress of Bhutanese women. Prominent weavers from across the country, some of whom have been creating garments for the royal household over generations created a gamut of outfits for their to-be Queen. Woven from raw silk, one kira can take months to complete and the bride picked her favourite for her nuptials – a colourful, exotic affair that suited her to the tee.
Shared interests
Last updated on: October 17, 2011 18:23 IST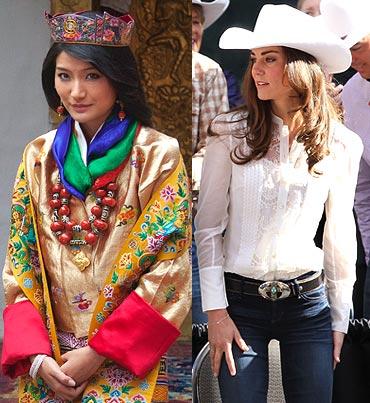 We've already mentioned that both the Duchess and the Queen studied the History of Art -- Kate majored in the subject for her masters and it was one of Jetsun's minor subjects for her graduation.
In addition to the fine arts, both have a passion for sports -- back in school, Jetsun was an accomplished basketball player and is still a fan of the game. Kate's interests included skiing (Prince William enjoys it as much as his wife), running and field hockey.
The Duchess dabbled in drama and acting as an extracurricular activity, while the Queen was part of her school band and enrolled in dance programmes.
And there we have it -- a closer look at their lives and they're like two peas in a pod. If Kate and Jetsun ever meet (and given the royal circles they move about in, that's bound to happen sooner or later), we're sure conversation is not going to be a problem!