Winter recipes to keep you warm and cosy!
Last updated on: December 13, 2013 14:11 IST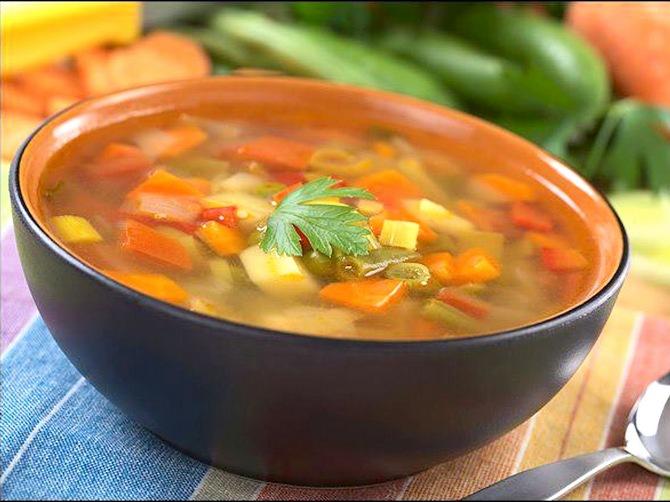 Chef Saransh Goila shares two special recipes for those cold winter evenings.
In the depth of winter, I finally learned that within me there lay an invincible summer. - Albert Camus.
There is something special about winters, right? It makes you long for certain things in life that are special, especially love for food.
Winters are special because it increases one's appetite, we have a tendency to eat more and we naturally even end up burning those extra calories, as our body needs to generate heat to combat that chill.
This winter the kitchen can be the most inviting place in the house with some warm smell and hearty food that you simply can't resist.
So bring out the ultimate in comfort food and heart- warming winter fare by preparing some winter recipes as suggested by Chef Saransh Goila.
Chef Golia is the host of the food travelogue show Roti, Rasta aur India that airs on Food Food channel.
Hearty Winter Soup
Ingredients
300 g tomatoes (chopped)
100 gm turnips (diced)
2 small zucchini, sliced
15–17 beans (chopped)
1 cup chopped cauliflower
4 small potatoes, cut into cubes
2 small carrots, cut into cubes
10 Mushrooms, halved
6 cloves garlic, crushed
1 medium onion, diced
1 tbsp dried basil
1 tbsp dried oregano
1 stick Cinnamon
Salt to taste
1 tsp freshly cracked black pepper
1 tbsp olive oil
500 ml Vegetable stock
3 cups water
5–6 fresh basil leaves
Method
In a large pot, saute the garlic, onion, basil, oregano, salt, cinnamon and pepper in the oil until the onions are translucent.
Add the stock, tomatoes, beans, zucchini, potatoes, carrots, mushrooms, cauliflower, and turnips. Cover the pot and bring to a boil.
Lower the heat. Add the water and let it simmer for 20 minutes or till the time potato is cooked.
Crush basil leaves and add towards the end.
Serve hot.
Click here for more food and recipe features
Palak Sai Bhaji
Last updated on: December 13, 2013 14:11 IST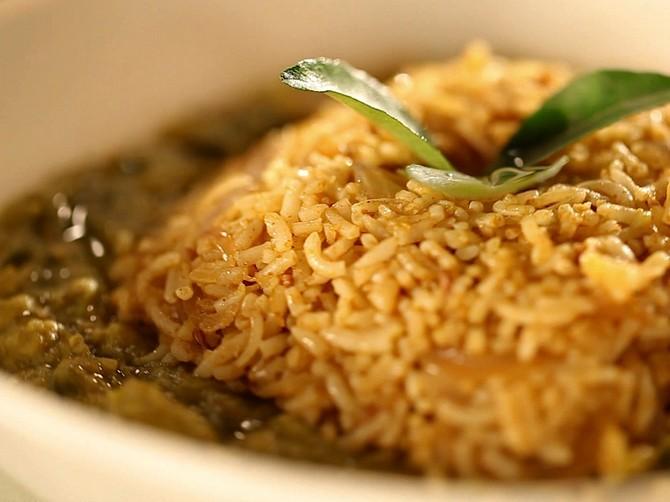 A perfect recipe for winters with all the winter vegetables and goodness
Ingredients
4 tbsp chana dal
4 cups spinach chopped
200 gm Bhindi
100 g Arbi
3/4 cup Khattapalak chopped
100 g Cauliflower florets
50 g Radish
1/2 tsp cumin seeds
1/2 cup chopped onions
1 cup chopped potatoes
4 tsp ginger-garlic paste
2 tsp garlic finely chopped
2 tsp chilli powder
2 whole Green chillis
2 tsp coriander powder
A pinch of turmeric powder
1 tsp Amchoor powder
1 tsp Garam Masala
2 tsp Olive oil
Salt to taste
Method
Combine the chana dal with 1 cup of water and pressure cook for one whistle. Drain the excess water and keep aside.
Heat the oil in a pressure cooker and add the cumin seeds.
When the seeds crackle, add the onions, potatoes, arbi, bhindi, cauliflower, radish, green chillies and ginger-garlic paste and saute for five minutes.
Add the chilli powder, coriander powder, turmeric powder and salt and sauté.
Add the spinach, khatta bhaji and the cooked chana dal and pressure cook for 15 minutes.
Allow it to cool and whisk the mixture well and mash all the veggies inside. Now season it with amchoor and garam masala.
Finally add a garlic and red chilli tadka to the bhaji.
Serve hot with brown onion rice!
Click here for more food and recipe features