Recipe: Halloumi skewers with cherry tomatoes and onions
September 05, 2013 11:36 IST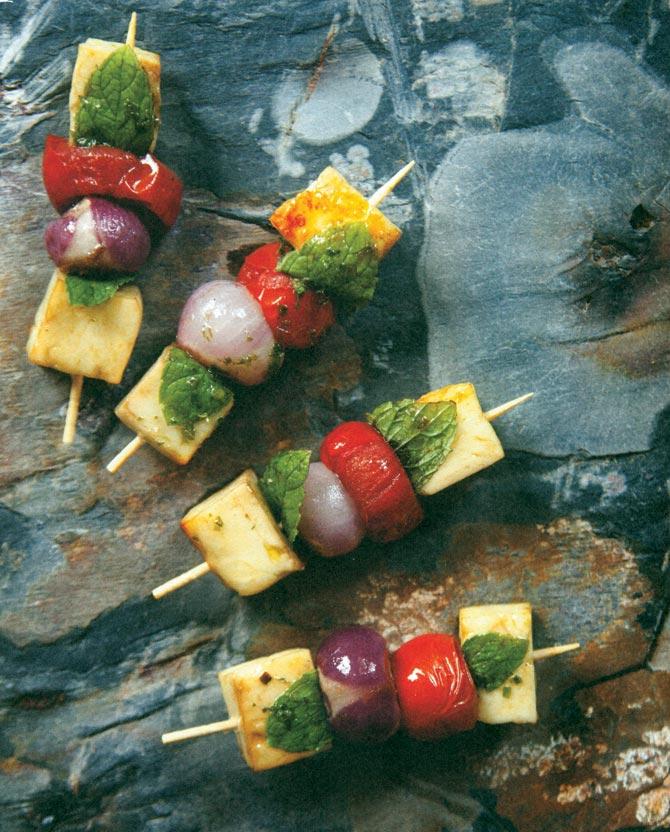 Popular Indian cookbook chef Ritu Dalmia now offers a selection of vegetable yummies. We have bringing you recipes from her latest cookbook, one-a-day. Today it's Halloumi skewers with cherry tomatoes and onions!
Since the past two days we've been sharing with you award-winning chef, restaurateur and bestselling author Ritu Dalmia's vegetarian recipes from her new book Diva Green: A Vegetarian Cookbook
You can purchase her books on Rediff Books
Yesterday we brought you the recipe for Green pea falafel burger and on Tuesday we excerpted one for Spinach Tempura with Radish Dipping Sauce.
Buy Diva Green: A Vegetarian Cookbook here
Today, we bring you the recipe for:
Halloumi skewers with cherry tomatoes and onions
Even though some people are of the opinion that halloumi has no taste, I absolutely love this salty, dense cheese that features prominently in most Middle Eastern and North African menus. It has a very high melting point, which it makes it one of the few cheeses that grill really well.
Ingredients
250 g halloumi cheese, cubed
100 g cherry tomatoes, whole
100g baby onion, whole
(The tomatoes, onions and halloumi cubes should be roughly of the same size)
The marinade
100 ml extra virgin olive oil
1 clove of garlic, minced
A handful of mint leaves, torn
Salt and chilly flakes to season
Lime wedges to serve
Method
Pre-heat the grill to 200 degrees Celsius. Soak long, wooden Satay sticks in water for a couple of hours.
Combine all the ingredients for the marinade and keep aside.
Thread a piece of the halloumi, a tomato and an onion onto each skewer, or you could do individual skewers for the vegetables and the cheese.
Brush them with the marinade. Place the skewers on a hot grill till the halloumi gets a nice brown colour, about 10 minutes, and then turn it around for the other side to cook.
Serve with the remaining marinade and a wedge of lime.
Excerpted from Diva Green: A Vegetarian Cookbook by Ritu Dalmia with kind permission from Hachette, India, (Rs 699)