28 states: How to make Tamil Nadu's Kambu Koozh
Last updated on: March 07, 2014 12:33 IST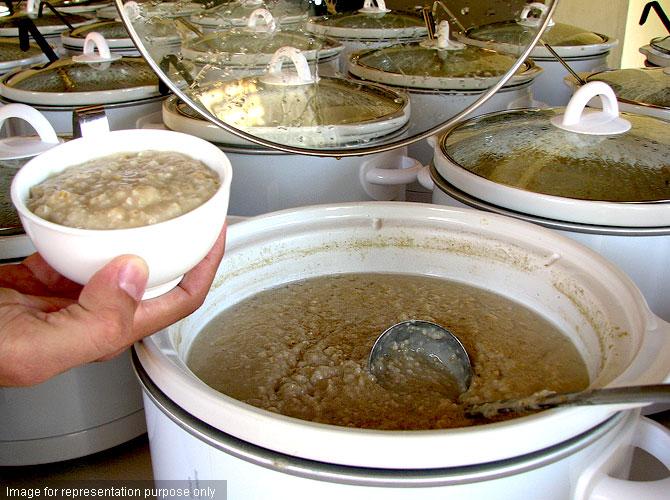 We had asked you, our readers, to share with us recipes and photographs from 28 states of India.
Today, we bring you the recipe of Tamil Nadu's Kambu Koozh.
Kambu Koozh is a traditional dish prepared from pearl millet -- kambu meaning pearl millet and koozh meaning porridge.
It's popularly served during the summers and is considered healthy because it has high water content, is easy to digest and is anything but fattening.
Also see:
Himachal Pradesh's Madra
Uttarakhand's Bal Mithai
Karnataka's Pandi Curry
Punjab's Makki Ki Roti and Sarson Ka Saag
Odisha's Chhena Poda
West Bengal's Daab Chingri
Bihar's Litti Chokha
Madhya Pradesh's Bhutte ka Kees
Kerala's Irachi Ishtu
Gujarat's special Khandvi
Masor Tenga, Assam's fish curry recipe
Andhra special Gongura Pachadi
Maharashtra's Thalipeeth
Presenting you the recipe for Tamil Nadu's Kambu Koozh:
Ingredients
1/2 cup kambu (pearl millet)
2 cups water or milk
Salt as per taste
1/2 cup curd
Method
Clean the millet for dry grass or stones, if any.
Soak the millet in water for half an hour.
Rinse well and drain the water.
Add half a cup of water and grind it coarsely in a mixer. For best results, keep it aside overnight for at least six hours.
Heat a deep bottom earthen vessel and empty the mixture.
Add salt and mix well.
Add one cup of water or milk and keep stirring continuously on a medium flame for five to seven minutes till it is evenly cooked.
You may add more water to get the desired consistency.
Serve hot with curd or pickle.
Click here for more recipes and food features!
---
Love to cook? Care to share?
Here are the other recipes we are looking for along with photographs:
Arunachal Pradesh: Smoked Pork In Sengmora Xaak
Chhattisgarh: Dehrori
Goa: Bebinca
Haryana: Bajra Khichdi
Jammu and Kashmir: Kalaadi Cheese
Jharkhand: Rugda
Manipur: Khaman Asinba Kangshoi
Meghalaya: Jadoh With Pork
Mizoram: Sawhchiar
Nagaland: Nagaland Pork With Dry Bamboo Shoot
Rajasthan: Malaai Ghewar
Sikkim: Phagshapa
Tripura: Awan Bangwi With Wahan Mosdeng And Khundrupui Leaf
Uttar Pradesh: Baingan Ki Lonje
***
Share with us your recipes for these dishes above.
Please mail your recipes along with a photograph of the dish to getahead@rediff.co.in with the subject line 'Indian Recipes'
We will publish the most lip-smacking, mouth-watering, yummiest recipes on Rediff.com