Quick fix recipe: How to make Kadhai Mushroom
Divya Nair
Among the many quick-fix recipes my father, a chef at a leading five-star hotel chain, taught me is this one made from button mushrooms.
He retired from his job, one that he held for 35 long years, last week.
And so it seems as good a time as any other to share this special recipe with you.
I must confess that when Amma was away from home while I was still a teenager who'd never stepped into the kitchen, it was my Papa who taught me to make Egg Bhurjee.
However, among the many recipes I mastered, Kadhai Mushroom is perhaps the simplest of them all.
All these years, it was Papa who'd made this for us.
So last week when he came home after his grand retirement party, I surprised him by serving this to him and his friends for dinner and they said it was 'finger-licking good'.
My father looked up at me with a smile of pride.
The best part about the recipe is it took me less than half-an-hour to prepare.
So here it is -- the recipe for Kadhai Mushroom:
Ingredients
200 gm button mushrooms
1 red bell pepper
1 yellow bell pepper
1 green capsicum
3 onions
3 tbsp coriander seeds
2 tsp cumin seeds
1 tbsp black pepper corns
2 dry red chillies
4 tsp oil for cooking
Salt as per taste
Method
Dice the onions, button mushrooms, capsicum and bell peppers evenly into 1 inch squares.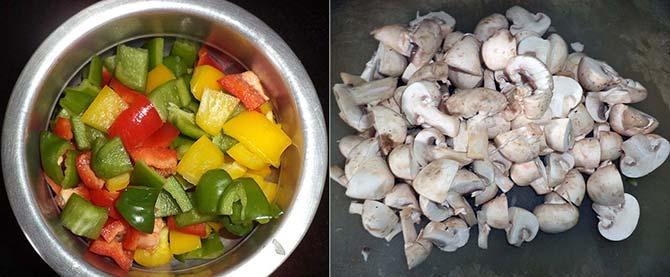 In a grinder, add coriander seeds, cumin seeds and peppercorns and ground them finely.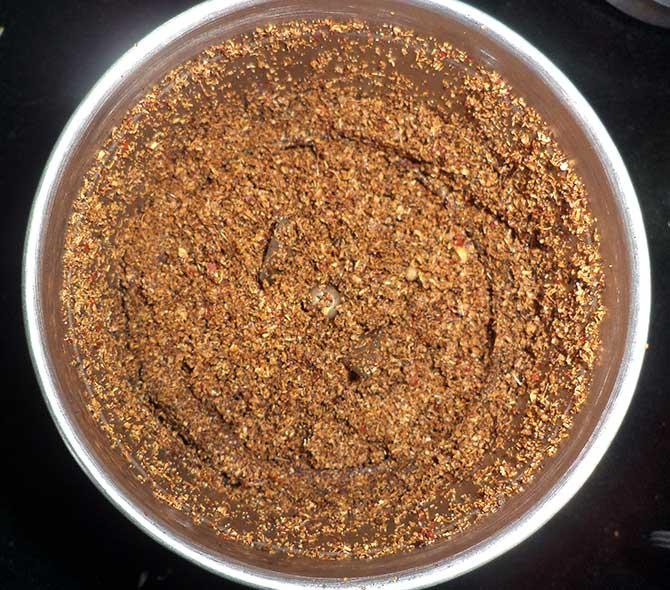 Heat a deep bottom pan and add some oil.
Add the onions and sauté them.
When they turn tender, add capsicum and bell peppers.
Add salt and toss them well.
Add mushrooms, ground spices and mix well.
Cook for five minutes and serve hot with rice, rotis or naan.
Tip: For those who'd like some gravy, simply add a paste of cooked onion and tomatoes to this mixture and mix well.
Liked this recipe? Click here for more interesting recipes and food features!
Image:
Kadhai Mushroom
Photographs:
Divya Nair/Rediff.com