Chom chom, fruit raita and more festive recipes
Last updated on: October 09, 2013 13:07 IST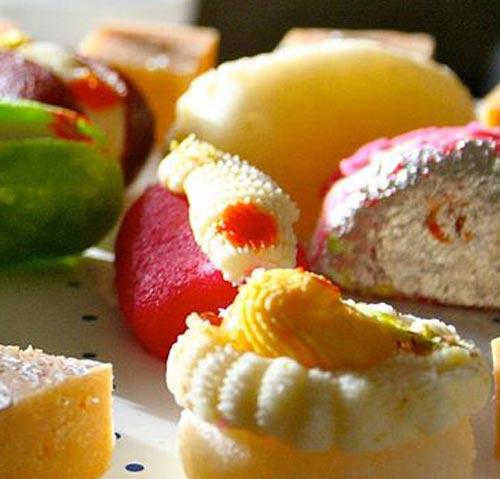 From traditional Bengali sweets like chom chom and rose petal sandesh to snacks like dahi puri and fruit raita, here are some festive recipes you can try at home.
Chom Chom
Ingredients
5 cups milk
1 lemon
A few strands of saffron
2 cups sugar
A handful of pistachios
Method:
Boil the milk in a pan.
When it starts to bubble, add the juice of the lemon. This is to make the milk curdle to form the 'chana'.
When it starts to curdle turn off the flame.
Drain off the chana in a strainer and rinse it in cold water.
Make sure you squeeze out all the water.
Take the saffron strands and soak it in a few spoons of milk.
Add it to the chana and knead it like a dough.
Take lumps of it and roll them into oval shapes.
In a pan boil the sugar.
Once it starts to become a little sticky, reduce the flame and add the ovals.
Let it cook for ten minutes before you turn them over.
Drain out the excess sugar syrup, place in a bowl, garnish with pistachios and serve.
---
Rose Sandesh
Ingredients
200 gms paneer
¾ cup khoya
2 tsp green cardamom powder
1/3 cup fine sugar
A few drops of rose water
A handful of rose petals
Method
Put the paneer and khoya in a blender and mix well till it's smooth.
Add sugar and mix it in well
Add a few drops of rose water and the cardamom powder to give it the right fragrance.
Set it in a thick layer in a dish.
Refrigerate it till it sets well.
Before serving, cut it into squares and add a rose petal on each of the squares.
Liked this recipe? Click here for more recipes and food features!
Reader Invite
Do you have an interesting festive recipe to share? Write in to us at getahead@rediff.co.in (subject line: 'Festive recipes') with your name, hometown and any interesting details about the origin of the recipe, along with a photograph if possible. We'll publish the best preparations right here on Rediff.com.
Please click NEXT to continue reading...
Dahi Puri
Last updated on: October 09, 2013 13:07 IST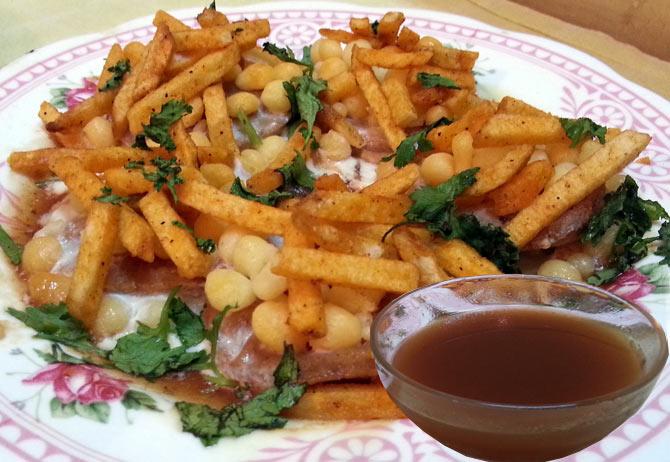 Dahi Puri
Ingredients
250 grams kuttu atta
250 gms singhada atta
200 gms potatoes
150 gms curd
100 gms aloo laccha
100 gms imli
100 gms palm Jaggery
Rock salt
Cumin powder
Black pepper
Garam masala
Water, oil as required
Coriander leaves for garnish

Method
How to make the puri
Mix the kuttu atta and the singhada atta in a ratio of 1:1.
Boil, peel and mash the potatoes.
Add the potatoes to the atta mix.
Add water to the mixture (as required) and knead until the mixture turns to a soft dough.
Roll the dough into equal sized balls and flatten them with the palm of your hand.
Proceed to run them over with a rolling pin, much as one would do to make chapattis.
Use the cap of a small bottle as a stencil to cut out the puris from the dough.
Heat the oil in a pan.
Drop the puris in the oil and deep fry until light brown.
How to make the chutney
Soak the imli in water for six hours.
Mash the soaked imli and sieve the water.
Collect the sieved imli water in another vessel.
Mix small pieces of palm jaggery with the imli juice.
Stir the mixture continuously on a slow flame until the jaggery gets dissolved.
Cool the mixture.
Once cooled, add cumin powder, rock salt, black better and a pinch of garam masala to taste.
For the toppings
Mix cumin powder, black better and coriander leaves with chilled curd.
Stack a bit of mashed boiled potato atop each puri.
Cover the mashed potatoes and puris with a layer of chilled curd.
Sprinkle aloo ka laccha and some more coriander leaves over the puris, as per taste.
Singhara and Sabudana Laddoo
Last updated on: October 09, 2013 13:07 IST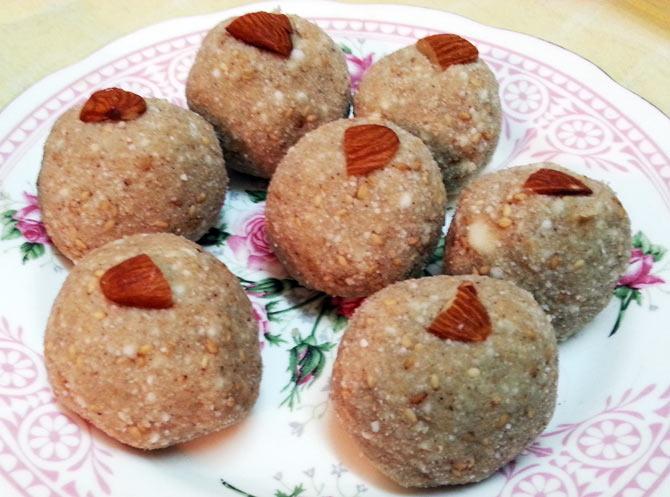 Singhara and Sabudana Laddoo
Ingredients
200 gms singhada atta
200 gms kuttu atta
200 gms sabudana
400 gms powdered sugar
200 gms desi ghee
20 gms dry fruits
Method
Grind the sabudana in a mixer until it turns into smooth flour.
Mix the sabudana flour with kuttu atta and singhada atta. All three should be taken in a ration of 1:1:1.
Take ghee in a kadhai (wok) and add the mixture of kuttu, singhada and sabudana atta to it.
Roast the mixture until the atta turns to slight brownish colour and begins to emit an aroma.
Add powdered sugar to the mix and keep stirring.
Cut dry fruits into small pieces and add to the mix.
Take the wok off the stove and let the mixture begin to cool.
Once the mixture is at a suitable temperature to handle, take a bit of it in your hand and roll it into medium sized balls.
Fruit Raita and Dates Milk Shake
Last updated on: October 09, 2013 13:07 IST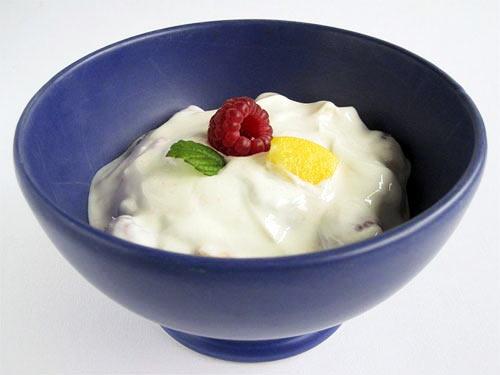 Fruit Raita
Ingredients
2 bananas firmly sliced
2 tsp sugar
Rock salt to taste
1 tsp ground cumin
350 ml plain curd
75 gm shelled walnuts
¼ tsp roasted cumin seeds
75 gms sultana (seedless grapes)
Method
Place the chilled curd in a bowl and add all the ingredients (except cumin seeds and chilli powder).
Mix well taking care not to break the banana pieces.
Then sprinkle the cumin seeds and chilli powder and serve cooled.
Note: Seasonal fruits like apples, pears and oranges can also be added along with nuts of your choice and sultanas. You can avoid using sugar by adding sultanas.
---
Dates Milk Shake
Ingredients
2 cups milk
10-12 dates (de-seeded and cut into small pieces)
4-6 cashew nuts
1 pinch cardamom powder
Ice cubes as per requirement
Method
Deseed the dates and cut into small pieces.
Put them into a blender. Add ½ cup of milk and blend.
Then add the remaining milk along with the cardamom and blend well.
Now add a few ice cubes and blend well. Serve the mixture.
For serving, take two glasses and add a few ice cubes.
Now pour the mixture into the glasses and then garnish with cashew nut pieces.

Note: Dates are naturally sweet so this milk shake does not require any sugar. While fasting for Navratri this nutritious milkshake gives the required energy to your body without adding to your weight.